Miami Herald: Big plans unveiled for proposed Underline path below Miami-Dade Metrorail
By Andres Viglucci, Miami Herald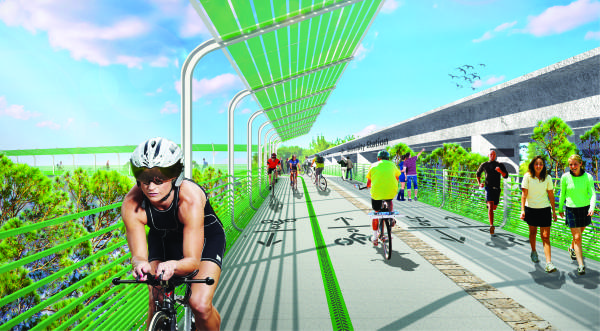 .
A coalition of citizens and government agencies has unveiled a mightily ambitious master plan by an eminent design firm that would transform the threadbare path under the Metrorail along South Dixie Highway into a garland of verdant gardens, playgrounds and recreational spots linked by 10 miles of side-by-side bike and pedestrian trails.
The vision is expansive: From the downtown lip of the Miami River, where the plan calls for an outdoor viewing "room" composed of cascading stone steps, to suburban Dadeland, where it contemplates workout stations and sports courts cradled between Metrorail's two southernmost stations, the proposed Underline would embed alternative transportation within a long, slender park to create a potentially defining urban amenity.
But it's also expensive: Estimates put the cost of executing the full master plan by James Corner Field Operations, co-designers of Manhattan's uber-successful High Line, at $120 million. That's due in part to the complexity of ensuring safety along the pathway's 36 roadway intersections, which include some of the busiest — and most perilous — in the city. The plan calls for gently sloping bike and pedestrian bridges over five of those intersections and at least minor modifications to all the rest, at a cost of about $20 million.
The plan also envisions reestablishment along the Underline of some mostly vanished native habitats, including the pine rocklands and hardwood hammocks that once covered the area, though in a pared-down version that could thrive in the intensely urban environment.
The release of the 400-page plan represents a big milestone for a project that 18 months ago was no more than a figment of the imagination of a handful of bike and parks advocates. The proposal has since won the active support of Miami-Dade Mayor Carlos Gimenez, the county's transit and parks agencies, and the cities of Miami, Coral Gables and South Miami, which the Underline would traverse.
Backers say they're determined to make sure the Underline doesn't remain just pretty pixels in a digital file. They plan to use the $5 million in government grants so far in hand to begin work next year on the project's first "demonstration" phase, a three-quarter-mile-long stretch around the Brickell station that would be laden with distinctive features, including the so-called River Room on the riverbank.
Click here for the complete feature article.