"BIKE 305, BIKE THE UNDERLINE" 10-MILE FESTIVAL SATURDAY COMING APRIL 2, 2016

FREE 10-MILE BIKE RIDE AND FAMILY-FRIENDLY WELLNESS EVENTS ON THE MPATH & BRICKELL, COCONUT GROVE AND SOUTH MIAMI STATIONS
Friends of The Underline, in partnership with Bike 305, and Miami-Dade County Parks, Recreation and Open Spaces and Transportation Departments announce "Bike 305, Bike The Underline," a free 10-mile bike ride and family-friendly festival with pop-up events at Brickell, Coconut Grove and South Miami Metrorail stations on Saturday, April 2, from 9 a.m.-1 p.m. Patrons of all ages can enjoy a fun-filled day of wellness and sports activities, including bike rides, yoga, spinning, Zumba classes, art and bike decorating activities, tournaments, children story-time, food and live music.
Bike The Underline Cycling Club will also host its second monthly bike ride starting at 9 a.m. at the South Miami Metrorail station.
All events are free and open to the public. To register for Brickell events and The Underline Cycling Club bike ride, visit: www.eventbrite.com/e/bike305-bike-the-underline-at-brickell-metrorail-station-tickets
SCHEDULE OF EVENTS: April 2, 2016

Brickell Metrorail Station
The festival events kick-off at 9 a.m. at the Brickell Metrorail Station.
9-10 a.m.: Zumba class
9:30 a.m.: Emerge bike ride from Brickell to Coconut Grove and S. Miami Events
10 a.m. – 11 a.m.: Children's Dance Off
11 a.m.-12 p.m.: Yoga
12-1 p.m.: Books & Books Story time
9 a.m.-1 p.m.: 2 on 2 Basketball Tournament; Outdoor Spinning classes by Red Bike Brickell; Children's Bike Rodeo and Sidewalk Chalk Art.
Coconut Grove Metrorail Station
"The Spirit of the Grove" will be held from 9 a.m. – 12 p.m., and feature a live band, the slowest-bike-race ever, art and decorating activities, bike parade, food and more.
South Miami Metrorail Station
Bike The Underline Cycling Club hosts its second monthly bike ride starting at 9 a.m. at the South Miami Metrorail Station with an 8-mile bike ride to the Coconut Grove and Brickell Metrorail Stations.
Guests can also enjoy a morning filled with special programming for all ages, including: a magical mystery history bike ride, and a bicycle swap shop.
About The Underline
The Underline is a planned 10-mile urban trail, linear park and living art destination that will span from the Miami River, north of Brickell Metrorail station, to Dadeland South. The Underline project will feature dedicated bike and pedestrian paths, amenities, art, lighting, native vegetation as well as safety features and improvements at road crossings. The Underline will be built in phases, the first of which will begin in the Brickell-area.
For more information visit, www.theunderline.org and/or follow them on social on Facebook, Twitter and Instagram @theunderlinemia.
About Friends of The Underline
Friends of The Underline is a 501C3 non-profit organization advocating to transform the underutilized land below Miami's Metrorail into a 10-mile linear park, urban trail and canvas for artistic expression to create a safer, healthier, more connected, mobile and engaged community.
About BIKE 305
Bike 305 is an initiative through the Miami-Dade County Parks and Open Space Master Plan to continue its strides in developing a more livable, healthy and sustainable Miami-Dade community.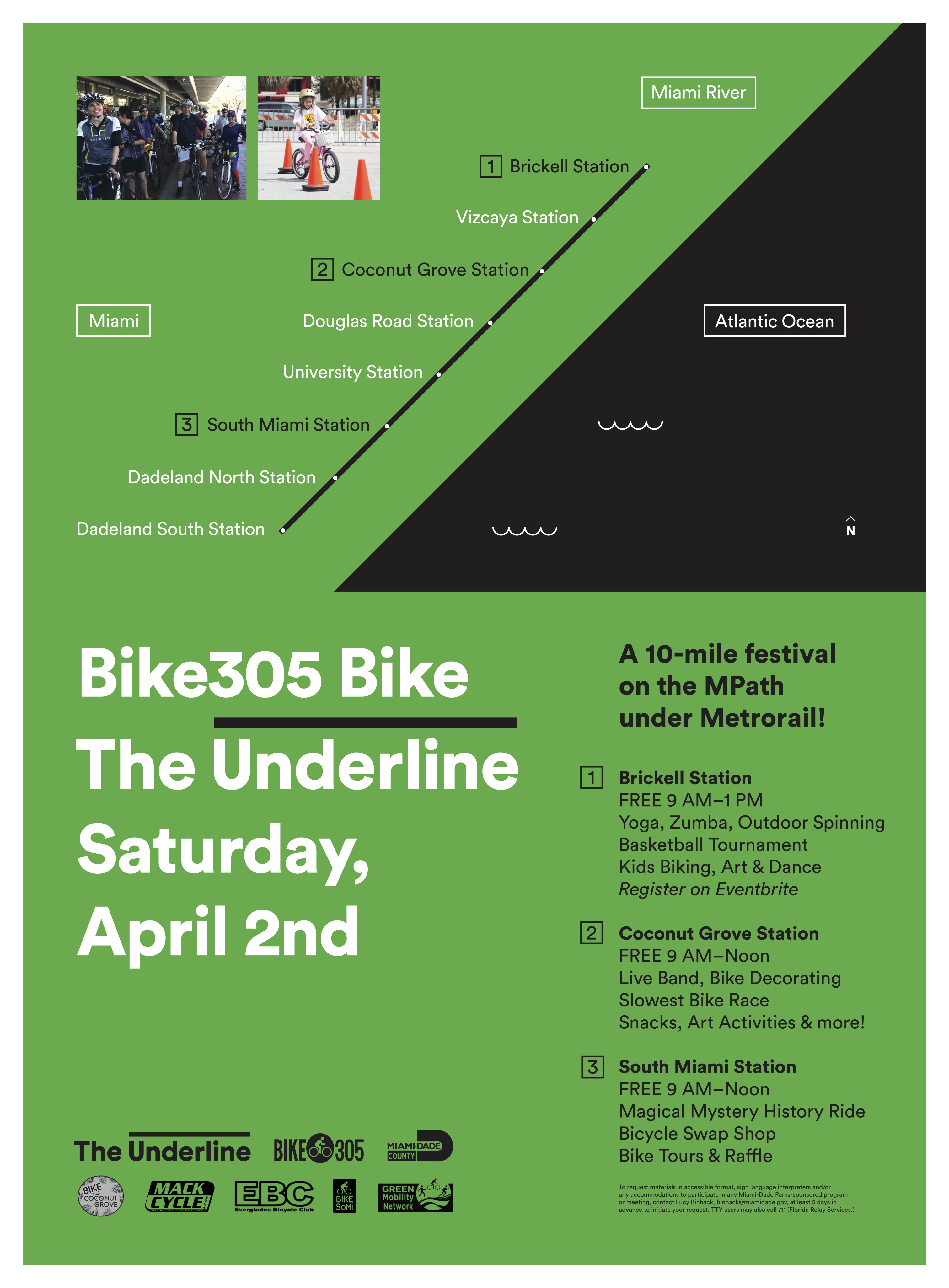 To request materials in accessible format, sign language interpreters and/or any accommodations to participate in any Miami-Dade Parks-sponsored program or meeting, contact Lucy Binhack, binhack@miamidade.gov, at least 5 days in advance to initiate your request. TTY users may also call 711 (Florida Relay Services.)