You are Invited to The UnderLounge, Saturday, October 15th from Noon-6 PM at Brickell Metrorail Station!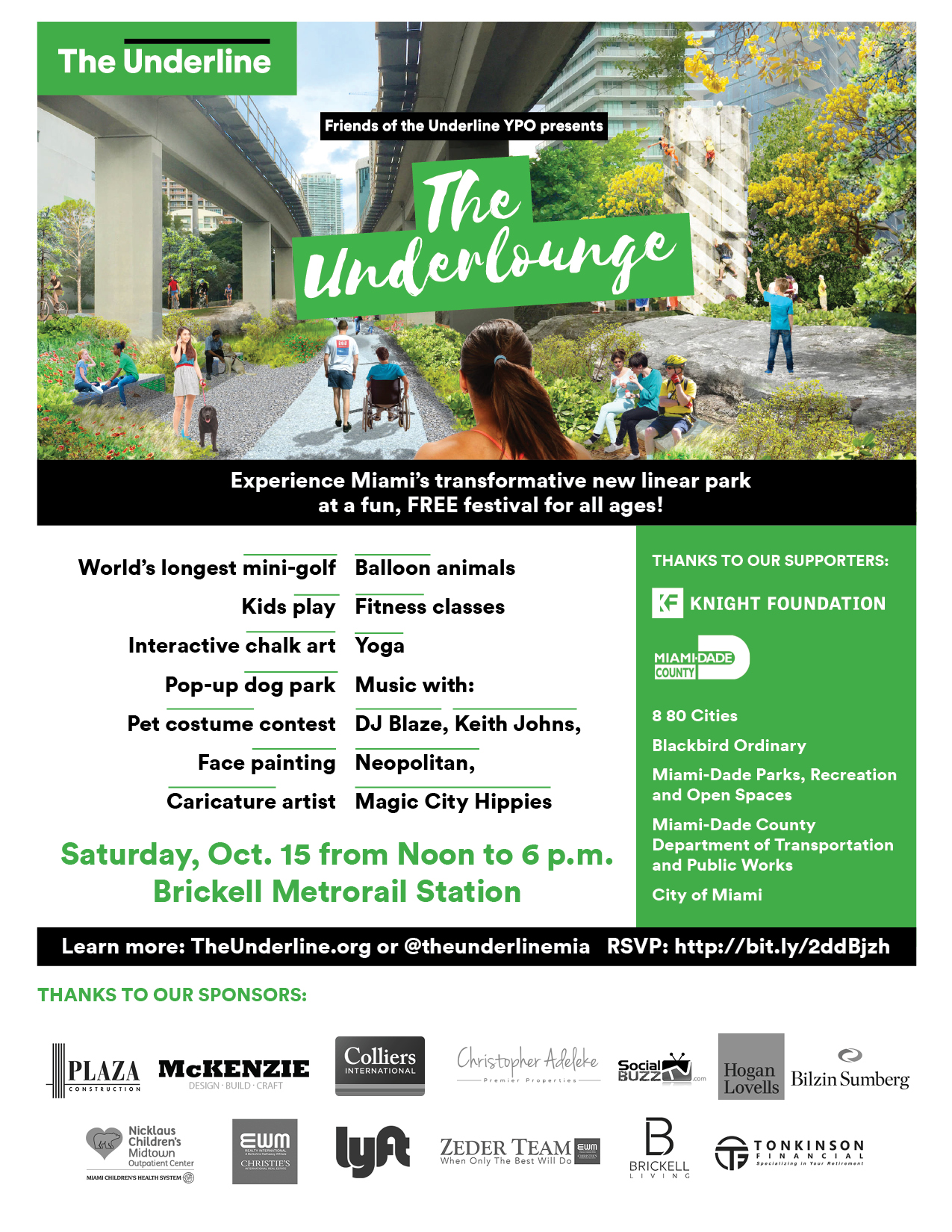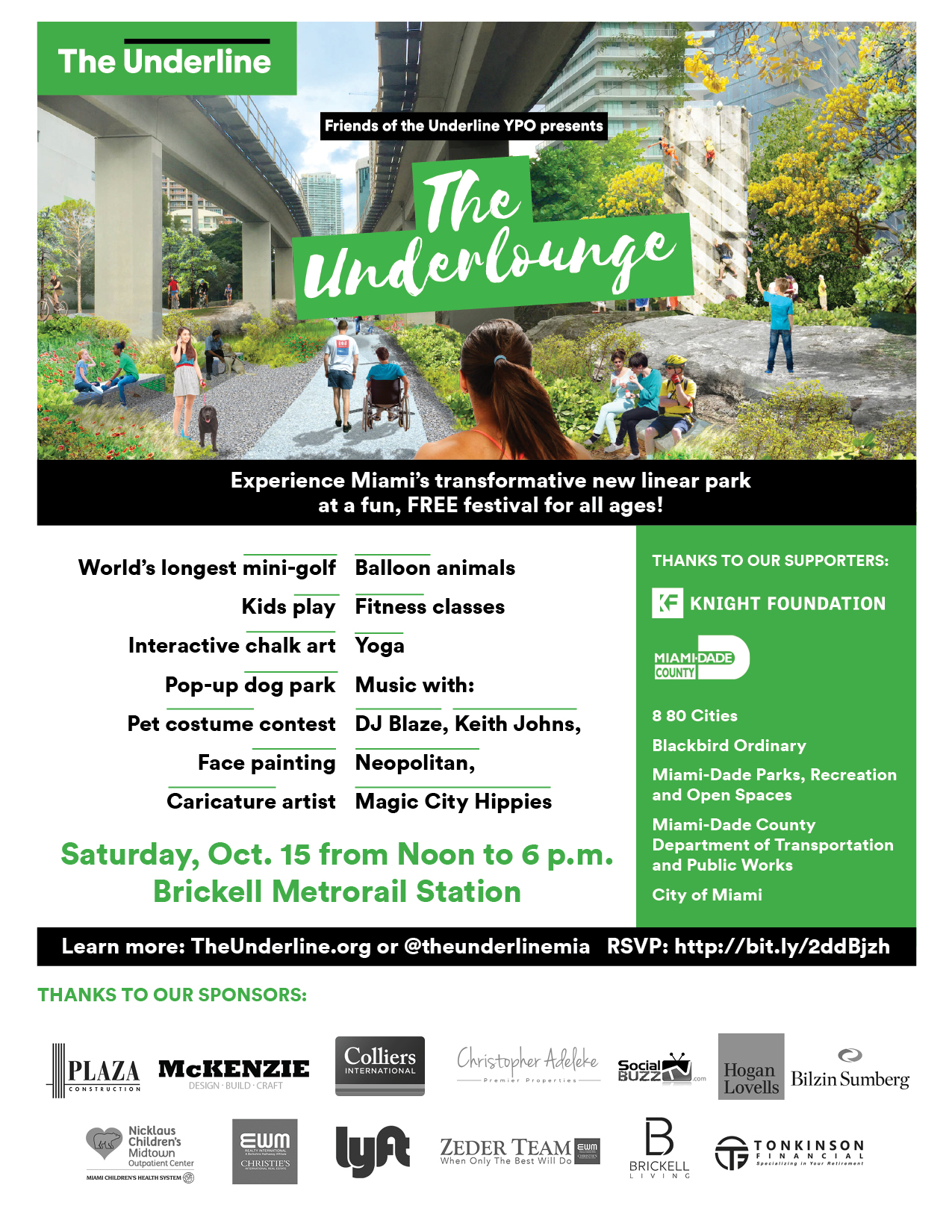 You are invited to The UnderLounge to experience Miami's transformative new linear park with a fun, FREE festival for all ages!
Friends of The Underline Young Professionals Organization presents:
The UnderLounge
Saturday, October 15th, Noon-6 PM
Brickell Metrorail Station, 1001 SW 1st Avenue
Sign up Now on Eventbrite.  
Music: The Underlounge will feature live music performances that will give visitors a preview of the potential of the upcoming Underline. Focused on local talent, The UnderLounge has selected a dynamic set of artists that fully represent South Florida's artistic and creative diversity with support of DJ Blaze Carreras throughout the whole event.
12 PM Live Acoustic Music & Ansa Yoga Session
1 PM DJ BLAZE
1:30 PM Neopolitan
2:30 PM DJ BLAZE
3 PM Magic City Hippies
4 PM DJ BLAZE
4:30 PM Keith Johns & Band
5:30 PM DJ BLAZE
Kids & Family Activities: The UnderLounge's Kids and Family section will have a face painter, balloon animals, caricature artist, arts and crafts and story telling.
12 PM Balloon animals, Arts & Crafts
1 PM Balloon animals, Caricature artists, Arts & Crafts
3 PM Balloon animals, Face Painter, Arts & Crafts
4 PM Story Telling including Dr. Seuss, Kitten's First Full Moon, Where the Wild Things Are
5 PM Balloon Animals, Arts & Crafts
Get Your Sweat On: Our fitness section will host a yoga class f.  We will also have bootcamp class hosted by Bad Brad & Coach NYM's Parkinson's awareness group.  You can also shoot hoops and win prizes at our three-point and free-throw contests.
12 PM Yoga featuring live acoustic tunes from jazz singer, Jahzel Dotel, and Berklee trained Spanish guitarist, Michel Gonzalez
1 PM Basketball 3-point contest
2 PM Bad Brad's Bootcamp for National Parkinsons Foundation
3 PM Basketball 3-point contest
4 PM Basketball Free Throw contest
5 PM Open Court
Tail-wagging Fun: Bring your four-legged furries to the UnderLounge Dog Park which will feature a costume contest, doggie jacuzzi, dog café, adoptions, tricks, treats and more.
12 PM Adopt-A-Pet
1 PM Dog Training
2 PM Dog Jacuzzi
3 PM Dog Cafe
4 PM Costume Contest
5 PM Adopt-A-Pet
6 PM Dog Training
Something For Everyone:
World's longest mini-golf hole
Huge interactive chalk art mandala
Pop-up dog park
Pet costume contest
Face painting
Caricature artist
Balloon animals
Kids play
Fitness classes
Yoga
Music with DJ Blaze
Music with Neopolitan and Keith Johns
Featuring Magic City Hippies
Travel Smart:
Take Metrorail, bike, walk or take Lyft.
Thanks to our supporters:
Knight Foundation
8 80 Cities
Miami-Dade Parks, Recreation & Open Spaces
Miami-Dade County Department of Transportation and Public Works
City of Miami
and Media Sponsor Social Buzz TV
And our sponsors:
Plaza Construction
Bilzin Sumberg
Hogan Lovells
Tonkinson Financial
Miami Children's Health System
Zeder Team
McKenzie Construction
Colliers
Stephanie Ansin & Spencer Stewart
Lyft
EWM International
Christopher Adeleke Premier Properties
Blackbird Ordinary
Swire Properties & Brickell City Centre
Tuuci
Brickell Living
Baptist Health South Florida
Miami Diaper Bank
La Prima Casa Montessori School 
Note: Admission is free but a tax-deductible donation to Friends of The Underline is much apprecaited and will support our many community activities and events. Friends of The Underline is a 501C3 non-profit and donations are deductible to the extent of the law. You can also donate here.