The Nature Conservancy and Friends of The Underline announce partnership to help create greenspace beneath Miami's Metrorail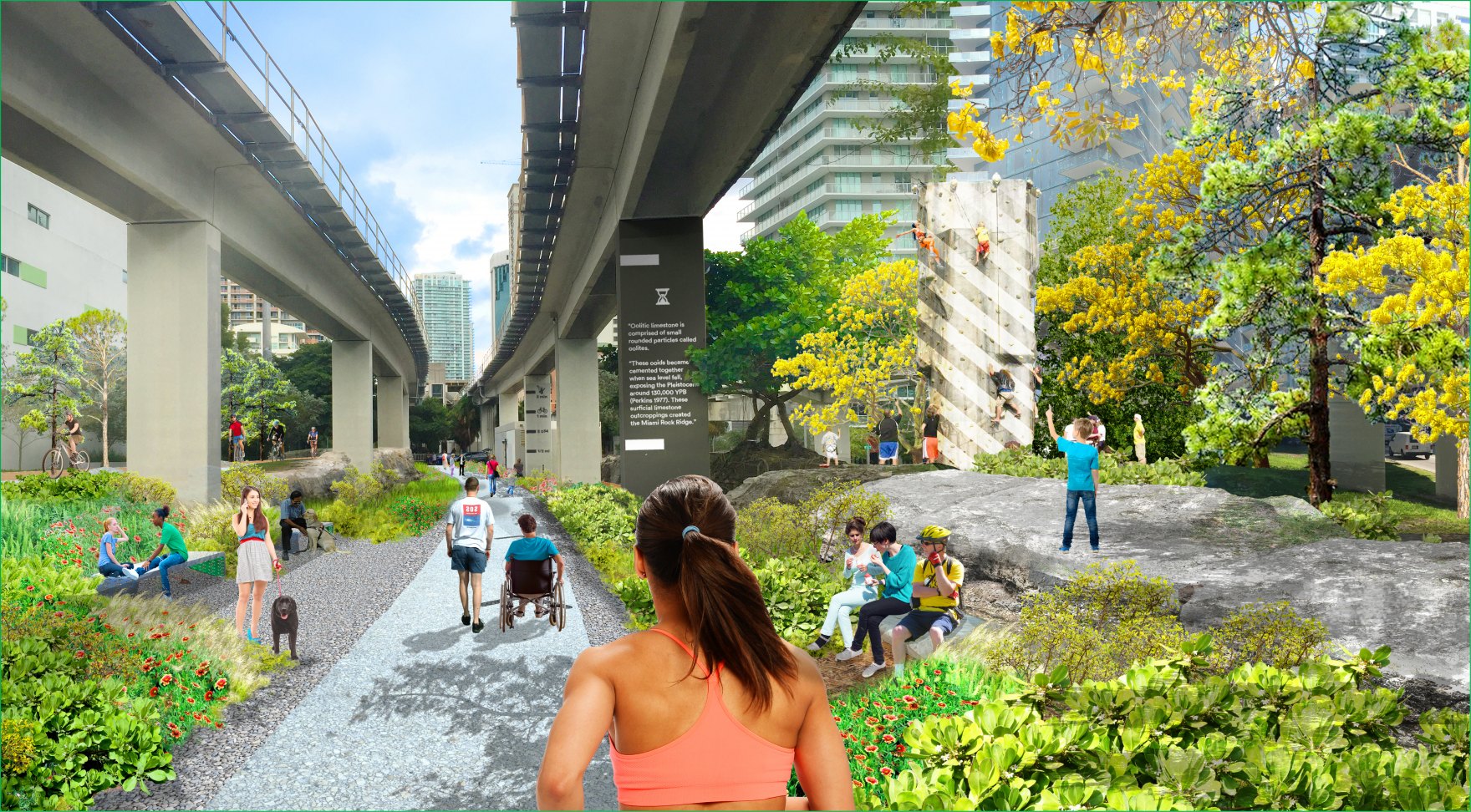 (Miami, FL) April 4, 2017 – The Nature Conservancy and Friends of The Underline announce a partnership to support the transformation of The Underline. The Conservancy, dedicated to protecting and restoring nature, and Friends of The Underline, advocating to transform the underutilized land below Miami's Metrorail into a 10-mile neighborhood park and urban trail, are collaborating to expand and revitalize Miami's urban greenspace for a sustainable future.
The Conservancy is active within the Miami metro area on projects that include restoration of natural habitat and greening of city spaces, tree plantings, protection of rare ecosystems, and efforts to enable people and nature to thrive together within urban settings. Working with local community groups, nonprofit organizations, and government agencies, the Conservancy aims to improve quality of life for area residents through nature's benefits and functional natural systems, helping to create green urban oases for people, native plants and wildlife.
Friends of the Underline are focused on 100+ acres that will become a welcoming world-class urban trail and living art destination, with recreational opportunities and gardens. The Underline, which is expected to break ground Spring 2018, will attach to the Miami River Greenway and proposed Ludlam trail to provide 22 miles of connected greenspace and trails for bicyclists and pedestrians. Friends of The Underline are advocating for transformation and working with federal, state, county and municipal agencies and other funders to help achieve the greenway vision.
"This is a well-aligned collaboration between two organizations poised to achieve transformative results for people and nature," said Temperince Morgan, Executive Director, The Nature Conservancy in Florida. "We're looking toward the future for Miami and are eager to begin work with Friends of The Underline."
"We are honored to collaborate with the Nature Conservancy as we both invest in a sustainable future for our city," said Meg Daly, Founder and President, Friends of The Underline. "We believe that parks and vibrant public spaces that are accessible to all are the heart and soul of a growing, more connected community."
The Conservancy is committed to several projects in Miami-Dade, including a multi-partner restoration of degraded areas along Wagner Creek. Most recently, the Conservancy engaged the local community in hands-on nature and completed a tree planting benefiting air quality, providing shade, creating habitat for wildlife, and adding natural beauty to the neighborhood. With the Underline and partners, the Conservancy will work to support a park experience that encourages people to get outdoors in the newly renovated space as well as educates park-goers about nature.
About The Underline: The Underline is a planned 10-mile urban trail, linear neighborhood park and living art destination that will span from the Miami River, north of Brickell Metrorail station, to Dadeland South. The Underline project will feature dedicated bike and pedestrian paths, amenities, art, lighting, native vegetation as well as safety features and improvements at road crossings. The Underline will be built in phases, the first of which will begin in the Brickell area. The Underline will be open to all and serve all with amenities and art that connect people to place and each other.
The Nature Conservancy is a global conservation organization dedicated to conserving the lands and waters on which all life depends. Guided by science, we create innovative, on-the-ground solutions to our world's toughest challenges so that nature and people can thrive together. We are tackling climate change, conserving lands, waters and oceans at unprecedented scale, and helping make cities more sustainable. Working in more than 65 countries, we use a collaborative approach that engages local communities, governments, the private sector, and other partners. To learn more, visit nature.org/florida. In Florida since 1961, with support from our members, we have helped protect more than 1.2 million acres of vulnerable lands and waters across the state. We own and manage more than 52,000 acres in 25 Conservancy preserves in Florida.
About Friends of The Underline
Friends of The Underline is a 501C3 non-profit organization advocating to transform the underutilized land below Miami's Metrorail into a 10-mile linear park, urban trail and canvas for artistic expression to create a safer, healthier, more connected and sustainable, mobile, and engaged community. For more information visit www.theunderline.org and Like and Follow us on Facebook, Twitter and Instagram @theunderlinemia