Miami Herald: Live at the Metrorail station — and bid horrible South Dixie traffic goodbye?
On May 14th, Miami Herald's Andres Viglucci wrote about Metrorail transit-oriented development (TOD) plans along Miami's traffic-congested South Dixie Highway. The article also recognized how TOD connected to The Underline can relieve traffic and encourage sustainable "live, work, play" development near transit.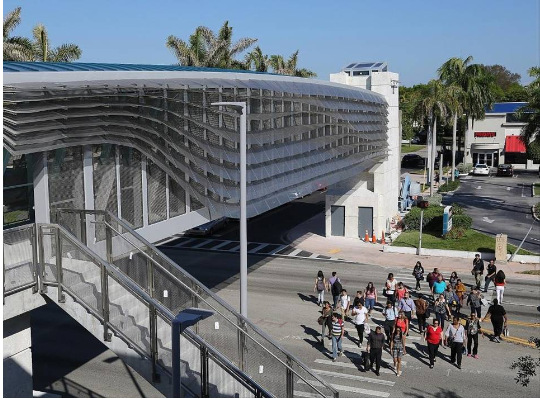 "Miami's one rapid-transit system, Metrorail, began rolling in 1984 under a forward-looking premise that went beyond shuttling commuters downtown: Metro stations would become urbanized hubs where residents wouldn't need a car to get to work, or to visit a lunch spot or the gym, or to pick up groceries or their dry cleaning.
It took just 33 years, but that train's finally pulling into the station. And fast.
The high-demographics stretch of South Dixie Highway that runs between Metrorail's Coconut Grove and South Miami stations is suddenly on the brink of a thorough transformation that could bring the rail system's original vision to belated fruition — and in the process, maybe even provide some welcome relief to that notoriously car-choked suburban corridor.
No fewer than nine significant redevelopment projects are now on the drawing board for the 4.2-mile stretch, promising hundreds of new apartments mixed in dense clusters with shops, restaurants, offices, hotels and new public open spaces.
The Douglas Road redevelopment plan is massive. The $280 million Link at Douglas plan by 13th Floor Investments and the Adler Group comprises 970 apartments, including a number of affordable "workforce" housing units, shops and a 150-room hotel set around a public pedestrian plaza.

That plaza, said 13th Floor CEO Arnaud Karsenti, is a key element because it would tie the project to the Underline, the planned conversion of the bare, paved pathway under the Metrorail into a lushly landscaped greenway for cyclists and pedestrians. It would run the 10 miles from the Dadeland South station to Brickell."
Read the focus on transportation article here.