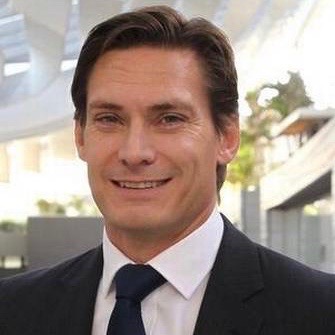 Miami, Fla., Dec. 1, 2020 – Friends of The Underline (FUL), a 501C3 non-profit organization advocating to transform the underutilized land below Miami's Metrorail into a 10-mile linear park, urban trail and public art destination, today announced that Kieran Bowers, president of Swire Properties, has been elected vice chair of the board of directors.
"I'm honored to take on this new role among such an inspiring team of people," said Bowers. "As global cities like Miami continue evolving, the future of our green spaces need to be carefully considered so that they become as innovative and accessible as the cities they are a part of. The Underline is a true example of a forward-thinking solution to bring our green spaces back in a way that ensures their longevity for future generations to come.
Bowers has been a board member of FUL for nearly three years and under his direction, Swire Properties has been one of The Underline's earliest supporters. The company previously donated $500,000 to the project and has also been involved in numerous other initiatives including hosting community yoga classes and fundraisers to benefit The Underline.
"We are so thankful for the support that Kieran and Swire Properties has given The Underline over the years and for Kieran's willingness to take an even larger board role as vice chair," said Meg Daly, president and CEO for Friends of The Underline. "Once this project opens, it will be imperative to have the leadership of someone who has large-scale project management experience. We are fortunate that Kieran will contribute his expertise and guidance in the vice chair position. "
The first phase of The Underline, the Brickell Backyard, is scheduled to open by the end of this year or early 2021. This section starts at the Miami River and ends at SW 13th St. In addition to a sound stage and outdoor gym, this portion of the project will also include over 30,000 native plants and trees, art installations, meeting and dining tables and gathering spaces all of which will accommodate social distancing and encourage continued safety for the community now and in the future.
To learn more about The Underline and how to support its programs, maintenance and management, visit www.theunderline.org.
XXX
About The Underline
The Underline is a planned 10-mile urban trail, linear neighborhood park and public art destination that will span from the Miami River, north of Brickell Metrorail station, to Dadeland South. The Underline project will feature dedicated bike and pedestrian paths, amenities, art, programming, lighting, native vegetation as well as safety features and improvements at road crossings. The Underline will be built in phases, the first of which will begin in the Brickell area. For more information, visit www.theunderline.org and/or follow them on social on Facebook, Twitter and Instagram @theunderlinemia.
About Swire Properties
Swire Properties Inc, headquartered in Miami since 1979, is one of South Florida's leading international developers of urban office, hotel and condominium properties. Known for its $1 billion master‐planned development of the island of Brickell Key in downtown Miami, Swire continues to shape the Miami skyline with its latest project, Brickell City Centre, a landmark $1.05 billion mixed‐use complex comprising a gross floor area of 4.9 million square feet, including an underground carpark and 2.9 million square feet of office, residential, hotel, retail and entertainment space. The Company is a wholly-owned subsidiary of the publicly-listed Swire Properties Limited based in Hong Kong. For more information, visit www.swireproperties.us