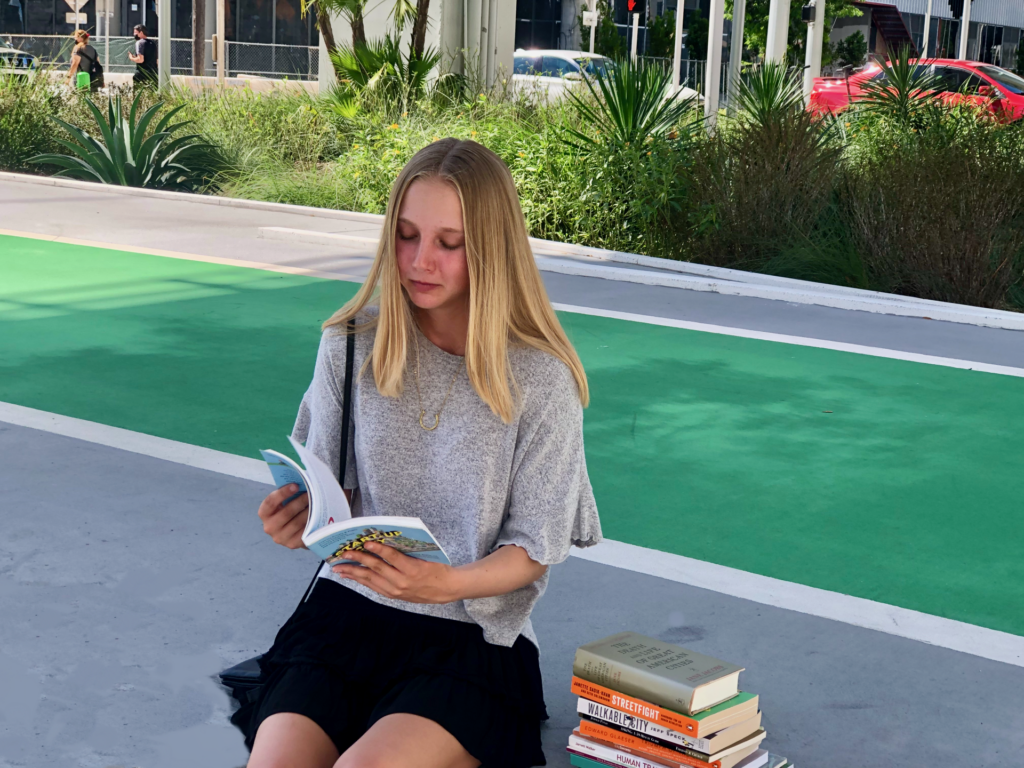 An educational experience investing in childhood literacy through the celebration of books and great storytelling.
The Underline and Books & Books are teaming up to bring young readers Storytime at The Underline. This free event will take place the second Wednesday of every month beginning September 8th, from 4 to 5 p.m. This child-centered event celebrates literacy and education. Each month young readers ages 5-8 will gather around and listen to stories that will enrich their vocabulary and empower their imaginations.
"We're excited to partner with The Underline and help expand children's love for literacy throughout the community," says Mitchell Kaplan, owner of Books & Books. "We want children to find inspiration in books and storytelling to make them better students in the future."

Families are invited to join The Underline and Books & Books in the Brickell Backyard Sound Stage sponsored by Florida Power and Light. Future bookworms will be read three stories provided by Books & Books during Storytime. Once storytime is finished, children will have playtime with safe, fun activities they can venture out and explore The Underline Brickell Backyard's butterfly gardens, spend the afternoon playing soccer or basketball in the Urban Gym or enjoy the vistas of the Miami River in the Oolite Room.
"The Underline's mission statement included our commitment to lifelong learning. This partnership with Books & Books teaches kids that books and reading are fun. What better way to encourage reading, curiosity and ongoing intellectual stimulation and growth?", says Meg Daly, Founder of Friends of The Underline.
All guests who wish to attend must register on Eventbrite here. Children should wear a mask and follow social distancing guidelines.
Reading themes for each month and selected books to date are below. Purchase Storytime at The Underline books at booksandbooks.com.
9/8/21: Nature
PANGOLINA by Jane Goodall
THE TREE IN ME by Corinna Luyken
MY FRIEND EARTH by Patricia MacLachlan
10/7/21- Fall/Halloween
HARDLY HAUNTED by Jessie Sima
ROOM ON THE BROOM by Julia Donaldson
THERE'S A WITCH IN YOUR BOOK by Tom Fletcher
11/11/21 – Empathy
I AM HUMAN by Susan Verde
THANK YOU, OMU! By Oge Mora
ALL ARE WELCOME by Alexandra Penfold
12/8/21: The Holidays
1/5/22: Teamwork/Collaboration
2/9/22: Perseverance
3/9/22: Nutrition
4/6/22: Springtime
5/11/22: Fairness
About Books & Books:
Founded in 1982 by Miami Beach native Mitchell Kaplan, Books & Books was named Publishers' Weekly Bookstore of the Year in 2015. Books & Books has grown from a 500 square-foot building in Coral Gables to become a Miami cultural pillar with 7 locations. Books & Books hosts more than 60 events each month, including author talks, readings, and signing in both English and Spanish, demonstrations and workshops, a live music series, book club discussions, programming for children and families and a variety of diverse community-based events in partnership with local civic, educational and cultural organizations. Visit www.booksandbooks.com for more information.
About The Underline:
The Underline is a planned 10-mile urban trail, linear neighborhood park and public art destination that will span from the Miami River, north of Brickell Metrorail station, to Dadeland South. The Underline project will feature dedicated bike and pedestrian paths, amenities, art, programming, lighting, native vegetation as well as safety features and improvements at road crossings. The Underline will be built in three phases. The first phase, Brickell Backyard from the Miami River to Coral Way, opened February 2021. For more information, visit www.theunderline.org and/or follow on social media @theunderlinemia.