This month, The Underline is celebrating and honoring women who have and are creating an impact across our city. In fact, many people aren't aware that women have played a huge role in Miami's rich history. Historically women have had to fight for equal representation and access by breaking through stereotypes and discrimination. Today, we acknowledge the women who came before us who have shaped the people we are today.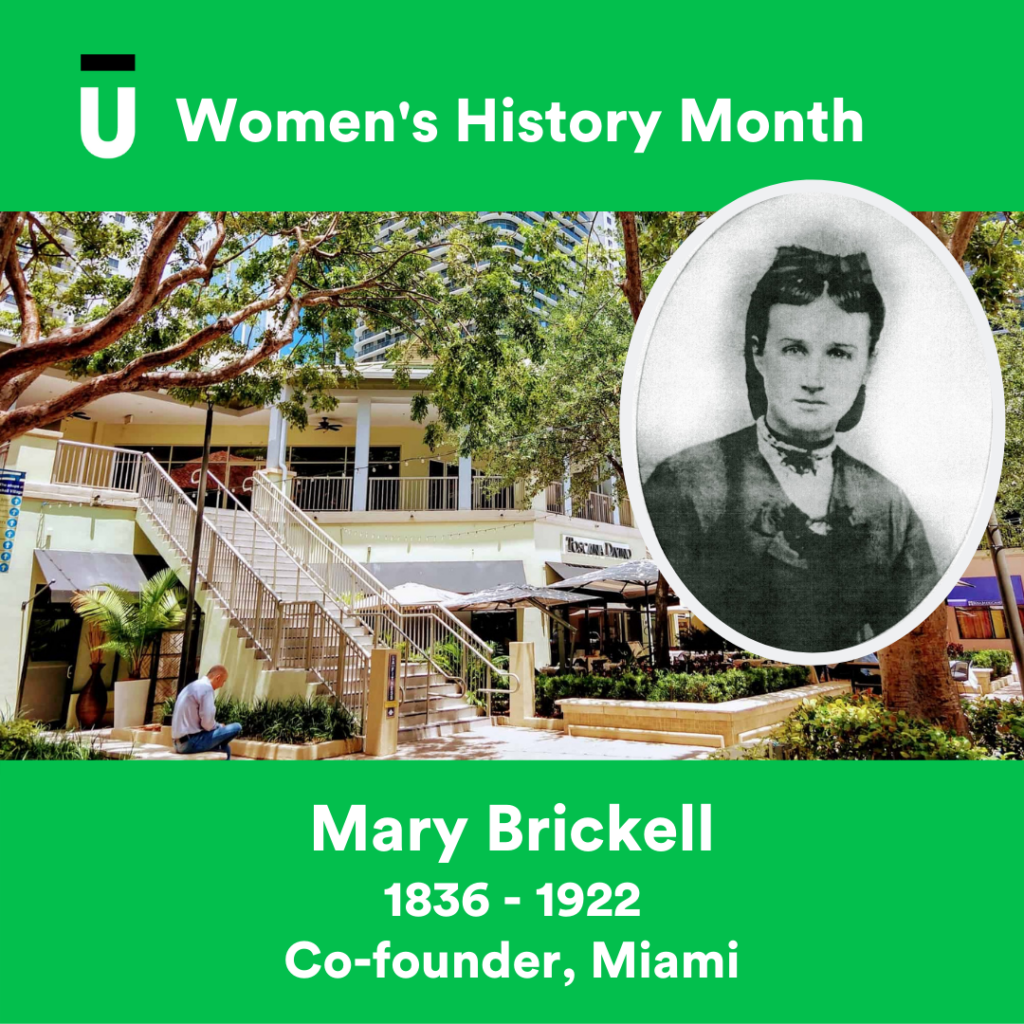 Mary Brickell: Miami co-founder and entrepreneur Mary Brickell, who together with her husband William Brickell, purchased two tracts of formerly Seminole land in 1868 and three years later moved to the area that we know today as Brickell. Opening a trading post at the mouth of the Miami River that would lead to the booming and vibrant metropolis, The Brickells started development 20 years before the more famous Julia Tuttle arrived in the area. After the death of her husband, Mary Brickell continued her work growing the Brickell family's real estate holdings, and together with Julia Tuttle, arranged for the continuation of the Flagler railroad south to Miami, ensuring the city's future as one of the largest trading and commerce centers in the country.
The Underline's first phase is in the dynamic Brickell neighborhood and recognizes Mary's contributions in its name, "Brickell Backyard."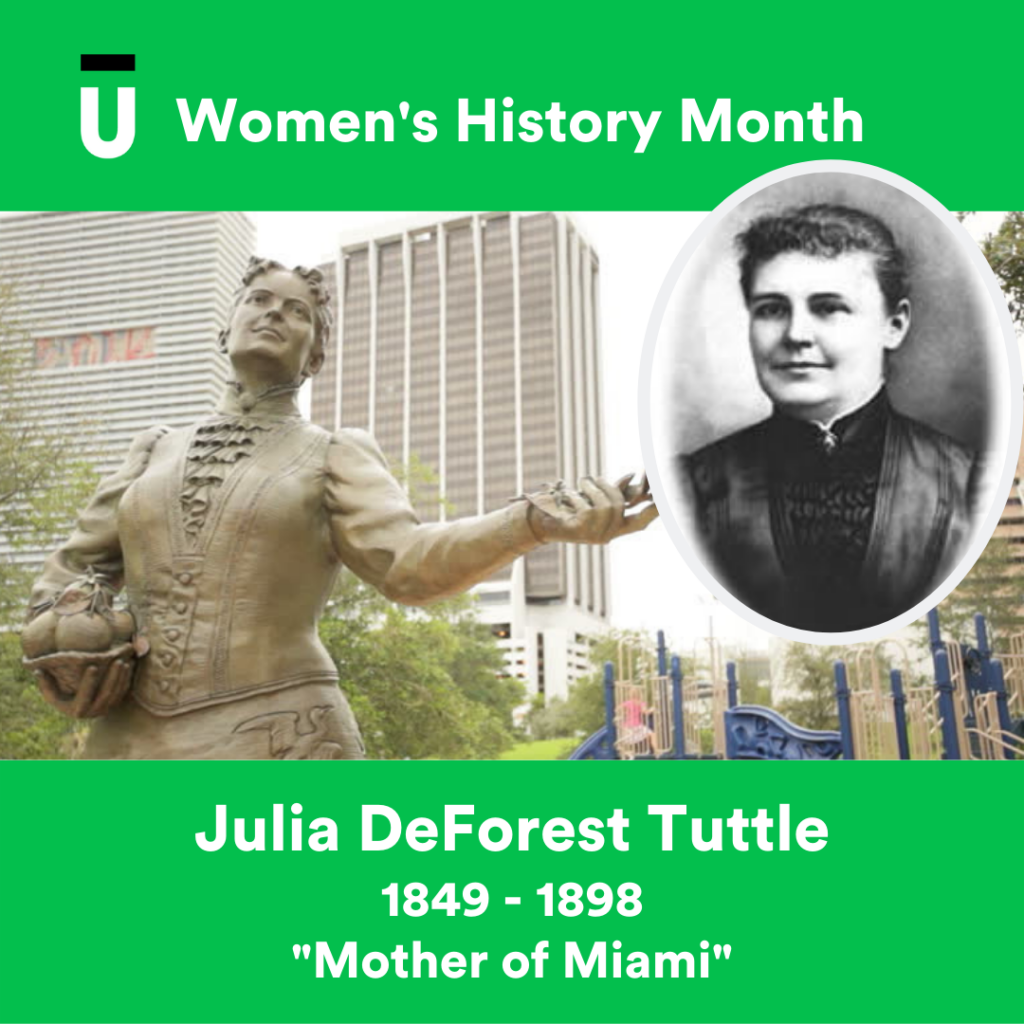 Julia DeForest Tuttle: An American businesswoman, and landowner whose land became the booming city we know today. For this reason, she is called the "Mother of Miami." She is the only woman to have founded what would become a major American city. Knowing that transportation would be a key factor in developing a city, Julia Tuttle convinced Standard Oil Co-founder Henry Flagler to continue his famous railroad south. In 1896, the train service of the Florida East Coast Railway came to the area, helping the city steadily grow from a small town to a metropolis. Thanks to Julia Tuttle and the backbreaking work of those who built it, the beginnings of rail transit in Miami were planted. They have now flourished, paving the way for The Underline to build on her legacy, transforming the land below Miami's Metrorail into a 10‑mile linear park, urban trail, and public art destination.
Note: only men could vote to incorporate the city that Julia Tuttle founded because as a woman she didn't have the right to cast a vote.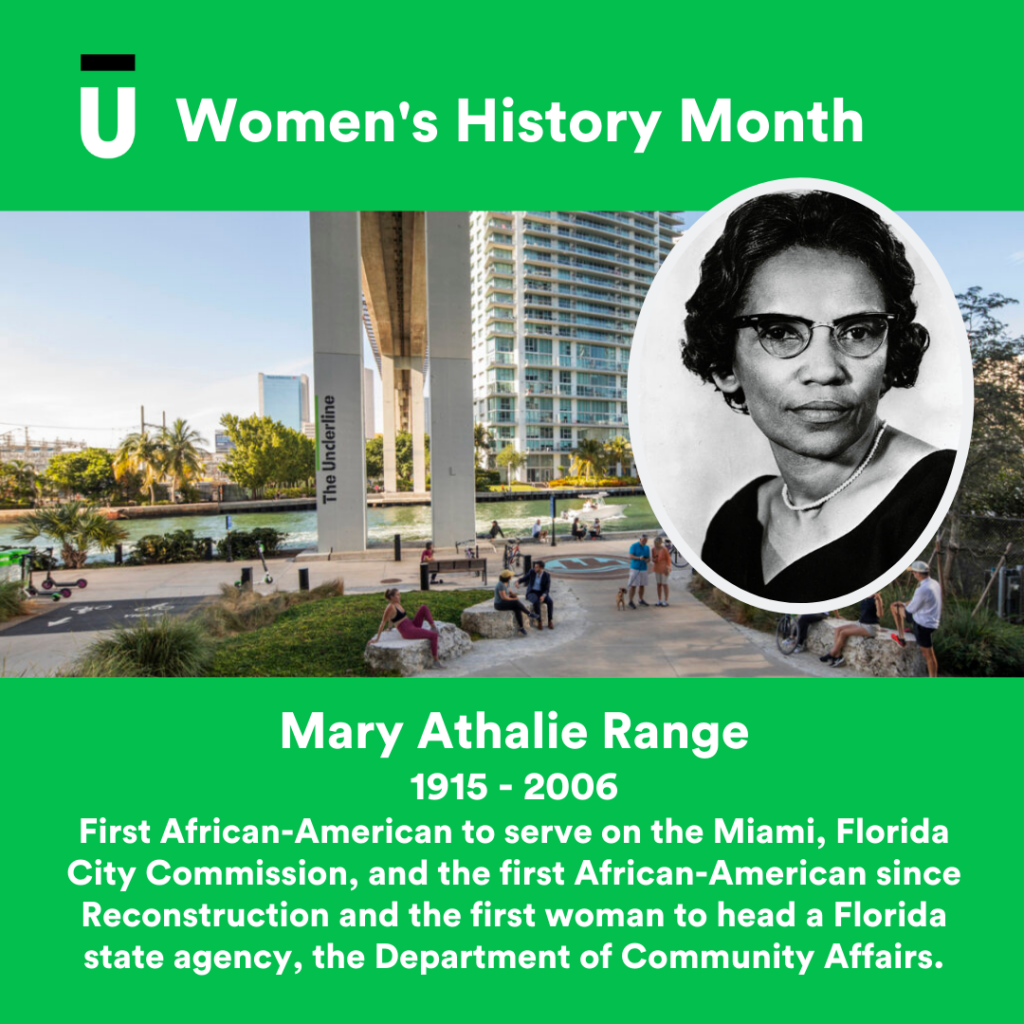 Mary Athalie Range: A civil rights activist and the first black woman to serve on the Miami City Commission and the first woman in Florida to head a state agency: Secretary of the Department of Community Affairs. This helped open the doors for future projects in the City of Miami led by women, like The Underline.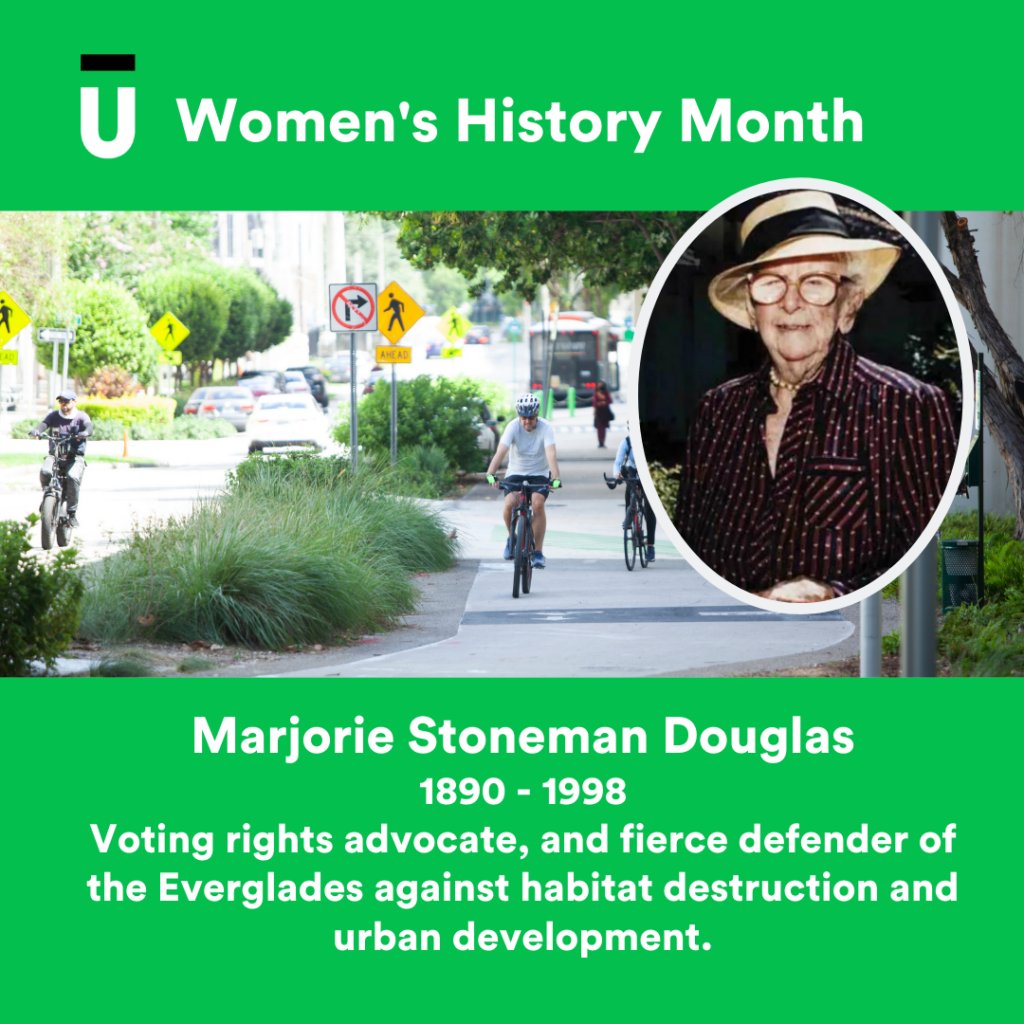 Marjory Stoneman Douglas: An author, voting rights advocate, and fierce defender of the Everglades against habitat destruction and urban development. Her work helped reshaped how the Everglades are seen, contributing to the wide range of conservation efforts we see today. Every one of the thousands of native plants that will help create the ecosystem of The Underline's trails will reflect her love of the outdoors and South Florida's unique and vibrant plant life.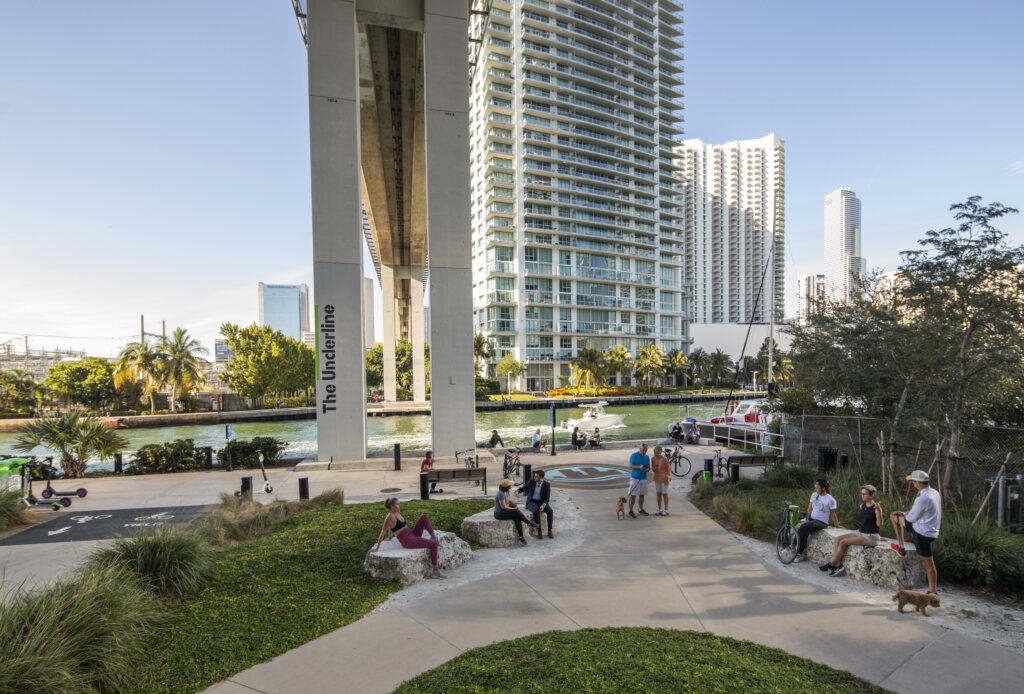 Women of The Underline
The contributions of these exceptional women and others have paved the way for women to lead projects like The Underline in Miami. From our female Founder to female board members, women are contributing their skills, time and money to support our bold mission to create a more mobile, safe, healthy, sustainable and connected community through The Underline's 10-mile linear park and trails.
Meg Daly: Founder of Friends of The Underline, Meg envisioned the transformation of 10-miles of dead land below metrorail to become a 10-mile linear park and trail. She has worked for nearly a decade as a volunteer on leading the project with Miami-Dade County, cities, and an active engaged board. She is an entrepreneur, philanthropist, devoted wife, and proud mother and grandmother.
Jessi Berrin: Jessi has been an Underline Board Member for nearly seven years. When not championing The Underline, she is an experienced, versatile, goal-oriented Development Director at Baptist Health South Florida. She is a strong community builder, brand ambassador, and highly-effective policy advocate with a Master's focus in Business Administration from the University of Florida. Fun fact: She had a short stint in Broadcast Journalism.
Iris Escarra: Iris is a Friends of The Underline board member and Co-Chair of Greenberg Traurig's Land Use Practice providing representation to landowners and developers in every phase of a property's development and operation, including due diligence regarding the property's development potential, obtaining local and state entitlements for new construction, redevelopment, and the introduction of new uses or the preservation of existing uses.
Irene Hegedus: Irene is chief of transit enhancements for Miami-Dade's Department of Transportation and Public Works and is The Underline project manager. She is an architect with 30 years of experience programming, planning and design of healthcare facilities. She defines her role as an integrator and a facilitator. As an integrator, she shapes the creativity, expertise and resources into a client focused process. As a facilitator, she makes sure that this process "connects" with the client and the users in a positive manner, to deliver on time and on budget.
Arden Karson: Managing Principal at Karson & Co and Friends of The Underline board and Executive Committee member, was born and raised in South Florida and is a third-generation real estate professional. After graduating from Tufts University and Harvard Business school, she returned to Miami to work in various executive real-estate roles. Arden is active with many industry organizations and has been recognized by the media as a Power Real Estate Leader and a Top Business Woman. Fun fact: Arden attended Ransom Everglades High School with co-board members Meg Daly and Debi Wechsler.
Grace Perdomo: Executive Director of Transit Alliance and Underline board member and Design Advisory Committee member, Grace is an architect and urban designer with over 25 years of extensive experience in mixed-use urban redevelopment, master planning, zoning analysis, code development, and grant writing. Throughout her professional career, Grace has overseen numerous projects committed to sustainable urbanism and centered on downtown and historic neighborhoods.
Salma Merchant Rahmathulla: Founder of The Essentials Story & Creative Director at Pelicans Group. Salma has always had a deep interest in philanthropy and, as a board member, will chair The Underline's Playground fundraising initiative. She is passionate about children's education, women's empowerment, and supporting the arts. Salma believes a focus on these elements can improve communities and shift cultures. She previously worked for the UN and the World Bank as well as volunteering and consulting for a number of NGOs. Fun Fact: As a former New Yorker and lover of The High Line, Salma understood the transformative potential of The Underline.
Donna E. Shalala: An accomplished scholar, teacher, and administrator with more than 40 years of experience in higher education, Dr. Shalala serves as University of Miami Board of Trustees Presidential Chair and on the Friends of The Underline board. She is a former U.S. congresswoman representing Florida's 27th district 2018-21 and is a former University of Miami President. Her public service includes serving as Secretary of the US Department of Health and Human Services in the Clinton administration for eight years, and Assistant Secretary for Policy Development and Research at the US Department of Housing and Urban Development in the Carter administration. Fun Fact: Donna is passionate about urban planning and how cities can be improved in the built environment.
Nicole Tallman: First Vice Chair of The Underline Conservancy, Nicole is Miami-Dade County Mayor Daniella Levine Cava's appointee. Nicole is Director of Legislative Affairs and the Poetry Ambassador for the Mayor. Her 20 years of professional communications experience in both the public and private sectors includes Miami-Dade County, Miami Dade College, Siemens and Haworth. She is also Associate Editor for South Florida Poetry Journal, and Interviews Editor and for The Blue Mountain Review.
Debi Wechsler: Debi is a Friends of The Underline board member and Chair of The Underline Art Advisory Council, who supported and helped create the master plan for The Underline's 10-mile outdoor public art gallery. She is a philanthropist who currently chairs her family's foundation and serves on the boards of several other local organizations. She is the past board chair for UM Hillel. Fun Fact: Meg and Debi were in the same graduating class at Ransom Everglades High School.
Lilly Weinberg: Lilly is a member of Friends of The Underline board and serves on the Executive Committee. She is Senior Director with the Community & National Initiatives program at John S. and James L. Knight Foundation managing Knight's $140 million investment in 18 small to midsize Knight communities. She graduated from Harvard University and MIT Sloan School of Management, where she concurrently earned master's degrees in public administration and business administration.
Judy Zeder: Judy is a Friends of The Underline board member and Chair of The Underline Nominating Committee. She has been a licensed Realtor-Associate in Florida for over 20 years. Her dedicated work ethic, outgoing nature, and years of involvement in community and charity events paved the path for her to become a real estate agent. She is a founding partner of the Jills Zeder group, the #1 real estate team in the United States.