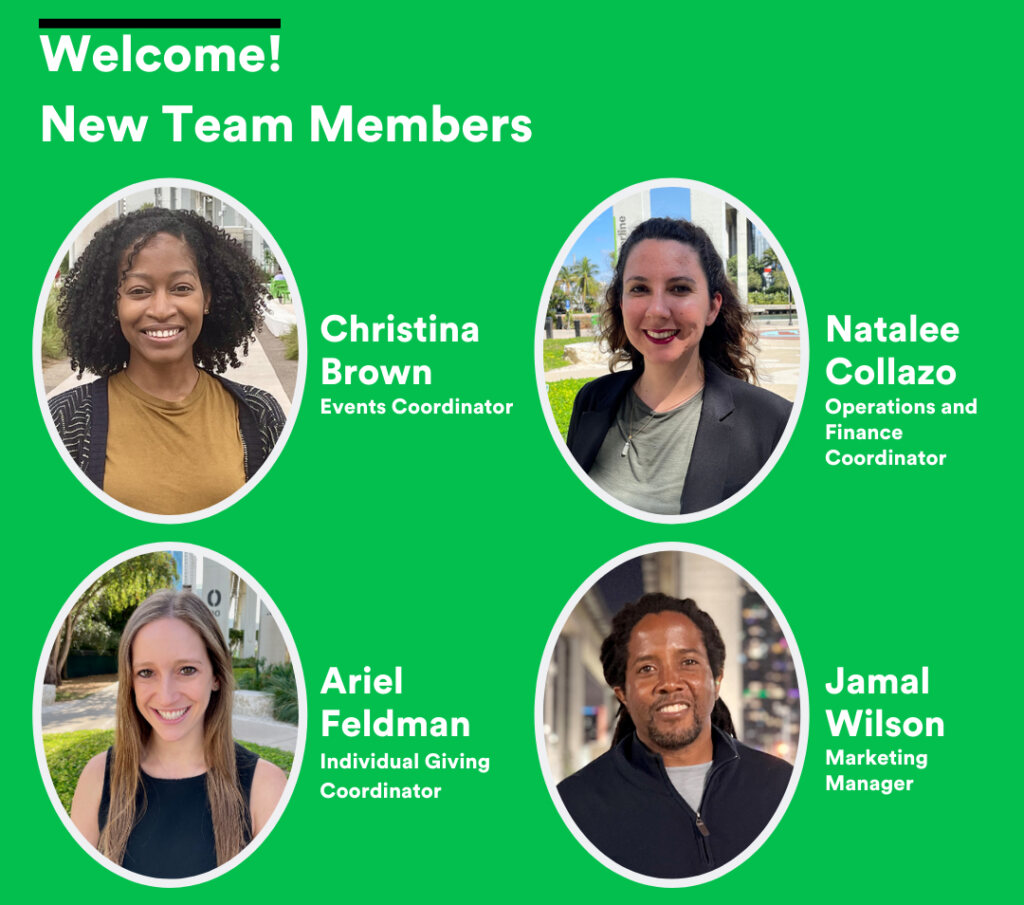 March 29, 2022 – MIAMI – As Friends of The Underline supports fundraising efforts, community events, efficient operations and enhanced communication to realize the 10 mile multimodal trail, linear park, and arts and culture destination, the organization is excited to announce its latest staff additions: Christina Brown, Events Coordinator, Natalee Collazo, Operations and Finance Coordinator, Ariel Feldman, Individual Giving Coordinator, and Jamal Wilson, Marketing Manager.
A native of Jamaica, raised in South Florida and a graduate of Florida International University, Christina Brown brings event planning expertise with non-profit and family-friendly programs. She is a welcome addition to the team as The Underline increases engagement with surrounding residents, commuters, and visitors. "I am looking forward to the expansion of The Underline and its continued positive impact on the community and environment. As the event coordinator, I am excited for future collaborations and partnerships on events that celebrate our dynamic community."
Natalee Collazo is joining The Underline as a full time team member after 4 years as an outstanding community outreach and event volunteer. As a graduate of Florida International University and a Miami native, Collazo brings her passion for community engagement and philanthropy and will focus on implementing The Underline's strategic plan and streamlining the organization's operations. "The Underline has held a special place in my heart since 2014. Before joining the team earlier this year, I served as a volunteer for the organization and was co-chair of the first Underline Biking Committee. I am thrilled to support The Underline's mission and excited to be part of the team."
Ariel Feldman joins The Underline team with an extensive background in field operations and the nonprofit sector. Feldman is a Miami native and graduate of Florida State University, where she received a B.S. in Hospitality Management. "The Underline is a world class facility that's transforming our city," says Feldman. "I'm thrilled to be joining a team that is creating a safe and sustainable space for everyone."
A native of Miami and a graduate of University of Miami's Environment, Culture, and Media Master's program Jamal Wilson brings web, graphic design, and digital marketing experience with non-profit, government, entertainment, and academic organizations to Friends of The Underline. Formerly the marketing coordinator for Miami Herbert Business School Graduate Business Programs at the University of Miami, Wilson's experience in digital marketing and his passion for social justice, biodiversity, and community building will support The Underline's vision to be a world-class example for connecting communities through arts, culture, and environmental awareness events. "It is a privilege to be a part of such an amazing project," says Wilson. "The Underline represents a powerful intersection of community building, culture, and awareness of the role outdoor spaces play in our lives, especially in Miami's unique urban environment. It's an honor to be a part of this dynamic team and see The Underline grow into a world-class destination."
"With more than 1.2 million visitors and 50 free public programs in Phase 1 in our first year open," says CEO and Founder Meg Daly, "we are thrilled to add these professionals to our team. We have so much work ahead of us, but with this talented team, I know we will be able to provide a multimodal trail and vibrant open space for all of Miami to enjoy."
About Friends of The Underline
Our mission is to deliver and activate a 120-acre, world-class linear park spanning 10-miles below Miami's Metrorail that will transform regional mobility and celebrate diversity, culture and lifelong learning. Through innovative urban trails and creative programming, we are connecting people to their environment and each other to create a safe, healthy, equitable, and sustainable community. For more information visit theunderline.org.