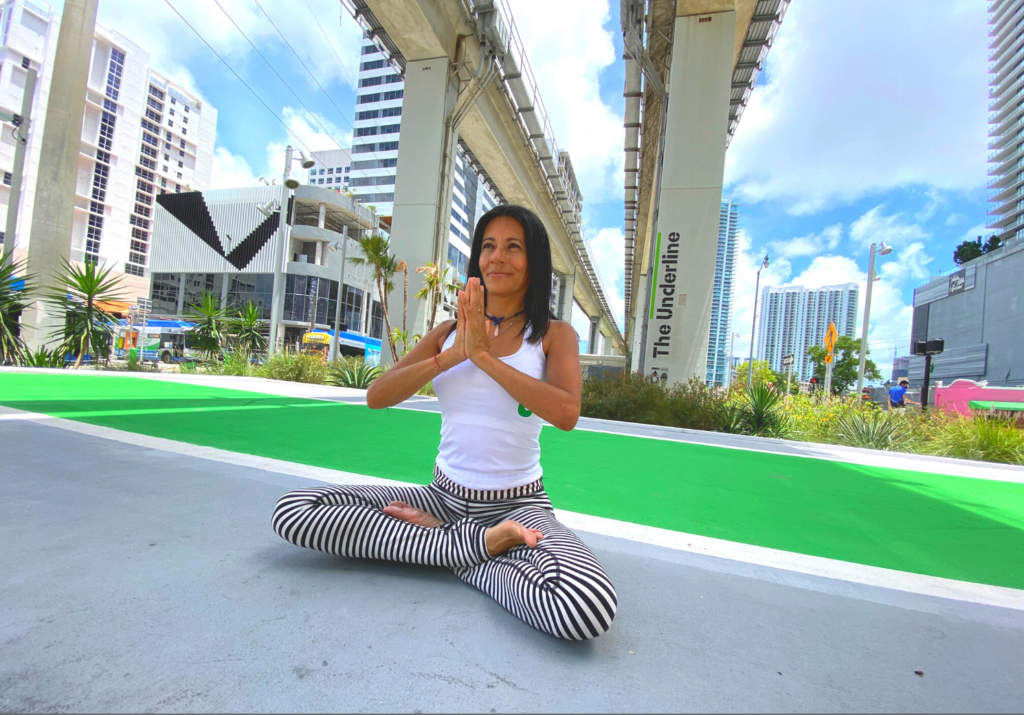 Celebrate Mental Health Awareness Month on The Underline with free in-person outdoor yoga classes.
With the generous support of health and wellness sponsor Baptist Health, The Underline will launch their highly anticipated in-person yoga classes May 2022 at the Brickell Backyard Sound Stage. Starting Saturday, May 21st, 2022 the new free in-person yoga classes will take place every Saturday from 9-10 AM. This is a wonderful opportunity for those who are looking for a safe space to connect and exercise outdoors. Check back soon for updates on our Virtual yoga classes via Zoom.
As part of The Underline's mission to support and promote healthy lifestyles for the community, these weekly community yoga classes offer physical and mental health benefits for people of all ages. The Underline and Baptist Health have been partners for 5 years. Prior to building and opening the first phase of The Underline, Baptist Health supported in-person Yoga classes at Brickell City Centre and group bike rides to explore our beautiful community. Due to COVID, the popular Yoga classes quickly pivoted to virtual and have had a strong following for 2 years.
Yoga instructor Anny Noratto, will provide guided meditation in honor of Mental Health Awareness Month and teach the basic principles of yoga. The classes are open to all experience levels and no yoga experience is required. However, participants should be able to get up and down from the floor. Those who wish to attend the in-person yoga class will need to bring their own mat and water bottle. Yoga mats will be socially distanced for the safety of our participants. Registration is required, sign up on Eventbrite.
Participants who are able are encouraged to make a donation of any amount at theunderline.org/donate, or when you register, to support our free programming throughout the year.
###
About Baptist Health South Florida:
Baptist Health South Florida is the largest healthcare organization in the region, with 12 hospitals, more than 24,000 employees, 4,000 physicians and 100 outpatient centers, urgent care facilities and physician practices spanning across Miami-Dade, Monroe, Broward and Palm Beach counties. Baptist Health has internationally renowned centers of excellence in cancer, cardiovascular care, orthopedics and sports medicine, and neurosciences. In addition, it includes Baptist Health Medical Group; Baptist Health Quality Network; and Baptist Health Care On Demand, a virtual health platform. A not-for-profit organization supported by philanthropy and committed to its faith-based charitable mission of medical excellence, Baptist Health has been recognized by Fortune as one of the 100 Best Companies to Work For in America and by Ethisphere as one of the World's Most Ethical Companies. For more information, visit BaptistHealth.net/Newsroom and connect with us on Facebook, Instagram, Twitter and LinkedIn.
About The Underline
The Underline is a planned 10-mile urban trail, linear neighborhood park and public art destination that will span from the Miami River, north of Brickell Metrorail station, to Dadeland South. The Underline project will feature dedicated bike and pedestrian paths, amenities, art, programming, lighting, native vegetation as well as safety features and improvements at road crossings. The Underline will be built in three phases. The first phase, Brickell Backyard from the Miami River to Coral Way, opened February 2021. For more information, visit www.theunderline.org and/or follow on social media @theunderlinemia.