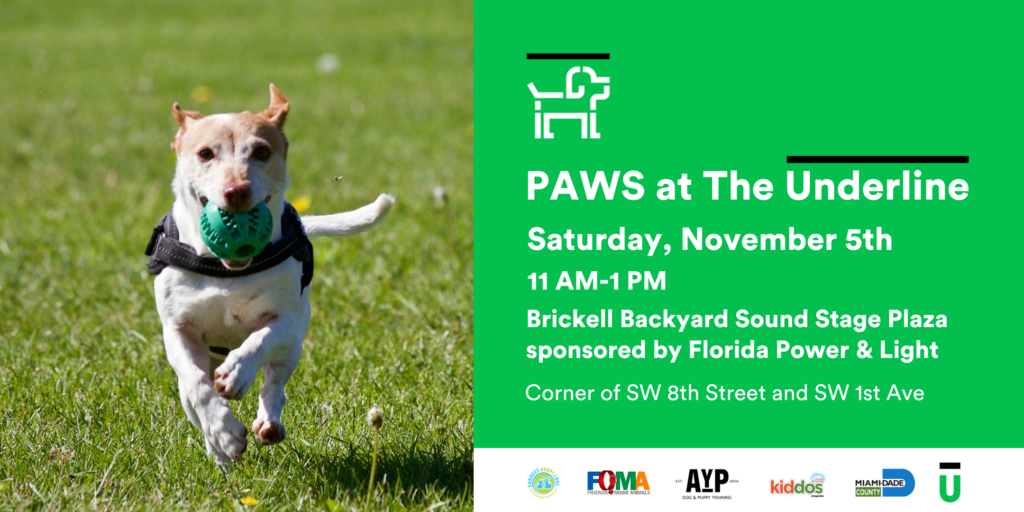 Miami, FL, – Friends of The Underline and Friends of Miami Animals Foundation (FoMA) will host their first free dog training class on Saturday, November 5th, with Applause Your Paws certified trainers. The course, which is free to the community, will teach dogs and dog owners basic leash and handling tips from 11 AM to 1 PM at the Sound Stage Plaza sponsored by Florida Power and Light, located at SW 8th Street and SW 1st Avenue.
Behavioral issues are one of the common reasons why pets are surrendered. Rescues and new pets can take a while to settle in and understanding how to improve their behavior can be a challenge for new pet owners. To help prevent healthy and adoptable dogs from returning to shelters, PAWS at The Underline is offering 20 slots for any dog, and 10 additional spots specifically for dogs adopted from Miami-Dade Animal Services.
PAWS at The Underline is a monthly programming series for pet lovers helping to promote animal welfare. The Underline is a pet-friendly environment that is proud to be partners with FoMA, Miami-Dade County Animal Services and other organizations helping pets and pet guardians! Since the first PAWS event in April of 2021, these events have brought pet owners together, have helped many animals find new homes, and have provided a variety of free services to pet owners in the community.
PAWS events take place every 1st Saturday of the month at The Underline's Brickell Backyard from 11 AM to 1 PM
To sign up to attend PAWS at The Underline, visit PAWSatTheUnderline.eventbrite.com.
# # #
About Miami-Dade County Animal Services
Every year Miami-Dade County Animal Services Department (Animal Services) provides care and refuge for 28,000 to 30,000 lost and abandoned dogs and cats. Every day, Animal Services staff works diligently to find life-long homes for these abandoned animals by facilitating onsite adoptions, hosting offsite adoptions at events and locations throughout the community, and working collaboratively with rescue organizations, volunteers and adoption partners. For more information visit, www.miamidade.gov/animals and/or follow them on Facebook, Twitter and Instagram @adoptmiamipets.
About The Underline
The Underline is a planned 10-mile urban trail, linear neighborhood park and public art destination that will span from the Miami River, north of Brickell Metrorail station, to Dadeland South. The Underline project will feature dedicated bike and pedestrian paths, amenities, art, programming, lighting, native vegetation as well as safety features and improvements at road crossings. The Underline will be built in phases, the first of which will begin in the Brickell area. For more information visit, www.theunderline.org and/or follow them on social on Facebook, Twitter and Instagram @theunderlinemia.
About Friends of Miami Animals
Friends of Miami Animals Foundation's mission is to save and improve the lives of homeless pets in Miami-Dade County through education, advocacy, financial support and increased awareness. FoMA was founded in 2016 from a desire to help reduce pet overpopulation and alleviate the underlying causes of pet homelessness, such as unwanted puppies and kittens, pet abandonment, and other issues that bring pets into shelters and force pet owners to surrender their pets due to temporary hardships. From funding free or low cost medical services to pets living in low income households, to helping Miami-Dade County Animal Services with enrichment for shelter pets by funding enhanced play yards to allow large dogs to get out in play groups and creating their Annual Volunteer Fair, our focus is to assist more homeless pets by working closely with Miami-Dade County Animal Services and helping to bring the shelter into the community and the community into the shelter.