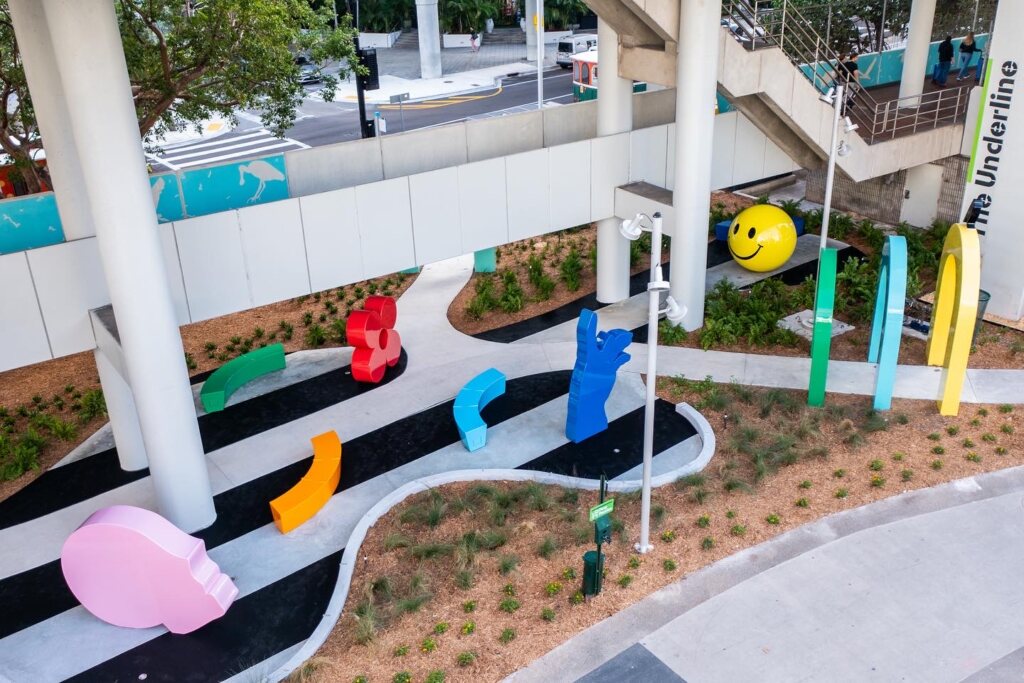 Key Takeaways:
Airbnb and Nasdaq have teamed up with beloved local Miami artist Typoe to create an installation on The Underline to serve as a living, breathing space for connection and belonging
The Airbnb Entrepreneurship Academy in Miami launched to empower local residents who are interested in reaping the financial benefits of hosting ahead of Miami Art Week.
Over Art Basel, Hosts in Miami collectively earned $2.4 million by welcoming nearly 12,000 guests — all art lovers and artists from around the world[1]
As artists and art aficionados flock to Art Basel, Airbnb and Nasdaq have teamed up to debut a new public art installation at The Underline, transforming a section of the 10-mile linear park into a vibrant and surreal gathering area. A colorful respite from Brickell, Miami's bustling financial district, the installation represents Miami's diversity and role as a global art capital. Renowned local artists Typoe and Laura de la Vega weaved together modern architecture, outdoor furniture and bigger-than-life sculpture in an interactive community space. Designed to serve as a space to spark conversation and community, the installation will offer a forum for connection and belonging for the Miami community.
"I can't think of a better way to kick-off Miami Art Week than by introducing this new installation at The Underline, one that will feature Miami born-and-bred creatives and recognizes the central role that Miami plays in the art world. We are grateful to Airbnb and Nasdaq for their support of The Underline, a true gift to our Magic City, and we look forward to seeing our vibrant community enjoy Typoe and Laura de la Vega's creation beneath the Miami Metro," said Miami Mayor Francis Suarez.
"This new space at The Underline provides an enriching way for our locals and visitors alike to come together and connect over a shared love of our beautiful natural environment, our melting pot and art. We are glad that Airbnb and Nasdaq have chosen to invest in our community through this important project," said Vince Lago, Mayor of the City of Coral Gables.
"This park is my love letter to Miami. It is something I hope the entire community can come to enjoy and experience together. My dream has always been to design parks and public spaces, and I'm so thankful for the opportunity to make my dream into reality with The Underline and Airbnb" said Typoe. "As I grew up here, I have always been highly influenced by the Art Deco movement, and it's a tradition that I wanted to keep in the city, but in a fresh modern way."
"We are immensely grateful to Airbnb for their support of public art on The Underline with this new installation by local artist Typoe. This recent work demonstrates how art, nature, and play can enhance the connections of our community," said Meg Daly, Founder, and CEO of Friends of The Underline. "We look forward to continuing to celebrate local talent that inspires and celebrates Miami's diverse culture."
One of the goals of this installation is to recognize Miami's local artists. Airbnb has long supported the creative community: many of our Hosts identify as artists and designers themselves, as home sharing provides them with an opportunity to earn extra income to supplement their passions. Based on a survey of Airbnb Hosts in the US, over 100,000 either worked in arts and entertainment, or had an artist or musician in their household[2]. With the pandemic changing the way we work, live and travel, we are seeing creatives like artists, musicians, and writers seeking a much-needed change of scenery from their homes and daily routines to recharge creatively and tap into their own pursuits and passions – and they're turning to Airbnb for these creative escapes.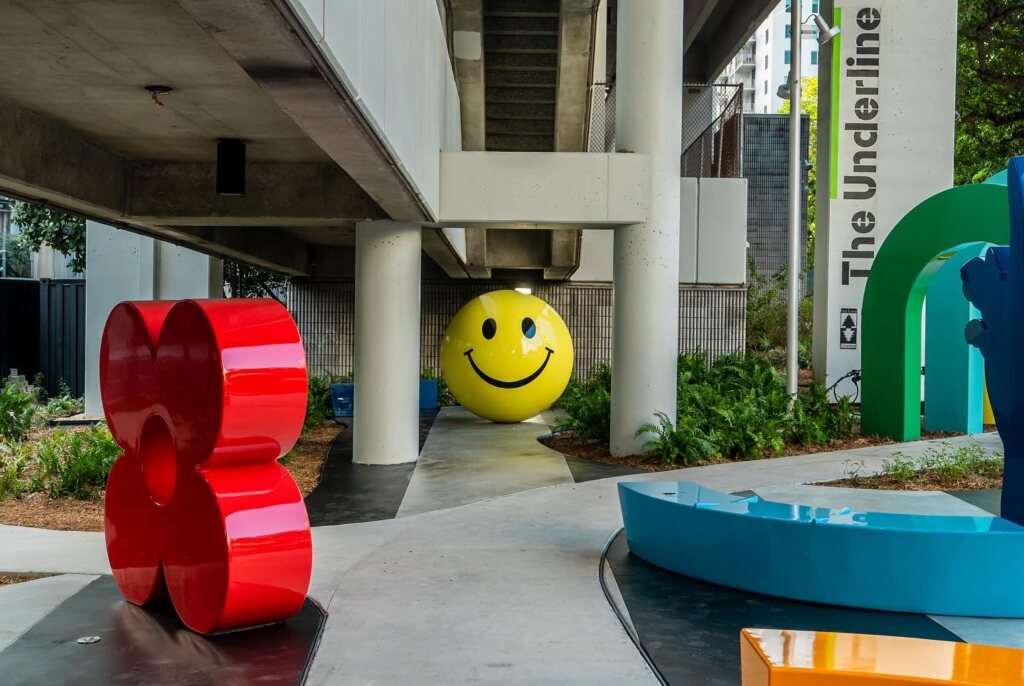 "Nasdaq is pleased to partner with Airbnb to bring to life this important installation to showcase Miami's entrepreneurial spirit," said Jailan Griffiths, Global Head of Purpose at Nasdaq and President of the Nasdaq Foundation. "Guided by our purpose to drive economic progress for all and aligned with our existing collaboration with Airbnb Entrepreneurship Academies and the Nasdaq Entrepreneurial Center, we are incredibly excited to extend our support to the vast community of entrepreneurs in the greater Miami region."
"Public art has the power to inspire the imagination of a community and bring us together through a shared experience. With such a thriving community of Hosts and guests, Airbnb is proud to support The Underline installation which celebrates Miami's diverse culture and artists, and contributes to the city's cultural heritage," said Tom Martinelli, Airbnb Regional Public Policy lead.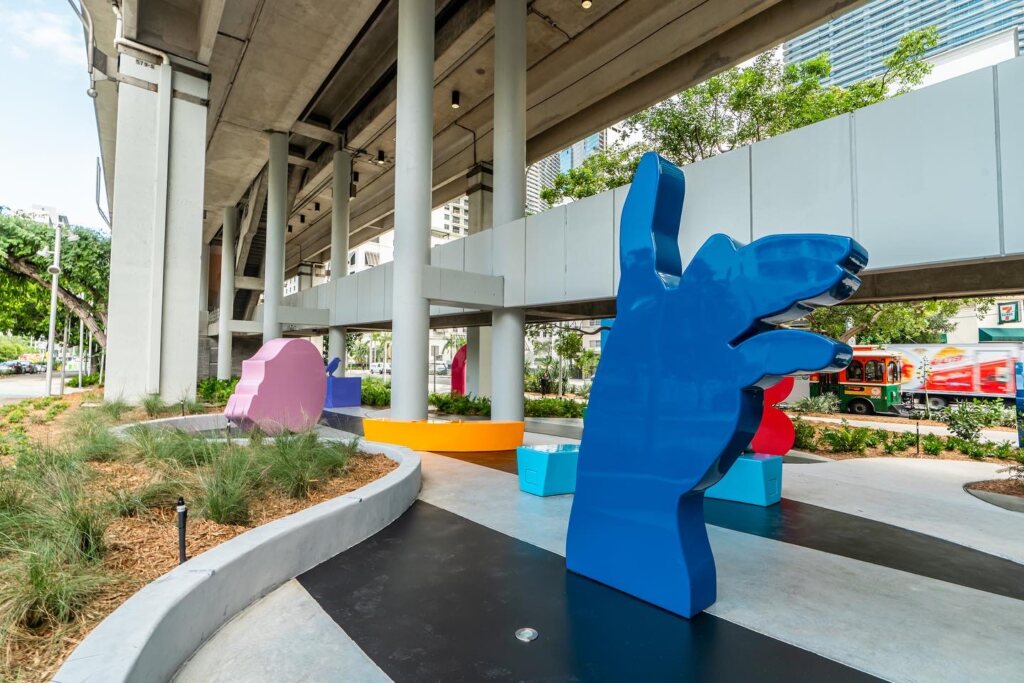 The Economics of Art
Home to premier galleries and museums, international art fairs, and iconic local art, Miami has become one of the most influential culture capitals in the world— and only grows more vibrant each year:
In the build-up to Miami Art Week, and to support local residents in embracing the economic opportunities created by hosting and entrepreneurship, Airbnb launched its Airbnb Entrepreneurship Academy in Miami – a flexible and interactive education program focused on empowering more people from diverse communities.
Working with the Center for Black Innovation (CFBI), a think-tank and Black innovation ecosystem that works to cultivate great leaders, entrepreneurs, and real capital pathways, the Airbnb Entrepreneurship Academy included online workshops with top tips on hosting a space through Airbnb to earn extra income, and the option to connect with an experienced Superhost ahead of Miami Art Week.
With Miami preparing for the return of Art Basel in a big way this year, the opportunity to earn is significant. Throughout 2021, Miami Hosts welcomed more than 710,000 guest arrivals, with a typical Host earning nearly $5,000 in the year. When Miami was home to Art Basel in 2019, a typical year prior to the pandemic, local Hosts earned $2.4 million by opening their doors to nearly 12,000 guests — art lovers and artists from around the world[3].
"The Center for Black Innovation is excited to partner with Airbnb to bring the Entrepreneurship Academy to our community," said Derick Pearson, CFBI Executive Director. "Creating economic pathways through entrepreneurship will help our community thrive and is a win for everyone involved. We look forward to working with Airbnb and continuing to grow our relationship with them to support our local community."
Big events, such as the return of Art Basel during Miami Art Week, are not only a win for local Hosts but also have proven what has long been known to be true: By using existing space to absorb influxes of visitors, Hosts help small businesses and their wider community in taking advantage of the economic benefits of events.
About The Underline
The Underline is a planned 10-mile urban trail, linear neighborhood park, and public art destination that will span from the Miami River, north of Brickell Metrorail station, to Dadeland South. The Underline project will feature dedicated bike and pedestrian paths, amenities, art, programming, lighting, native vegetation as well as safety features and improvements at road crossings. The Underline will be built in three phases. The first phase, Brickell Backyard from the Miami River to Coral Way, opened February 2021. For more information, visit www.theunderline.org and/or follow on social media @theunderlinemia.
About Nasdaq
Nasdaq (Nasdaq: NDAQ) is a global technology company serving the capital markets and other industries. Our diverse offering of data, analytics, software, and services enables clients to optimize and execute their business vision with confidence. To learn more about the company, technology solutions and career opportunities, visit us on LinkedIn, on Twitter @Nasdaq, or at www.nasdaq.com.
About Typoe
Typoe is a multidisciplinary artist whose practice plays upon the constant tension between the dark recesses of the urban underground and the shimmering bling of celebrity. Based in Miami, Typoe has participated in gallery and museum shows around the world and exhibited his work in Mexico City, New York, Los Angeles, Buenos Aires, Argentina, Basel, Switzerland and beyond, with his most recent showing at the Warhol Museum. He is co-founder and Creative Director of PRIMARY, an art collective and gallery in Miami's Design District and Little River.
About Laura de la Vega
Laura de la Vega was born and raised in Cuba, where she acquired a degree in Fine Arts. At age 18, she emigrated to the United States to become an Architect. After completing her Master's Degree in Architecture at Florida International University, she decided she was unwilling to limit her creative expression to architectural work. She recounts that, from a young age in Cuba, she had always been exposed to art and artists of all disciplines: The boundlessness of art awakened a passion for creation within her. Much of her work today involves the fusion of parametric design with 3D-Printing technology, pushing the boundaries of the medium. De la Vega has collaborated with the City of Miami to visualize its landscape as a growing cultural destination.
---
[1] According to internal Airbnb data over Art Basel (December 5- 8, 2019)
[2] Based on a 2019 survey of Airbnb hosts in the US, at the beginning of 2020
[3] According to internal Airbnb data over Art Basel (December 5- 8, 2019)