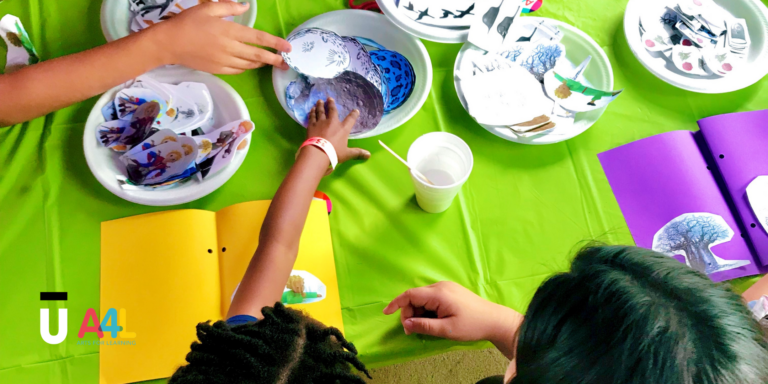 Have your child create a masterpiece at our next Family Day! We are featuring five Bakehouse Art Complex residents who will lead children in hands-on art-making classes. We'll also have Arts for Learning teaching children the critical importance of South Florida's history and ecosystem through a curated curriculum of multi-disciplinary art classes. There are 2 programs and 2 class time slots each Saturday to choose from, take one or both of the 30-minute activities from 2- 4 PM at the 📍 Brickell Backyard Urban Gym on SW 1st Ave between SW 8th and SW 7th streets.
Explore Miami's rich cultures, ecosystems, nature, science, and sustainability with the guidance of professional artists and go home with new artistic treasures made by your child.
Activities by Bakehouse Art Complex:
Loni Johnson, altar-making workshop (Please bring photos and small objects like beads or fabric that remind children of their loved ones.)
Philip Lique, block printing workshop
Pati Monclus, collaborative collage workshop
Mateo Serna Zapata, cyanotype workshop
Lauren Shapiro, clay-molding workshop
Best for ages 3 – 12. Parental supervision is required.
🎟 This event is FREE to the public, but REGISTRATION IS REQUIRED.
•••⁠
Getting there:
•⁠ 🚆Take the Metrorail to Brickell Metrorail Station, exit North and walk to the Urban Gym, located right after crossing SW 8th street. The Urban Gym is on SW 1st Ave between SW 8th and SW 7th streets.
•⁠ 🚴‍♂️ Walk or bike (bike trail on The Underline as SW 1st Avenue and SW 1st Street) to the Urban Gym, located right after the crossing to 8th street. The Urban Gym is on SW 1st Ave between SW 8th and SW 7th streets.
•⁠ 🚗 If you drive, please use nearby public parking lots at Brickell City Centre and Mary Brickell Village. Then walk the Urban Gym on SW 1st Ave between SW 8th and SW 7th streets.
•••⁠
👩‍🦼 Accessibility: The Underline is fully wheelchair accessible.
•••⁠
😷 We will adhere to CDC guidelines with mandatory mask use and social distancing.
•••⁠
💡 COME PREPARED: Bring water, sunscreen, light snacks, and a raincoat/umbrella, The Underline is an outdoor space.
•••⁠
🌧 Rain Policy: The event will be postponed 2 hours before event time in the case of 50% or more chance of rain.
•••⁠
✅ See The Underline's Park Rules.
•••⁠
✳️ About Family Day at The Underline
You said you wanted more fun activities for kids on The Underline, and we listened! Every third Saturday of the month we'll have a FREE Family Day at The Underline, an all-day event with a variety of fun activities for kids. From 2 – 4 PM enjoy 🎨 Art of Nature, multi-disciplinary art classes for children inspired by the flora and fauna on The Underline, or take your little ones to 🧩 Building Blocks, a pop-up life-sized LEGO-esque playground in the Urban Gym. Enjoy 👨‍👩‍👧‍👦 Family Day at The Underline, a free, unique, and fun day outdoors for you!
•••⁠
🧩 To RSVP for our afternoon event, Family Day at The Underline, Building Blocks from 2 – 4 PM, click here 🎟.
•••⁠
❇️About Arts for Learning: Arts for Learning (A4L) is a non-profit organization dedicated to advancing teaching and learning through the arts. As a leading source of arts programs in Miami, A4L provides traditional and arts-integrated instruction, student studio programs, afterschool and summer programs, high school internships, and teacher and artist professional development. A4L's programs augment cognitive, social, and emotional development in children and youth. The programs also develop creativity, critical thinking, communication, problem-solving skills as well as promote positive peer relations and cultivate self-efficacy. A4L partners with Miami-Dade County Public Schools, Miami-Dade County Department of Cultural Affairs, and Young Audiences – A4L's national affiliate. A4L also serves as the South Florida Wolf Trap, a regional program of Wolf Trap Institute for Early Learning. A4L's services are delivered to more than 5,000 children and youth in approximately 50 schools, preschools, after-school programs, and summer camps throughout Miami-Dade and Broward.
•••⁠
#UnderlineKids #BrickellBackyard #TheUnderline