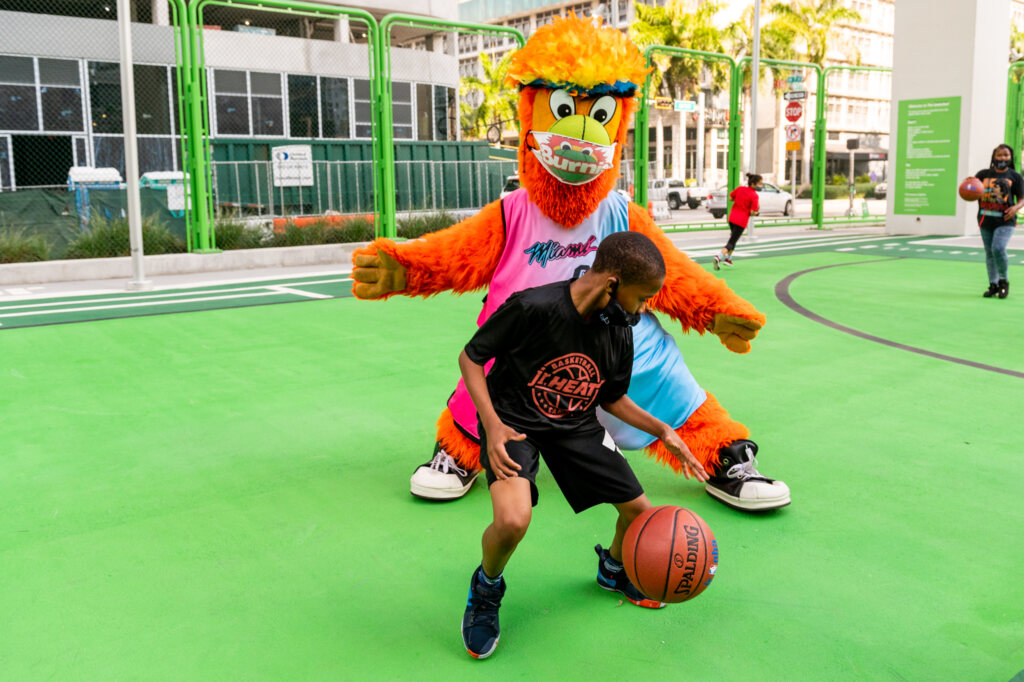 With the support of Swire Properties, Friends of The Underline will partner with the Miami HEAT to offer Jr. HEAT Skills & Drills, a free basketball skills camp, to the children of the local community.
Starting Saturday, October 9th from 9-11 AM, the eight-week camp will be offered to children from the non-profit Kiwanis of Little Havana and other children in the community. The clinics will take place on the Flex Court sponsored by Swire Properties in the Outdoor Gym, a flexible outdoor recreational space. Children 7 to 13 years old are welcome to participate.
As a leading international developer focused on generating Creative Transformation in South Florida, Swire Properties has been a supporter of The Underline's mission to encourage an active urban lifestyle in the space under Miami's Metrorail near the Brickell City Centre neighborhood where the Flex Court is located. The free basketball clinic will be led by the Miami HEAT and will offer creative programming where with Kiwanis of Little Havana children can build confidence and learn the fundamentals of basketball.
Basketball classes will be taught by Jr. HEAT coaches Tony Fiorentino and Rick Reyes, and each week will focus on a different basketball skill, to life skills, respect, and sportsmanship. The program lessons include: dribbling and the proper technique for a layup; learning how to dribble with the opposite hand; shooting techniques; and shooting off the dribble; jump shots and dribbling to jump shots, and finally, learning specific shots like floaters and more advanced dribble techniques.
Gates open at 8:30 AM, basketball clinic begins at 9:00 AM. The event is free to the public but registration is required.
Capacity: Up to 20 attendees
Getting there: Take Metrorail to the Brickell Metrorail Station, exit north and walk to Urban Gym . Walk or bike (bike racks on The Underline as SW 1st Avenue and SW 1st Street) to Urban Gym . If you drive, please use nearby public parking lots at Brickell City Centre and Publix Mary Brickell Village.
Accessibility: The Underline is fully wheelchair accessible.
Covid Protocol: Masks are optional, hand sanitizer will be provided. For more information about The Underline visit theunderline.org.