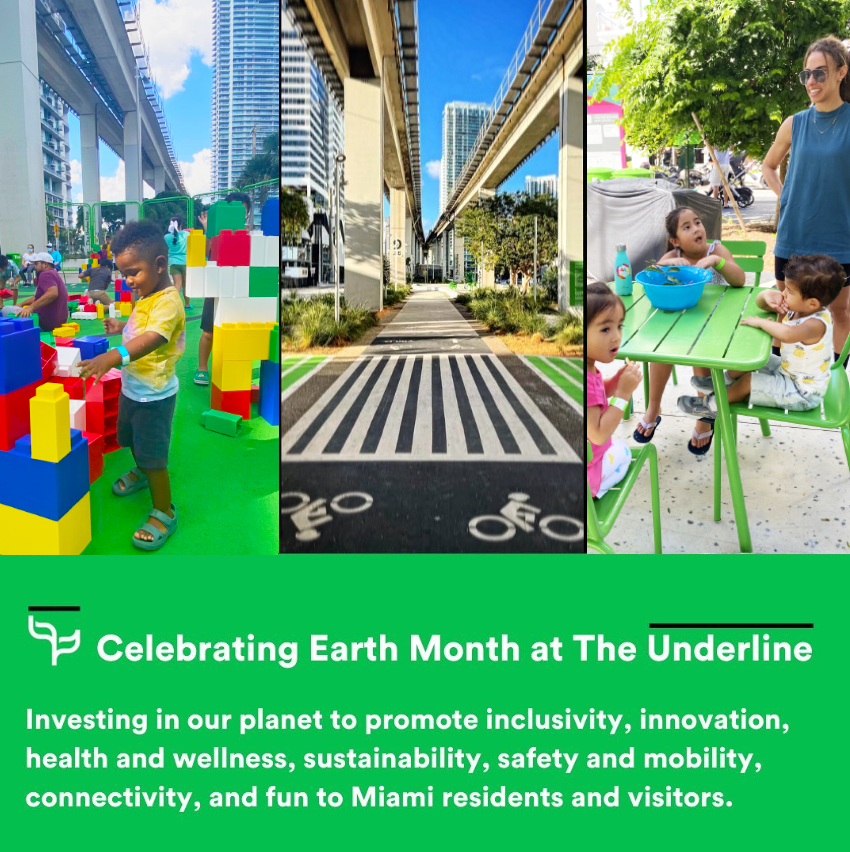 The Underline celebrates Earth Month On Saturday, April 16th; Join us for free Earth Month-themed events and activities for kids and families.
This Saturday from 2 to 4 PM join us for Family Day in the Urban Gym! Activities include hands-on art classes presented by Arts 4 Learning inspired by the flora and fauna on The Underline, a s.t.e.a.m. project presented by the Miami-Dade County Public Library, the Earth Month Native Plant Scavenger Hunt introducing participants to some of the native plants along The Underline with a chance to get your own free herb garden plant, a living history performance featuring local artist Christina Pettersson, an opportunity to create works of art with 5 Bakehouse Art Complex artists. Watch The Underline transform the Brickell Backyard Urban Gym into a state-of-the-art outdoor laboratory for kids. And, at the same time in the Urban Gym, we'll have the popular Building Blocks for kids to create their own buildings from oversized Legos.
Schedule
2 to 4 PM:
Art of Nature with Arts 4 Learning classes: This curated curriculum of multi-disciplinary art classes will enable kids to explore Miami's rich cultures, ecosystems, nature, science, and sustainability with the guidance of professional artists – Sign up here: bit.ly/UArtofNatureFM
Pop Up on The Underline presented byMiami- Dade County Library: Building Blocks at The Underline: Building Blocks, a pop-up life-sized LEGO-esque playground in the Urban Gym – Sign up here: bit.ly/UBuildingBlocksFM
Earth Month Native Plant Scavenger Hunt: Starting at 2 PM, play The Underline's interactive scavenger hunt to learn about our plants that support pollinators and the environment and you'll get your own herb garden plant while supplies last from Ready to Grow Gardens just for playing! Have fun, learn about growing your own herbs, and what you can do to support the earth this and every month. Check in at the Family Day table at the Urban Gym at the corner of SW 8th Street and SW 1st Avenue to get started.
Hands-on art activities presented by Bakehouse Art Complex: 5 artists from Bakehouse will be leading children through the creation of zines, cyanotypes and so much more.
At the Mouth of the Miami River: artist Christina Pettersson will present an historical South Florida adaptation of a tableau vivant performance and plein air drawing session, bringing to life local historic characters and flora and fauna – Register here.
Where:
Event Check-in: The Underline Brickell Backyard Urban Gym at SW 7th streets and SW 1st Ave
Sponsored by: