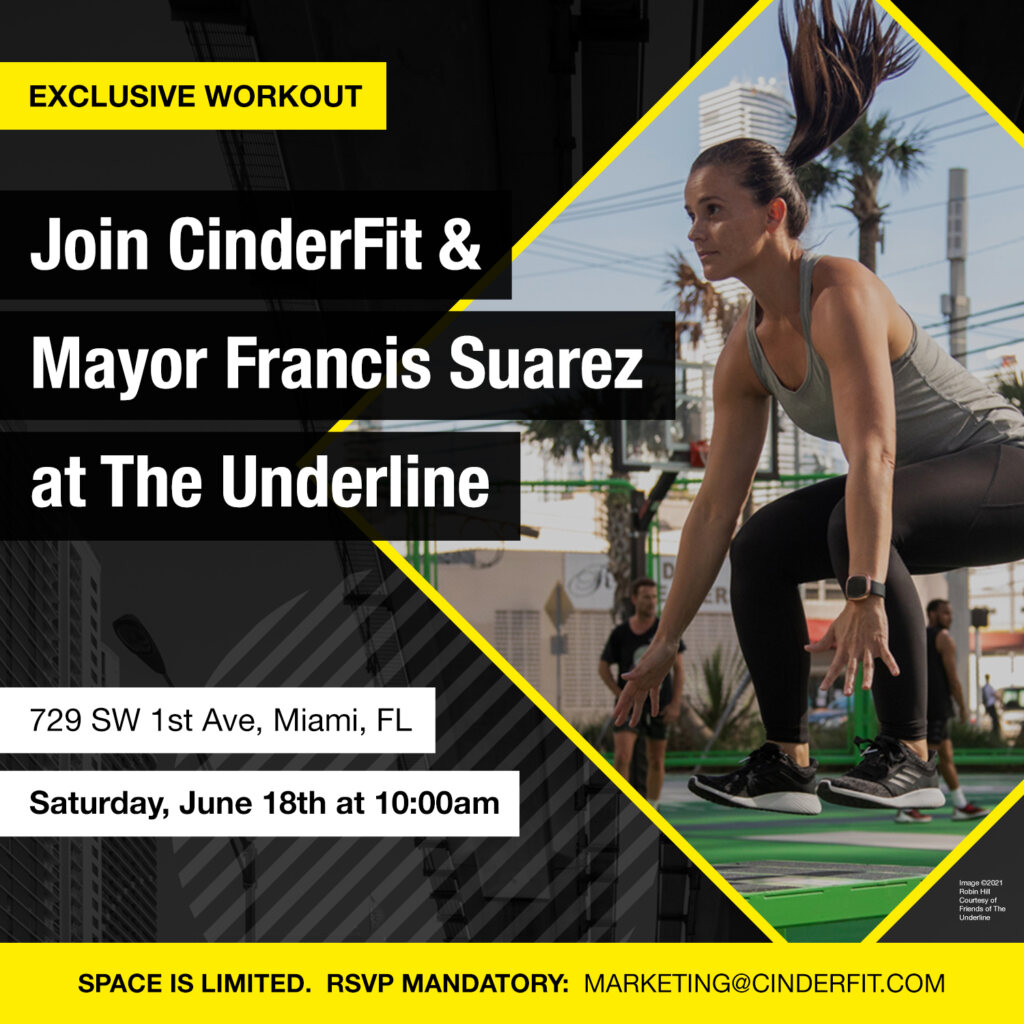 MIAMI, FL – CinderFit, a Miami-based performance fitness brand, will host a community workout, debuting its range of weighted exercise blocks, with Mayor Francis Suarez and fitness influencers on Saturday, June 18, at The Underline's Urban Gym sponsored by Baptist Health. The workout will celebrate the intersection between South Florida entrepreneurship, the community's flourishing parks and open spaces, and Mayor Suarez's focus on making Miami one of the happiest and healthiest cities in America. Everyone is invited to watch the workout, plus there will be a CinderFit giveaway.
The community workout adds muscle to the recent news of Miami's ranking as the 2022 healthiest city in America for the third year in a row (courtesy the Mindbody Wellness Index). Also, a health and fitness advocate himself, Mayor Suarez holds the title of being one of the fittest mayors in America in a ranking by Health Fitness Revolution. CinderFit is in good company both in its home of the Magic City and being lifted by its very own mayor at the community workout.
"Being outdoors and staying active with our community in a beautiful public space like The Underline is one way to check all the boxes of health and happiness in our city. I'm committed to making Miami the best place to live, work, and play in the United States, and workouts like CinderFit's debut support us in that mission," said Mayor Suarez.
Homegrown in a Miami backyard, CinderFit has expanded to become an influential force in the South Florida community with free online exercise resources in addition to its a wide range of fitness gear and a gym location in Little River. Cinder blocks have been used since the 1800s for construction and CinderFit has re-engineered the traditional block into the ultimate workout tool to be used anywhere. They offer free community workouts every Saturday at 9:30 a.m. at the CinderFit 305 gym in Little River (7269 NE 4th Ave., Suite 101, Miami).
"CinderFit was born in Miami, a city that cares about health, fitness, and happiness. It was only natural that we chose The Underline to celebrate our launch as we share the same values," said Felipe Azenha, Co-Founder of CinderFit. "Anyone looking to experience CinderFit after the community workout can join us at our Little River Gym or visit our website to purchase their own."
To RSVP for the event, click here.
About CinderFit
During the 2020 Covid-19 quarantine, CinderFit founders Takeo Ishii and Felipe Azenha were determined to maintain their exercise routine even though gyms had closed and home fitness equipment was sold out. With some cinder blocks they had in their backyards, the duo discovered the blocks could be used in a variety of different ways. The CinderFit workout was born and the traditional cinder block was redesigned with high-performance materials. CinderFit's patent-pending design allows fitness enthusiasts to do 10x more exercises than a dumbbell or kettlebell, providing unrivaled total body strength and cardio training.
About Friends of The Underline
Our mission is to deliver and activate a 120-acre, world-class linear park spanning 10 miles below Miami's Metrorail that will transform regional mobility and celebrate diversity, culture and lifelong learning. Through innovative urban trails and creative programming, we are connecting people to their environment and each other to create a safe, healthy, equitable, and sustainable community. For more information visit theunderline.org.