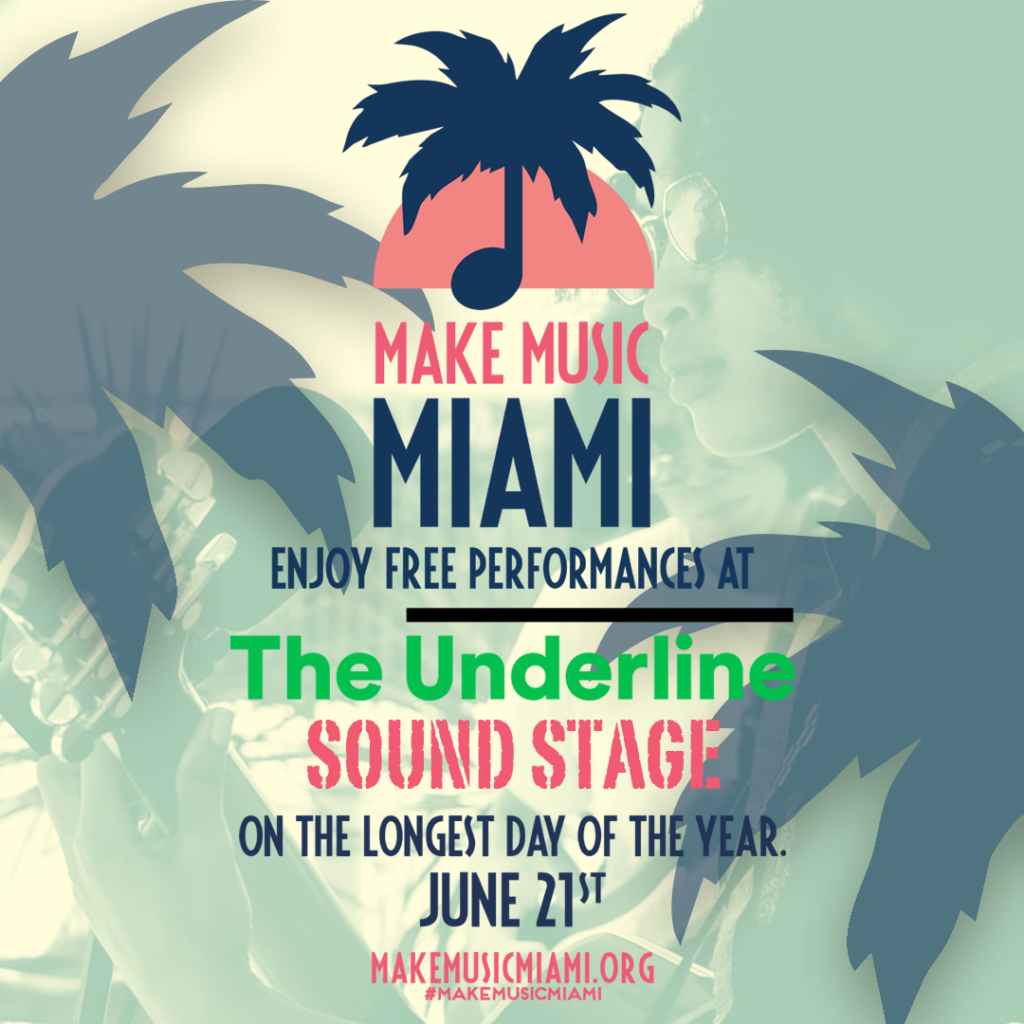 Make Music Miami Brings Musical Showcase To The Underline Sound Stage
MIAMI, FL — Make Music Day, the annual celebration of music on the summer solstice, returns this year on Tuesday, June 21. More than 5,000 virtual and in-person outdoor concerts, group music lessons, jam sessions and other exciting and outlandish music-making events, will spotlight music's power to connect, comfort, unite and uplift. Miami is among the 100+ U.S. cities hosting major celebrations in what has become a worldwide phenomenon observed by hundreds of millions of people in over 1,100 cities in 120 countries.
Completely different from a typical music festival, Make Music Day celebrates and promotes the natural music maker in all of us, regardless of ability. Reimagining their cities and towns as stages, every kind of musician – from bucket drummers and opera singers to folk artists and marching bands – pours onto streets, parks, plazas, porches, rooftops, gardens, beaches and other public spaces to celebrate, create and share their music with friends, neighbors and strangers.
Launched in France in 1982 as the Fête de la Musique, Make Music Day is presented in the U.S. by The NAMM Foundation and coordinated by the nonprofit Make Music Alliance. On June 21, The Underline Brickell Backyard Sound Stage, located at the corner of SW 1st Avenue and SW 8th Street, will host a diverse lineup of Miami's favorite music artists beginning at 10AM. Attendees will enjoy performances by 11 year-old Isabella Vazquez, vocal phenom and winner of Phil Collins' Little Dreamers contest, Blue Talisman, a Latin singer/songwriter duo fronted by Yesler Cruz, wind virtuoso Damian Sanchez and indie rock outfit Quiana Major.
All Make Music Day events are free and open to the public. Participants who wish to perform or host musical events may register at MakeMusicMiami.org. A full schedule of events will be available on the website.
This celebration is supported by the Miami Downtown Development Authority, Lincoln Road BID, Miami Beach Arts in the Parks, France Florida Foundation of the Arts, the Cultural Services of the French Embassy and Villa Albertine.
###
About Buskerfest Miami
Buskerfest Miami is a collaborative organization dedicated to improving civic life through public street performance in Miami-Dade. We strive for a connected, thriving urban core where the streets of Miami are active and enlivened with local performers and enjoyed by people of all ages and walks of life. We envision a joyous place that is reflective of the tropical urban landscape and attractive to locals and visitors alike. Our methods for enacting this vision include: building a human network of local performers, uniting the private and public sectors for events and performances, advocating for public policy that supports the local arts ecosystem and re-imagining the use and function of Miami's public spaces. To learn more about Buskerfest, please visit www.buskerfestmiami.com.
About Make Music Day:
Held annually on June 21, Make Music Day is part of the international Fête de la Musique taking place in more than 1,100 cities across 120 countries. The day-long, musical free-for-all celebrates music in all its forms, encouraging people to band together and play in free public concerts. This year, more than 80 U.S. cities are organizing Make Music Day celebrations, encompassing thousands of concerts nationwide. Make Music Day is presented by the NAMM Foundation, and coordinated by the Make Music Alliance. For more information, please visit www.makemusicday.org.
About Friends of The Underline
Our mission is to deliver and activate a 120-acre, world-class linear park spanning 10 miles below Miami's Metrorail that will transform regional mobility and celebrate diversity, culture and lifelong learning. Through innovative urban trails and creative programming, we are connecting people to their environment and each other to create a safe, healthy, equitable, and sustainable community. For more information visit theunderline.org.