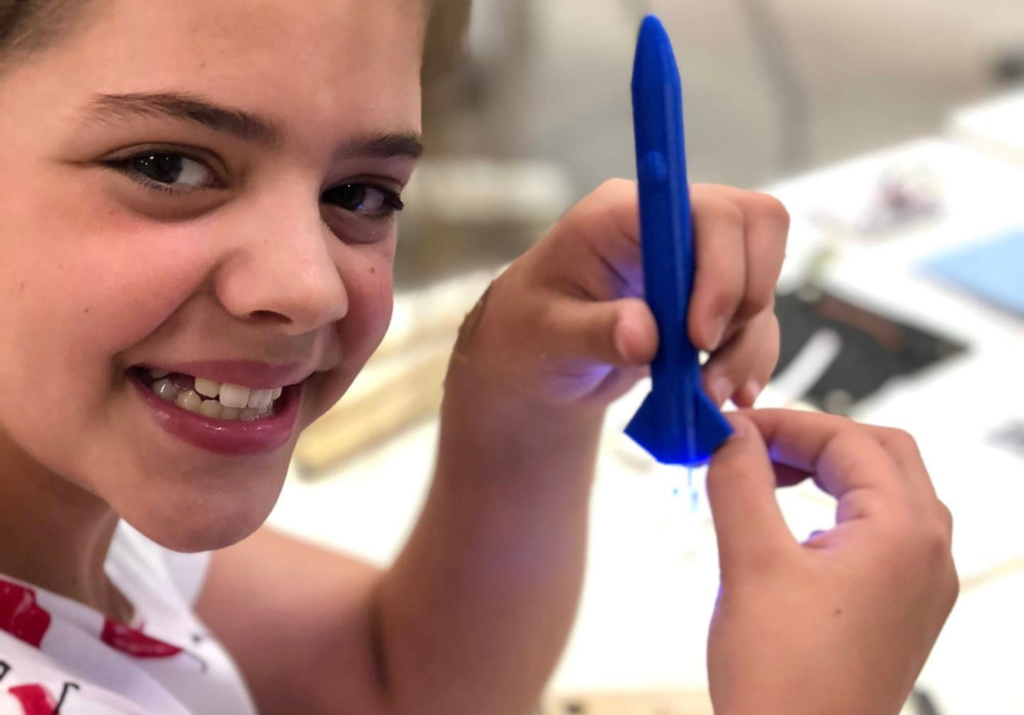 The Underline is transforming the Brickell Backyard Urban Gym into a state-of-the-art outdoor laboratory for kids on December 18th from 1-3 p.m. This family-friendly event presented by Verizon will provide children ages 2-12 with the opportunity to explore hands-on activities that bring Science, Technology, Engineering, Art, and Mathematics (S.T.E.A.M programs to life). The Underline is partnering with local maker space, Moonlighter.
"We are committed to expanding access to tech and science education across our community, and we're proud to support programming like this in our public spaces that promotes creativity and ignites passion for science, tech and math," says Miami-Dade County Mayor Daniella Levine Cava. "Through events like these we will continue to build a more innovative, inclusive Miami-Dade."
"From the very beginning of the Miami Movement, the City has emphasized how critical it is to eradicate the digital divide we're experiencing in America today. Access to the internet equals access to education and it's unacceptable that any child be left behind; I'm grateful to Verizon for contributing towards our collective efforts on this cause," said Miami Mayor Francis Suarez.
"We are so thrilled to see Verizon and The Underline work together to support our community and deliver an incredible experience such as The Underline Day of STEAM. It is important to provide opportunities such as these that integrate learning and promote a healthy environment. Providing educational resources to our youth encourages them to channel their critical thinking skills and creativity," said Vince Lago, Mayor of the City of Coral Gables.
Funded by a donation from Verizon, S.T.E.A.M on The Underline aims to provide accessible and enriching S.T.E.A.M classes to the community. Participating children will enjoy two facilitated projects.
"At Verizon, we continue to build networks to move the world forward. By partnering with The Underline in Miami, we can make a difference and help those in need by creating a pipeline from education to professional practice in which creativity and innovation is harnessed to solve local and global challenges," said Giovanni Castro, Government Affairs Manager at Verizon.
The Underline is focused on providing Miami residents with a world-class experience. S.T.E.A.M on The Underline presented by Verizon will create an inclusive learning environment while activating public space as a community asset encouraging movement, health, interactivity, and art.
"We are excited to partner with Verizon to support the hands-on education of our children. What better way to experience a S.T.E.A.M program than in Miami's newest great outdoor space where nature, science, art, and mobility all converge?" said Meg Daly, Founder and President of The Underline.
S.T.E.A.M on The Underline presented by Verizon is free to the public but registration and parental consent are required.
About Verizon
Verizon Communications Inc. was formed on June 30, 2000 and is celebrating its 20th year as one of the world's leading providers of technology, communications, information and entertainment products and services. Headquartered in New York City and with a presence around the world, Verizon generated revenues of $128.3 billion in 2020. The company offers voice, data and video services and solutions on its award-winning networks and platforms, delivering on customers' demand for mobility, reliable network connectivity, security and control.
About Moonlighter FabLab
Moonlighter FabLab is a 501(c)3 non-profit S.T.E.A.M. Learning Center and Fabrication Lab in Miami, Florida dedicated to empowering makers with the skills, tools, and opportunities to shape a better future. The mission is realized through four pillars: Education – via the STEAM Learning Center, Access – via the Shared Fabrication Lab, Collaboration – via Community Projects, and Outreach – via the annual Maker Faire Miami and other community events/activations.
Learn more at https://moonlighterfablab.org/