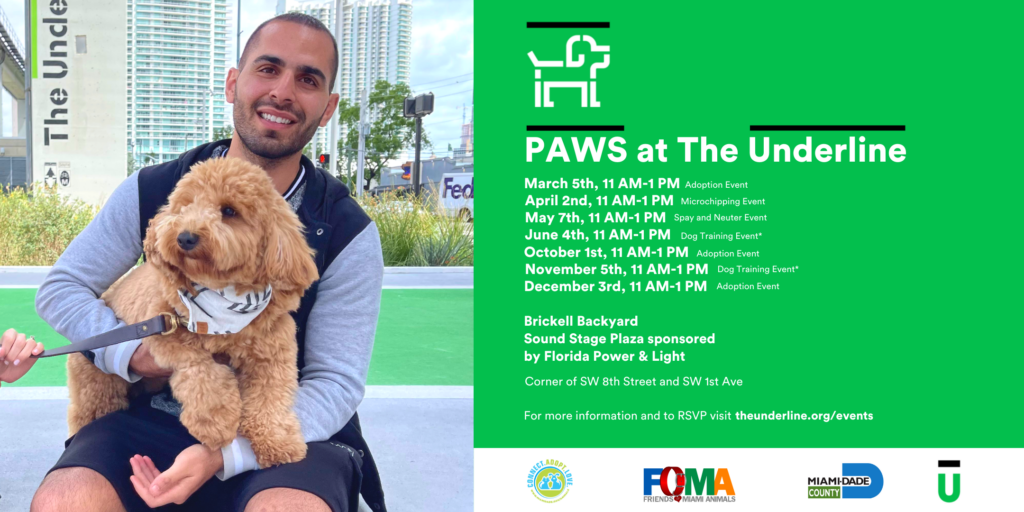 The Underline is a place everyone can enjoy, including your furry friends! We partnered with Miami-Dade County Animal Services Department and Friends of Miami Animals Foundation (FoMA) to bring a programming series for pet lovers!
What can you expect this year at PAWS at The Underline?
Free Dog Training Classes
Free Spay or Neutering Services
Free Microchipping for your pet
Farmers Markets with vendors that sell stylish pets accessories, healthy dog treats, and much more!
Pet Adoption Awareness
Workshops for kids to learn through fun dogtivities.
Doggie Dates
PAWS at The Underline events are helping to create awareness about the needs of shelter pets. Every first Saturday of the month the HOPE Express mobile pet adoption unit visits The Underline Sound Stage Plaza to find new homes for shelter pets.
Why should you adopt?
Save a life, and prevent a pet from being euthanized.
It cost less. All adoptions include the first set of age-appropriate vaccines, microchip, deworming, and spay/neuter surgery.⁠
Bring unconditional love into your home.
Here's what you'll need to adopt a pet at The Underline:
A copy of your driver license or valid state picture ID. You must be 18 years old to adopt a pet.
Proof of current address