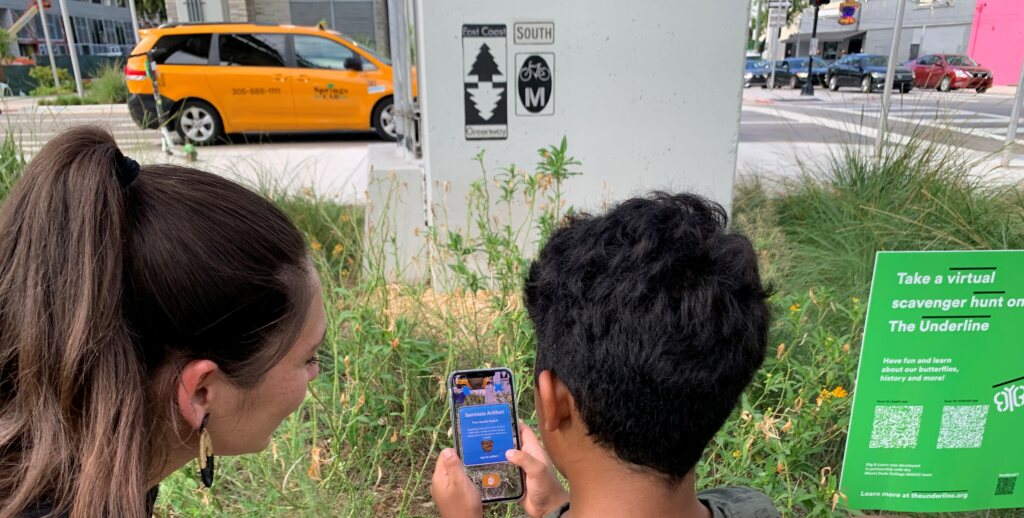 The High Line Network and Miami's Underline will use Knight's support to advance key initiatives devoted to revitalizing public spaces through the power of technology
March 15, 2022 — MIAMI — Technology innovations to design public spaces that better serve communities are heading to cities across America, thanks to investments of more than $1 million from the John S. and James L. Knight Foundation. Knight is supporting both the High Line Network, a North American public space peer network led by the High Line, as well as The Underline, a 10-mile park and trail beneath the Miami Metrorail.
This latest investment builds on Knight's longstanding commitment to support informed and engaged communities by investing in public spaces that help residents feel more connected to their cities and their neighbors. Since 2015, Knight has invested more than $100 million in public space projects aimed at fostering strong bonds between communities. With the increased use of technology in the public realm in communities across the country, Knight's investments at the intersection of public space and technology seek new ways to engage community members.
Knight's latest commitment includes $250,000 for the High Line Network, a program of the High Line that supports a group of 37 infrastructure reuse projects across America transforming underutilized public spaces into more equitable and vibrant urban landscapes. The High Line Network will use the funds to launch a Tech and Public Space Accelerator, a program empowering community organizations to identify their own technology needs, develop roadmaps for tech innovations, and ultimately implement tech tools to better serve their residents and communities. An advisory board with national leaders from philanthropy, technology and planning industries will steer the organizations as they define their needs and determine next steps.
"Knight's support will empower our members to get the most out of their technology planning," said Asima Jansveld, managing director of The High Line Network. "The Tech and Public Space Accelerator aims to give public space organizations a chance to unlock even more funding while putting them in a better position to adapt to the challenges of the future."
Miami's The Underline, a member of the High Line Network, will receive up to $800,000 to expand high-speed internet connectivity along the 10-mile public park, trail and art destination under the Metrorail, serving a projected 15 million users per year. Knight has been a key supporter of The Underline since its launch, investing nearly $3 million to date. 
This new Knight investment will provide a match of 1 to 4 for government support to expand uninterrupted wireless internet service across the park's full ten miles, catalyzing an additional $3.2 million in public funds. 
The project will lay the foundation for future Underline technology initiatives, from the installation of mobility sensors to the exploration of cutting edge spatial technology such as augmented reality.
"Our ability to create an inviting and innovative visitor experience depends on having reliable, strong internet access throughout The Underline's entire park," said Meg Daly, founder and CEO of Friends of The Underline. "About one in four households in Miami-Dade County lack internet access, and this investment will help close our broadband connectivity gap."
As a whole, the two grants will allow community organizations to meet the immediate technology needs of their residents while creating opportunities to explore how tech can help solve future public space challenges.
Across the country, cities are investing heavily in projects to breathe new life into public spaces, including those that may be neglected or overlooked. Knight research has shown that the use of key public spaces boomed during the pandemic, highlighting how these spaces are central to community resilience. The most successful public spaces put residents at the center of their development while remaining nimble – adapting and innovating during periods of incredible uncertainty. The pandemic has also accelerated the need for digital transformation, and public space leaders are leveraging technology to connect and engage with their communities.
"The pandemic has made clear how public spaces are vital to our society's long-term health and vitality," said Kelly Jin, vice president of Knight's Community and National Initiatives program.  "With these two investments, Knight seeks to leverage technology to reshape the experience in public space and communicate to residents in new ways." 
To learn more about Knight's strategy to invest in technology that transforms and invigorates public spaces, visit: kf.org/publicspacesfuture
###
About The High Line Network
Presented by the High Line, the High Line Network is a group of infrastructure reuse projects—and the people who help them come to life. As cities become denser and land for traditional parks becomes more scarce, residents are finding creative ways to bring greenspace to their neighborhoods. Projects in the High Line Network transform underutilized infrastructure into new urban landscapes. Redefining what a park can be, these hybrid spaces are also public squares, open-air museums, botanical gardens, social service organizations, walkways, transit corridors, and more. For more information about the High Line Network, please visit network.thehighline.org.
About Friends of The Underline
Our mission is to deliver and activate a 120-acre, world-class linear park spanning 10-miles below Miami's Metrorail that will transform regional mobility and celebrate diversity, culture and lifelong learning.  Through innovative urban trails and creative programming, we are connecting people to their environment and each other to create a safe, healthy, equitable, and sustainable community. For more information visit theunderline.org.
About the John S. and James L. Knight Foundation
We are social investors who support democracy by funding free expression and journalism, arts and culture in community, research in areas of media and democracy, and in the success of American cities and towns where the Knight brothers once published newspapers. Learn more at kf.org and follow @knightfdn on social media.