Miami-Dade Awarded $200,000 "ArtPlace America Grant" to create public art along The Underline
July 14, 2015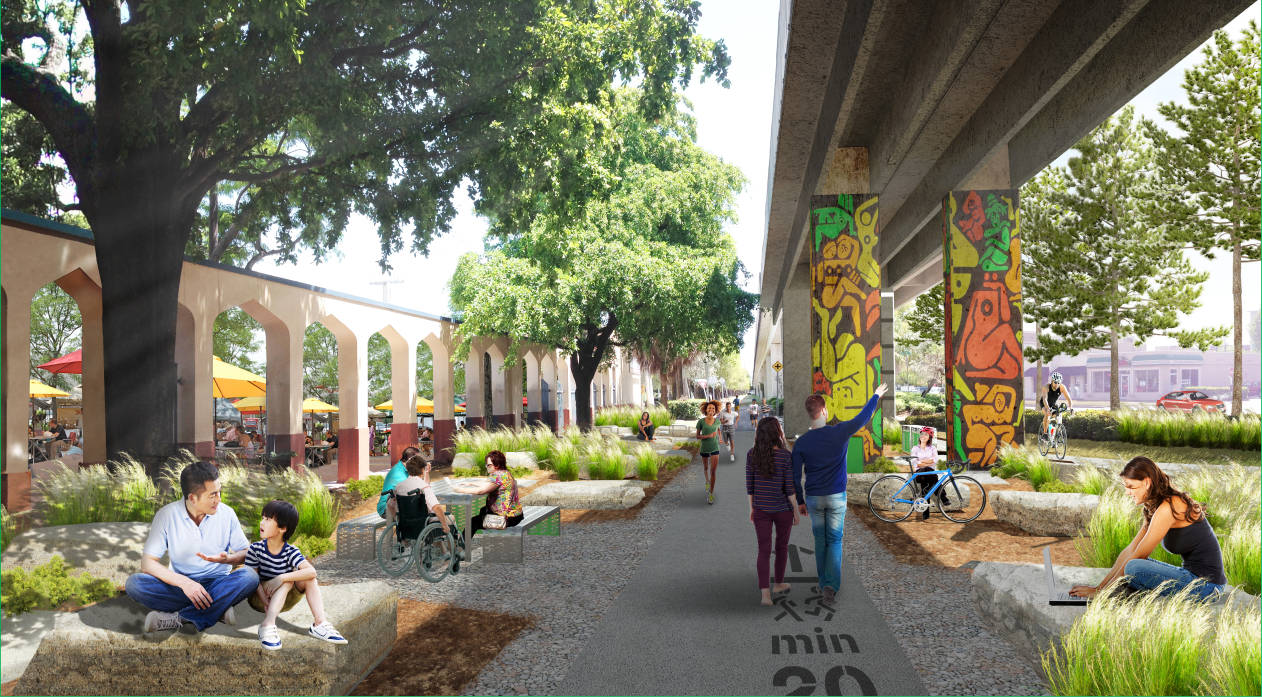 The Miami-Dade County Parks, Recreation and Open Spaces Department joins Friends of The Underline in announcing that "The Underline" project is among 38 recipients of ArtPlace America's 2015 National Grants Program.
ArtPlace, one of the nation's largest philanthropies dedicated to creative placemaking, is investing $200,000 in Miami-Dade County to further integrate arts and culture into the field of community planning and placemaking to engage and connect communities. ArtPlace selected The Underline from a pool of nearly 1,300 applicants, across 48 states and the District of Columbia. To view the complete list of 2015 ArtPlace grantees, go to www.artplaceamerica.org.
ArtPlace is an initiative of America's top foundations, including the Miami-based John S. and James L. Knight Foundation, working in conjunction with the National Endowment for the Arts and several federal agencies. In June, The Underline was also awarded a $250,000 grant from the Knight Foundation to support its developing Master Plan. The Underline also recently won the prestigious "Pitching the City 2015" international design competition presented by Architzer and the Municipal Art Society of New York.
Miami-Dade is working to create The Underline as a world class linear park that will include innovative public art installations by recognized national and Miami-based visual artists that will enrich the public realm and environment. The site encompasses 10-miles of pathway beneath the county's Metrorail, extending between the Miami River north of Brickell and Dadeland South stations. Artists will be selected and tasked to identify significant opportunities for creative expression through permanent and temporary public art and to engage broad audiences in creating interventions that transcend social, economic and geographical barriers.
"We are honored to receive the highly competitive ArtPlace America grant for The Underline project and we thank the Knight Foundation for its continued support and partnership," said Michael Spring, director of the Miami-Dade Department of Cultural Affairs. "Art plays a vital role in building a strong and vibrant community. The collaboration with artists and the resulting integration of art as part of the Underline's visionary master plan will distinguish it as one of the most innovative and superbly-designed projects of its kind."
"The artwork along The Underline will reflect the unique characteristics of the major neighborhoods along the corridor," said Meg Daly, founder of Friends of The Underline. "Thanks to the ArtPlace grant, artwork will help us discover, celebrate and engage our many communities"
"The Underline is about creative parks and public places and we are excited to integrate art and culture at the heart of the Underline vision that will transform our community," said Miami-Dade Parks' Maria Nardi, chief of planning and design.
"Investing in and supporting the arts have a profound impact on the social, physical, and economic futures of communities," said ArtPlace Executive Director Jamie L. Bennett. "Projects like these demonstrate how imaginative and committed people are when it comes to enhancing their communities with creative interventions and thoughtful practices."
"The National Grants Program is actively building a portfolio that touches each of the sectors and stakeholders that make up the community development field," said ArtPlace's Director of National Grantmaking F. Javier Torres. "Last year, ArtPlace developed a Community Development Matrix to help us better evaluate our success on this front. So, we're thrilled that this year's 38 grantees represent a dynamic spectrum of creative approaches and partnerships in community development that expand the dimensions of our portfolio."
"Each one of these grants supports a geographic community: a collection of people who live, work, and play within a defined circle on a map," continued Torres. "In each case, a community development challenge or opportunity was identified by local stakeholders; and these 38 grantees are serving as conduits for their community's desires by leading arts-based solutions through their projects."
At recent public meetings on June 23 and 25, The Underline's master plan design team, James Corner Field Operations (JCFO) shared early design vision and fielded comments from public meetings previously held in April.
• Click here to see a video of the June 23 public meeting.
• Click here to see a video of the June 25 public meeting.
• Click here to comment on what you like about the design proposals.
A final set of public meetings is tentatively scheduled for Sept. 24 and 26.
About ArtPlace America: ArtPlace America (ArtPlace) is a ten-year collaboration of foundations, banks, and federal agencies that exists to position art and culture as a core sector of comprehensive community planning and development in order to help strengthen the social, physical, and economic fabric of communities. Visit www.artplaceamerica.org for more information.
About Friends of the Underline: Friends of The Underline is a 501C3 non-profit organization advocating to transform the underutilized land below Miami's Metrorail into a 10-mile linear park, urban trail and canvas for artistic expression to create a safer, more connected, mobile, and engaged community. For more information, visit www.theunderline.org.
About Miami-Dade Parks: Miami-Dade Parks is a world-class parks system supported by the Parks Foundation of Miami-Dade and focused on Placemaking, Health and Fitness, and Conservation and Stewardship. For more information, visit the Miami-Dade Parks website. Also see About Miami-Dade Parks and About the Parks Foundation of Miami-Dade.