How did you decide where to build The Underline?
The footprint for the Underline includes the land beneath the Metrorail, from the Miami River to Dadeland South.  This property is owned by Miami-Dade County. Once you cross over the Miami River, the area beneath the Metrorail is owned by different entities, and becomes more complex to create a contiguous linear space.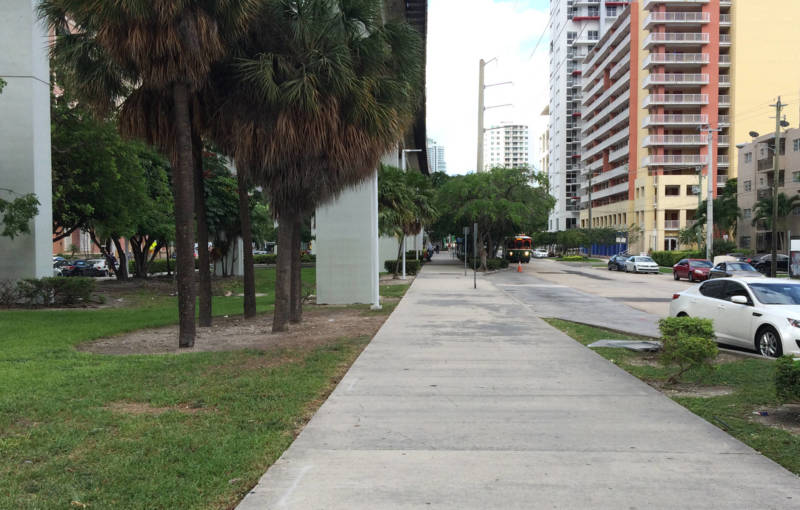 The Miami Loop and Connections
We are currently looking at connections to The Underline including the Miami River Greenway on the north and the future Ludlam Trail on the south. These three projects comprise the future Miami Loop, 22 miles of off-road walking/biking trails.
Once the current phases of The Underline are complete, there is the potential to identify more locations to continue The Underline in other areas throughout Miami Dade County.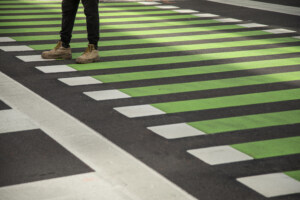 Additional Questions
What are the park rules and hours?
You can find our park rules posted on this website here: theunderline.org/park-rules/. Please contact the on-call manager at 305-603-9895 with park questions or concerns.
The Underline's trails are open 24/7/365. The Urban Gym between SW 7th and 8th Streets is open from 7 AM-9 PM.
How do I send you an idea or comment?
One of our top priorities is getting the community involved in the plans for The Underline and making sure we get your feedback. Please send your idea(s) or comment(s) to hello@theunderline.org
What types of amenities and programs will be on The Underline?
When the 10 mile Underline is completed, the linear park and urban trail will feature amenities including butterfly gardens, dog parks, exercise equipment, basketball courts, mini-soccer pitches, performance areas and temporary and permanent art. To serve users of all ages, The Underline will feature numerous health and wellness, meditation, cultural, educational and environmental programs.
What are you doing about safety for bicyclists and pedestrians?
Miami-Dade County is one of the most dangerous places to walk and bike in the country. A 10-mile off-road, protected urban trail that connects to 8 Metrorail stations, will make walking biking safe and fun for visitors and nearby residents. User safety is one of our biggest concerns. Currently, the MPath, the bike path underneath the Metrorail, has limited lighting or amenities and needs wider and safer crosswalks. These, and other safety issues, are being addressed with our partners from the Florida Department of Transportation (FDOT) and Miami-Dade County.
Will there be security on The Underline?
Safety is one The Underline's top priorities (and one of our core values). For Phase I, we have hired Kent Securities, a 24-hour security company. We will also have video cameras in the more populated areas. If you need to report any incident or crime, please look for nearby security personnel. Or, in case of an emergency, call 911.
How will The Underline be maintained?
Management, maintenance, and programming will be fulfilled by a public/private 501(C)3 non-profit called The Underline Management Organization (dba The Underline Conservancy). There is more information about The Conservancy's mission and board of directors here.
Yes! Our partner Hotwire Communications will provide free WiFi at amenity areas along The Underline.
The Underline's master plan does not include public restrooms because the Federal Transit Administration prohibits constructing permanent structures below the Metrorail. The Underline is adjacent to many commercial establishments that provide easily accessible public bathrooms and are available inside Metrorail stations for riders. We are exploring temporary bathroom service in Phase 1 and this website will be updated with progress.
What is the total budget for The Underline's design and construction?
The total projected construction cost of the Underline is over $120 million, which includes:
$80 million for the two trails, lighting, seating, native landscaping, and other amenities.
$20 million for intersections improvements (over 30 intersections).
$20 million for destination parks.
How is the project being funded?
Construction for this public-private project is being funded with federal, state, local, and private contributions. Operations for the facility will be led by The Underline Conservancy, which will be supported with public and private funds.
Notable funding sources include: Miami-Dade County; US DOT; the State of Florida; FDOT; the cities of Miami, Coral Gables, and South Miami; the John S. and James L. Knight Foundation, Baptist Health South Florida, Swire Properties, Florida Power & Light, the Miami Foundation, the Health Foundation of South Florida; and Mitchell Wolfson Foundation.
For a complete breakdown of current funding by phase, please refer to our Phases page here.
Our team is very focused on ensuring the financial health of the Conservancy. Tax deductible donations of any amount will support ongoing operations, maintenance and programs. Larger donations can be directed to the Conservancy's endowment, or to naming and sponsorship of amenities, programs and art.
Do you disclose Friends of The Underline financial activities?
Yes, Friends of The Underline is a 501(c)3 non-profit organization, and our most recent financials can be found on Guidestar.
Where will my donations go?
Your donations will be used to help support the mission of Friends of The Underline and The Underline Conservancy. Both organizations are 501(C)3 non-profit organizations and your donations are tax-deductible.
Our team is very focused on ensuring the financial health of the Conservancy. Tax deductible donations of any amount will support ongoing operations, maintenance and programs. Larger donations can be directed to the Conservancy's endowment, or to naming and sponsorship of amenities, programs and art.
You can donate online through our website or send a check made out to Friends of The Underline and mailed to:
Friends of The Underline
80 SW 8th Street, Suite 120
Miami, Fl 33130
Every tax-deductible dollar you donate will support our mission and contribute to a safer, more resilient, and more beautiful Miami. If you have questions, please contact Amy Rosenberg at 305-610-8091 or amy.rosenberg@theunderline.org.
How can I honor or memorialize my loved ones within the park?
We have naming opportunities within the park starting at a $1000 contribution, and we welcome your support. For more information, contact Amy Rosenberg at 305-610-8091 or amy.rosenberg@theunderline.org
What is the MPath? Will The Underline and MPath be closed until the entire project is built?
The MPath is a paved multi-use trail in urban Miami-Dade County that opened in 1983 and is part of the Miami-Dade Transit (MDT) system. The trail follows an MDT right-of-way under the elevated Metrorail guideways. The MPath generally follows US 1 (South Dixie Highway) and crosses 28 roadway intersections. The path connects the Metrorail stations of Brickell, Vizcaya, Coconut Grove, Douglas Road, the University of Miami, and Dadeland South.
During construction, the MPath will be accessible to cyclists and pedestrians as always, but some detours might occur.
What is your policy for visitors who are experiencing homelessness?
All Underline visitors will be treated with dignity and respect. To ensure that everyone's experience is safe and welcoming, The Underline has posted park rules. Additionally, we will have 24-hour security. Plus, several members of our maintenance crew have experienced homelessness, and we believe they will be our best ambassadors for people experiencing homelessness. We are also working closely with the Homeless Trust to ensure that we may refer those individuals looking for housing or food to the right place.
Can I skateboard on The Underline?
Skateboarders are welcome to skate on the bike path but cannot skate on the pedestrian paths, furnishings or amenities. Security will ensure posted park rules are followed and will educate skaters of nearby skateboarding facilities. There is a great skatepark in downtown Miami below 1-95 near the Government Center Metrorail station located on NW 1st St & NW 3rd Ave, Lot 11.
Can I use a scooter on The Underline?
Scooters are permitted on The Underline's designated bike trails. However, The Underline is considered a "slow zone" due to its connection to mass transit and the many people transferring between train, bus and trolley. The maximum allowable speed is 10 MPH.
How do I get around The Underline if I have a disability?
Fundamental to The Underline's plan is to implement Universal Design principles: "The design of products and environments to be usable by all people, to the greatest extent possible, without the need for adaptation or specialized design." The Underline master plan and phase 1 design make physical improvements to the path, trails and amenities that increase safety and improve visibility at intersection crossings to help meet people with visual, hearing, cognitive, mobility and other difficulties navigate The Underline.
Can I bring a service animal?
The Underline complies with all ADA requirements and accepts service animals as defined by the ADA. Service animals are defined as dogs or miniature horses that are individually trained to do work or perform tasks for people with disabilities. All pets must be on a leash. Owners of pets are responsible for cleaning up after their pets.
Can I bring my pet to The Underline?
The Underline is pet-friendly! We ask that all animals be on a leash and that you please use the bags at the many pet waste stations to pick up after your pet. Help us keep The Underline beautiful for everyone!