This month's SoMi Magazine coverage focuses on The Underline's master plan unveiling with detailed specifics of the demonstration projects at Brickell and the University of Miami.
The Underline is the name given to THE project to create a 10-mile urban trail and linear park from the Miami River to Dadeland South.

On Monday, November 9th the culmination of a series of public meetings, workshops, cycling events and planning with participating state, county, municipal, and private entities was realized with the presentation of The Underline Framework Plan & Demonstration Projects to a SRO enthusiastic audience. Held at the University of Miami's School of Architecture Glasgow Hall, there were so many interested parties attending that the proceedings were also broadcast to a staged seating area outside the building.

At the start of the program, Miami Dade County Mayor Carlos A. Gimenez presented a plaque by the American Planning Association, Florida Chapter to Meg Daly, founder & President of The Friends of The Underline, naming the organization as an "Outstanding Public Interest Group."

Local mayors spoke of the benefit of The Underline to their respective communities. The ten mile urban trail and linear park can be the central spine in a network of regional trails. A native habitat corridor inspired by the South Florida region, a link between neighborhoods. An alternative mode of transportation, and an economic generator.
Read the complete article here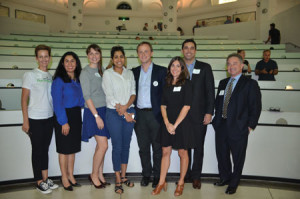 . Thanks SoMi magazine for your coverage and support.