Publix Super Markets Charities Donates $50,000 to Support The Underline
The Underline, a planned project to transform the underutilized land below Miami's Metrorail into a 10-mile linear park, urban trail and living art destination, today announced a $50,000 donation from Publix Super Markets Charities.
The money will be earmarked for the "Brickell Backyard" portion of the project, the first phase slated for construction, which will include a series of park-like "rooms" for commuters that are tied together by a series of parks and punctuated by trails for cyclists and pedestrians.
Publix has two grocery stores in the Brickell area, both of which are conveniently located near the planned route of The Underline.
"Publix Super Markets Charities is proud to support The Underline and it's unique vision for Miami's Metrorail," said Kelly Williams-Puccio, executive director, Publix Super Markets Charities. "This project will provide an exciting new opportunity for people to connect, provide access to safe park space, encourage a healthy lifestyle and generate economic growth and we are thrilled to be an early supporter and partner in this effort."
Once completed, The Underline 10-mile linear park, urban trail and living art destination, will be anchored on the north by the Miami River near Brickell Avenue and on the south end by the Dadeland South Metrorail Station. As one of Miami-Dade County Mayor Carlos A. Gimenez' priorities, the project is a public/ private collaboration between Miami-Dade Parks, Miami-Dade Transportation and Public Works and Friends of The Underline, a 501C3 non-profit organization. The Underline will serve as an enhanced mobility corridor, designed to better connect communities, improve pedestrian and bicyclist safety, and promote a healthier lifestyle with accessible green spaces and park amenities for exercise, active transportation and relaxation.
The project will also have substantial economic impact by encouraging mixed use development along US 1, increasing property values, adding jobs and inviting adjacent businesses to activate and connect to it. In total, The Underline is anticipated to bring an additional $170 million in total economic output during construction and $50 million annually after completion and over $650 million in increased property values. The project is part of the county's Masterplan Greenway network that consists of 500 miles of trails and connected public spaces.
"Publix Super Markets contribution to Friends of The Underline demonstrates their alignment with our goal of creating a healthier, more mobile community. And, with the Mary Brickell Village and Coral Way stores directly facing the future Underline, we look forward to them being physically part of The Underline's impact and fabric," said Meg Daly, president and CEO of Friends of The Underline.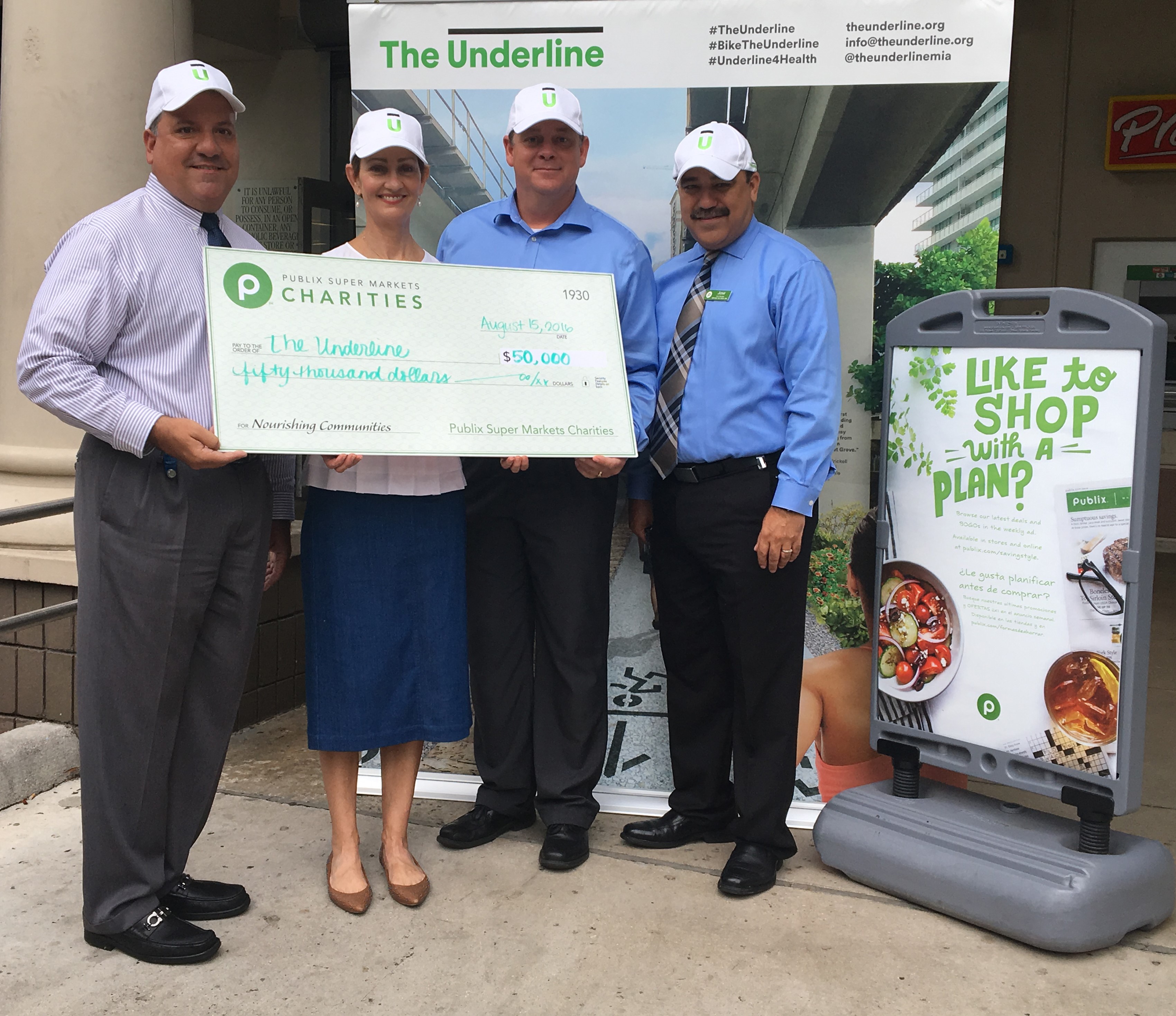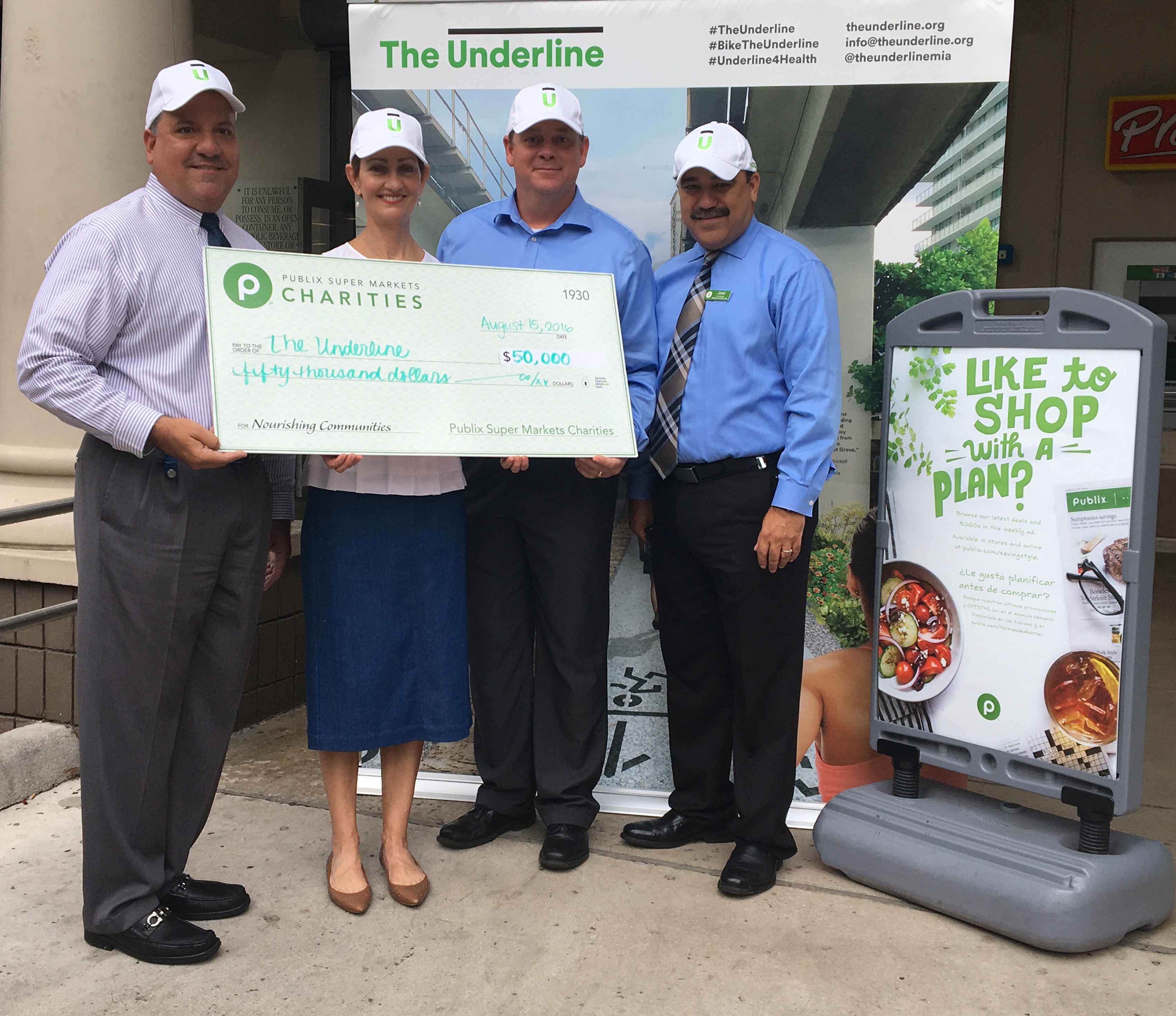 The Knight Foundation recently announced The Underline as a winner of the Knight Cities Challenge, a competition that seeks new ideas from innovators and how they plan to improve the future of their city. Ground-breaking for the "Brickell Backyard" Underline plan is planned for fall 2017.