Miami-Dade County Applies for a Federal Build Grant for The Underline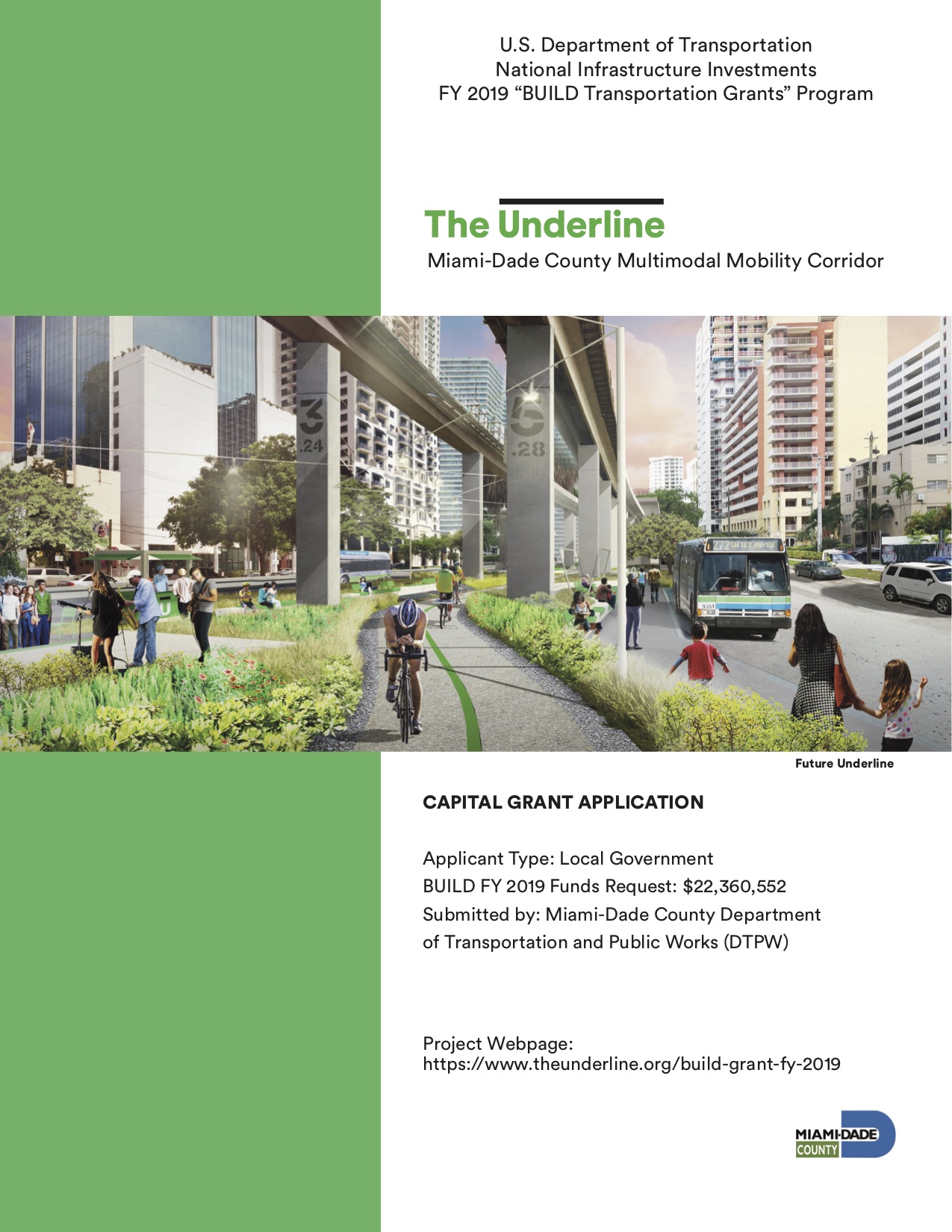 Miami-Dade County's Department of Transportation and Public Works has applied for a Federal BUILD grant for The Underline, Miami-Dade County's Multimodal Mobility Corridor.  This is a competitive capital grant application through the U.S. Department of Transportation National Infrastructure Investments FY 2019 "BUILD Transportation Grants" Program.
The Underline is a 10-mile multimodal mobility corridor that repurposes 120 acres of underutilized land below Miami-Dade County's above-ground heavy rail into an off-road biking and walking facility directly connected to transit and running alongside U.S.1, a major arterial.  When completed, it will serve as a first and last mile accessibility solution to 8 existing Metrorail stations with separated pedestrian and bicycle paths, improvements to 36 intersection crossings, of which 10 crossings are in the process of improvement and funding has been encumbered, a bridge over the Coral Gables Waterway, lighting and path-marking and wayfinding signage.  The Underline serves as a transportation solution, a safety strategy, and an economic catalyst.
Recognizing The Underline is Miami-Dade County's most innovative and fastest-moving multimodal transportation project, the State of Florida, its municipalities and private developers have partnered with Miami-Dade County in committing an unprecedented over-77% ($76,475,388) for capital funding. This match funding has been raised over 4 years and demonstrates our community's commitment to the Underline's transformational potential. The grant ask amount represents 22.62% ($22,360,552) of the remaining unfunded costs in order to complete the project's transportation component.
We would like to recognize the incredibly hard work and many hours invested in drafting the grant: Meg Daly, President/CEO Friends of The Underline, Daniel Balmori, Hogan Lovells and Irene Hegedus, Dept. of Transportation and Public Works.  And, a big thank you to those who wrote letters of support from the business and donor community as well as elected officials.
Find The Underline FY 2019 BUILD grant application here.
Find The Underline FY 2019 BUILD grant application Appendices here.