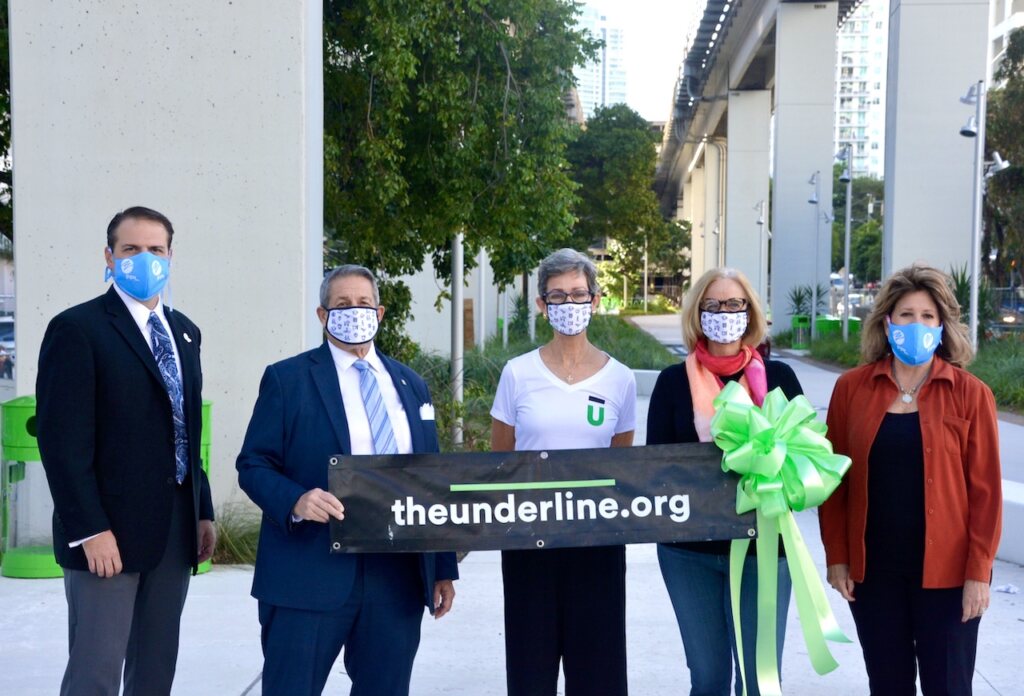 Donation will go towards Sound Stage Plaza in the soon to be opened Brickell Backyard.
With the first phase of The Underline scheduled to open to the public in early January, the project has received a significant commitment from Florida Power & Light Company (FPL) through the NextEra Energy Foundation, which has pledged $500,000 to support this community park, urban trail and public art destination.
The donation is being used to sponsor a 2,000 square foot plaza in front of the Sound Stage, which is located in the Brickell Backyard's Promenade. The plaza will be renamed The Underline Stage Plaza presented by Florida Power & Light Company and will be used for audiences and attendees of cultural programs like live music and artistic performances, as well as health and wellness activities like yoga.
"This donation from FPL shows their faith and commitment to The Underline's impact on our diverse community," said Meg Daly, president and CEO for Friends of The Underline. "As one of our early supporters, we appreciate this generous gift and are excited to see how the plaza will be enjoyed and experienced by our visitors."
Brickell Backyard is the soon to be completed first section of The Underline, which starts at the Miami River and ends at SW 13th St. In addition to the stage, this portion of the project will also include art installations, meeting tables and spaces all of which are being designed to accommodate social distancing and encourage continued safety for the community.
"FPL is committed to helping make our communities better places to live, work and raise a family, and we are thrilled to join The Underline in their goal of bringing Miami-Dade County's diverse community together in a unique urban hub and living art destination," said Irene White, senior director external affairs for FPL. "We look forward to seeing the project's progress as it delivers benefits to local residents and helps make Miami an even more desirable destination."
To learn more about The Underline and how to support its programs, maintenance and management, visit www.theunderline.org.
XXX
About The Underline
The Underline is a planned 10-mile urban trail, linear neighborhood park and public art destination that will span from the Miami River, north of Brickell Metrorail station, to Dadeland South. The Underline project will feature dedicated bike and pedestrian paths, amenities, art, programming, lighting, native vegetation as well as safety features and improvements at road crossings. The Underline will be built in phases, the first of which will begin in the Brickell area. For more information, visit www.theunderline.org and/or follow them on social on Facebook, Twitter and Instagram @theunderlinemia.
Florida Power & Light Company
Florida Power & Light Company is the largest energy company in the United States as measured by retail electricity produced and sold, serving more than 5.1 million customer accounts or an estimated 10 million+ people across the state of Florida. FPL's typical 1,000-kWh residential customer bill is approximately 30% lower than the latest national average and among the lowest in the U.S. FPL's service reliability is better than 99.98%, and its highly fuel-efficient power plant fleet is one of the cleanest among all electric companies nationwide. The company was recognized in 2020 as one of the most trusted U.S. electric utilities by Escalent for the seventh consecutive year. A leading Florida employer with approximately 8,900 employees, FPL is a subsidiary of Juno Beach, Florida-based NextEra Energy, Inc. (NYSE: NEE), a clean energy company widely recognized for its efforts in sustainability, ethics and diversity, and has been ranked No. 1 in the electric and gas utilities industry in Fortune's 2020 list of "World's Most Admired Companies." NextEra Energy is also the parent company of Gulf Power Company, which serves approximately 470,000 customers in eight counties throughout northwest Florida, and NextEra Energy Resources, LLC, which, together with its affiliated entities, is the world's largest generator of renewable energy from the wind and sun and a world leader in battery storage. For more information about NextEra Energy companies, visit these websites: www.NextEraEnergy.com, www.FPL.com, www.GulfPower.com, www.NextEraEnergyResources.com