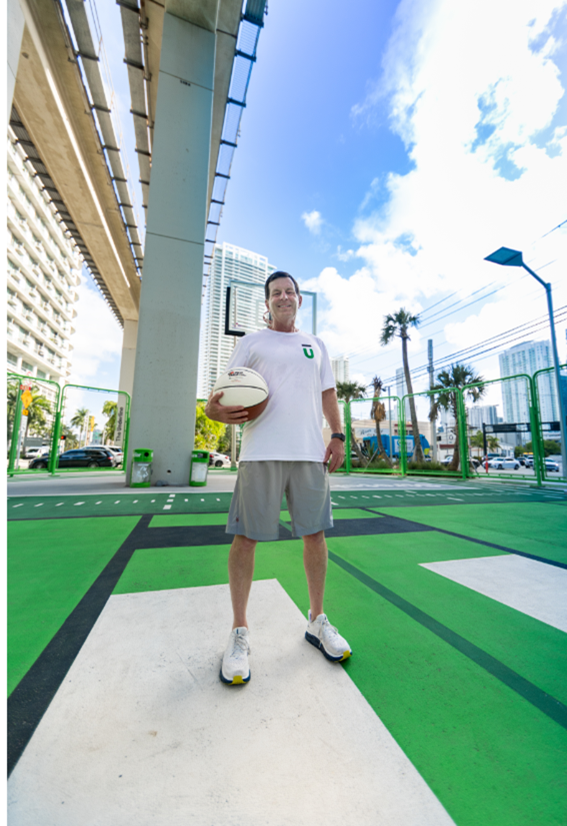 Donation will go towards Brickell Backyard gym sponsorship and exclusive sponsorship of health and wellness programs
Miami, Fla., June 1st, 2021 – With the first phase of The Underline opened to the public in February, 2021, the project has received a significant commitment from Baptist Health South Florida (BHSF), which has pledged $615,000 to support this community park, urban trail and public art destination.
The donation is being used to sponsor The Underline Brickell Backyard Outdoor Gym and to be the exclusive sponsor of The Underline's free community health and wellness programs. The gym is located below Metrorail between SW 7th Street and SW 8th Street in The Underline's Brickell Backyard. The gym will be renamed the Brickell Backyard Outdoor Gym presented by Baptist Health. The fenced gym offers workout equipment, a running track, stretching areas, and a flex court for mini pitch soccer and half-court basketball. Baptist Health will also sponsor free community health and wellness programs including yoga, Tai Chi, boot camps and run clubs.
"Baptist Health is committed to improving the health and wellness of our community in exciting and engaging ways," said Brian E. Keeley, president and CEO, Baptist Health. "By partnering with The Underline, we are able to reach people directly by promoting a healthy, active lifestyle in a vibrant, active space that we look forward to seeing our community benefit from for years to come."
Brickell Backyard is the first section of The Underline to be completed and opened on February 26th to the public. This half-mile, 10-acre segment starts at the Miami River and ends at SW 13th St. In addition to the gym, in the Promenade there is a stage, meeting and dining tables, butterfly gardens, art installations and dog friendly areas. All areas are designed to accommodate social distancing and encourage continued safety for the community.
"This donation from Baptist Health shows how The Underline and Baptist Health are deeply aligned to improve our community's mental and physical health and to build a stronger community through activated public spaces," said Meg Daly, president and CEO for Friends of The Underline. "As one of our early supporters, we appreciate this generous gift galvanizing our engagement and we are excited to already see how the gym has come to life through exercise and human connections."
To learn more about The Underline and how to support its programs, maintenance and management, visit www.theunderline.org.
Pictured: Joe Natoli, executive vice president and chief administrative officer of Baptist Health South Florida, pictured at The Underline's Brickell Backyard, soon to be known as the Brickell Backyard Outdoor Gym presented by Baptist Health. The active space features a flex court, running track, stretch zones and other equipment promoting health and wellness.
XXX
About The Underline
The Underline is a planned 10-mile urban trail, linear neighborhood park and public art destination that will span from the Miami River, north of Brickell Metrorail station, to Dadeland South. The Underline project will feature dedicated bike and pedestrian paths, amenities, art, programming, lighting, native vegetation as well as safety features and improvements at road crossings. The Underline will be built in phases, the first of which will begin in the Brickell area. For more information, visit www.theunderline.org and/or follow them on social on Facebook, Twitter and Instagram @theunderlinemia.
About Baptist Health South Florida
Baptist Health South Florida is the largest healthcare organization in the region, with seven hospitals (Baptist Hospital, Baptist Children's Hospital, Doctors Hospital, Homestead Hospital, Mariners Hospital, South Miami Hospital and West Kendall Baptist Hospital), nearly 50 outpatient and urgent care facilities, Baptist Health Medical Group, Baptist Health Quality Network and internationally renowned centers of excellence. The not-for-profit, faith-based Baptist Health has approximately 16,000 employees and 2,300 affiliated physicians. Baptist Health South Florida has been recognized as one of the 100 Best Companies to Work For in America and as one of the World's Most Ethical Companies. For more information, visit BaptistHealth.net and connect with us on Facebook at facebook.com/BaptistHealthSF and on Twitter and Instagram @BaptistHealthSF.