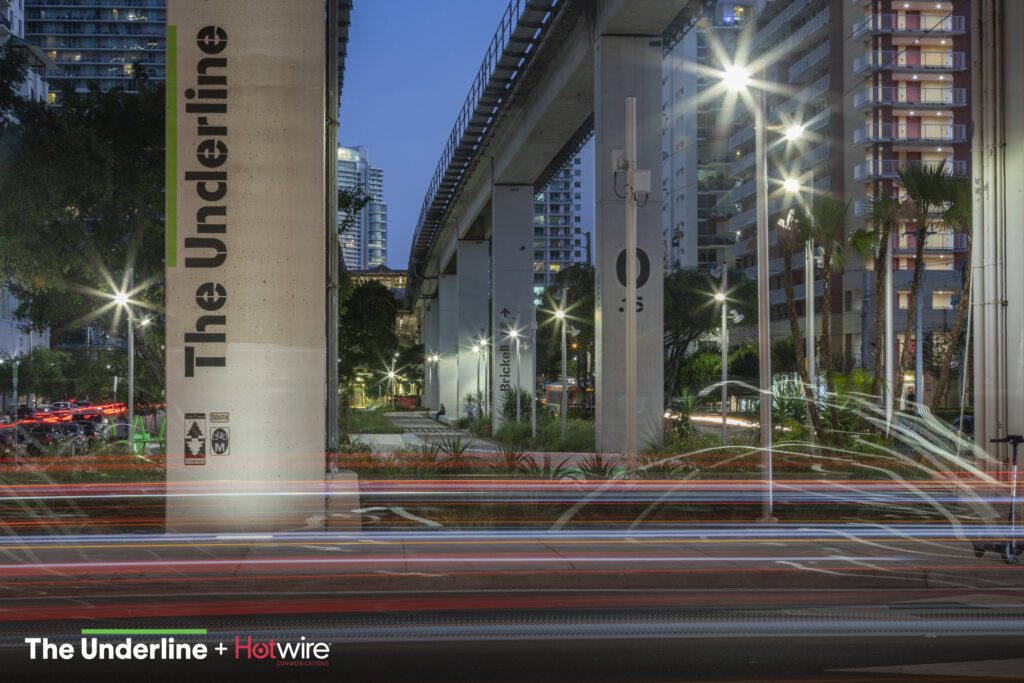 Hotwire Communications is partnering with Friends of The Underline and The Underline Conservancy to provide free public Wi-Fi for all visitors of The Underline. Free public Wi-Fi is available in Phase 1, Brickell Backyard and will be available in select areas along the 10-mile Underline to serve the larger community and The Underline's robust programming, events and activities, and technology infrastructure. Wi-Fi placement and availability is in the planning and design phase along with Underline phases 2 and 3 in the additional future 9.5 miles of The Underline.
"Hotwire Communications' free Wi-Fi service helps bring a multi-dimensional experience to Underline visitors and guests," says Meg Daly, Friends of The Underline founder. "Whether enjoying nature, walking, biking or playing basketball, you can have a virtual experience supported by Wi-Fi from the convergence of education, art, public health and technology."
This free service provided by Hotwire will allow people using The Underline and the many transit systems along the Miami Dade County Metrorail to tap in to other resources while visiting or transiting in and around the park. Hotwire and The Underline are working together to make sure everyone has access to nature and information both on and offline.
"Hotwire Communications is a committed member of the South Florida community, and we're proud to partner with The Underline and its mission," said Kristin Johnson, Hotwire's Co-Founder & CEO. "The Underline is designed to bring people together, and with the Wi-Fi access Hotwire is providing, we hope to make it an even more connected space."
Benefits include:
Wi-Fi to allow visitors to spend more time, access information and community resources.
Hotwire's contribution of free Wi-Fi is a part of the bigger vision of physical connectivity and community connections. Visitors will be able to:
Play Dig & Learn, an educational Augmented Reality game developed by Miami Dade College (MAGIC), accessing more information about what you can do on The Underline
Learn about what is happening along The Underline including free events, programming and activities
GPS for directional assistance
Provide feedback and comments
Make a donation, or sign up to volunteer on The Underline
About The Underline
The Underline is a planned 10-mile urban trail, linear neighborhood park and public art destination that will span from the Miami River, north of Brickell Metrorail station, to Dadeland South. The Underline project will feature dedicated bike and pedestrian paths, amenities, art, programming, lighting, native vegetation as well as safety features and improvements at road crossings. The Underline will be built in phases, the first of which will begin in the Brickell area. For more information, visit www.theunderline.org and/or follow them on social on Facebook, Twitter and Instagram @theunderlinemia.
About Hotwire Communications:
Hotwire Communications is a pioneering leader in fiber optic technology, and has been providing cutting edge fiber-based telecommunication services since 2002. A Florida-grown company headquartered in Fort Lauderdale, Florida, Hotwire Communications has regional offices throughout the United States including Florida, Georgia, North Carolina, and Pennsylvania. Hotwire offers a full suite of services such as multi-Gigabit Internet, crystal-clear voice, HD and 4K IPTV, and home security and automation products custom-tailored to a wide variety of customers, meeting a range of environmental needs with service and product offerings from Fision® Home, Fision® Work, Fision® Stay, Fision® U, and Fision® Government. The company also offers advertising directly to customers within its network through the Fision Multimedia Advertising Solutions service.
Hotwire Communications has received a number of accolades from third-party outlets, including being named 2020 Fastest Business ISP, 2020 Fastest ISP in the Southeast United States, and 2021 Best Gaming ISP in the Southeast United States by PCMag, ranked by Broadband Communities Magazine as one of the Fiber-To-The-Home Top 100, named 2020 Independent Operator of the Year by Cablefax, and awarded two Silver 2021 Stevie Awards in recognition of the company's concierge-style, white glove customer service.
For more information, please visit www.hotwirecommunications.com