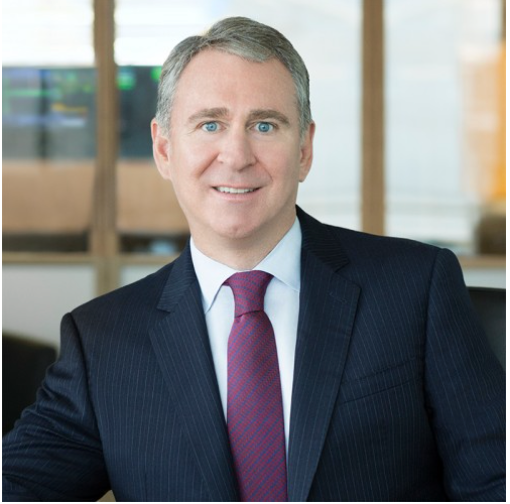 The gift will seed The Underline Conservancy endowment and be used to support maintenance and management of The Underline's walking and cycling trails.
December 6, 2021. Miami, FL – The Underline today announced a $5 million gift from Citadel Founder and CEO Ken Griffin to ensure the long-term future of the project as a safe and vibrant recreation and multimodal destination for Miami residents and visitors. The gift, which is the single largest individual donation to The Underline, will seed The Underline Conservancy's endowment and support maintenance and management of The Underline's walking and cycling trails. This catalytic leadership gift by Mr. Griffin is intended to bolster the project's vision to build a more resilient city and community with world-class multimodal transportation options for Miami families and visitors to enjoy safe places to walk and bike.
Mr. Griffin's interest in The Underline's urban trail reflects his passion for improving and enriching communities and his deep commitment to his Florida roots. Raised in South Florida and now based in Chicago, Mr. Griffin has provided transformative philanthropic and civic leadership in both the places he has called home. During the Covid-19 crisis, Mr. Griffin architected and was the lead funder of Chicago Connected, a pioneering initiative to make high-speed, at-home broadband access available to every Chicago Public Schools student lacking connectivity. The groundbreaking public-private partnership to bridge the digital divide was the inspiration for Miami Connected, which launched in 2021 with leadership funding from Mr. Griffin.
In 2016 Mr. Griffin funded the separation of Chicago's iconic Lakefront Trail, creating dedicated cycling and pedestrian paths to enhance the safety and enjoyment of the millions of Chicagoans and visitors who use the trail each year. Mr. Griffin's latest gift to The Underline ensures Miami's new urban trail will remain a destination where families and visitors can safely walk, bike and enjoy the outdoors for years to come.
"The Underline brings together the best of Miami, with spaces for families and visitors to enjoy the outdoors and engage with the arts year round. This revitalizing project is an example of the opportunities that public-private partnerships can unlock to enrich our communities," said Ken Griffin. "I commend Meg Daly and the County's leadership in creating a new shared space for families and friends to come back together after so much time apart, and I hope others will be inspired to support bringing their extraordinary vision to life."
Kenneth C. Griffin is the Founder of Citadel, a preeminent global alternative investment firm, and Citadel Securities, a leading market maker. Forbes recognizes Mr. Griffin as one of the top 25 philanthropists in America for his catalytic giving – amounting to more than $1 billion in recent years – in areas such as education, healthcare and economic opportunity.
"On behalf of the Miami-Dade community, we're extremely grateful for this landmark gift to increase quality of life in our County and ensure more residents can enjoy the Underline's trails and walk and bike outdoors," said Miami-Dade Mayor Daniella Levine Cava. "The collaboration and investments of our committed public and private partners are critical to the future of The Underline, as we work to expand access to safe, world-class open spaces and build a more connected, resilient Miami-Dade."
"This extraordinary gift from Mr. Griffin will help ensure The Underline can deliver on its mission and is another great step in securing the continued success of this project," said Meg Daly, president and CEO of Friends of The Underline. "As a leading philanthropist, Mr. Griffin understands the importance of community support and we hope that others will recognize they too can play a valuable role in helping us reach our fundraising goals."
About The Underline
The Underline is a planned 10-mile urban trail, linear neighborhood park and public art destination that will span from the Miami River, north of Brickell Metrorail station, to Dadeland South. The Underline project will feature dedicated bike and pedestrian paths, amenities, art, programming, lighting, native vegetation as well as safety features and improvements at road crossings. The Underline will be built in three phases. The first phase, Brickell Backyard from the Miami River to Coral Way, opened February 2021. For more information, visit www.theunderline.org and/or follow on social media @theunderlinemia.