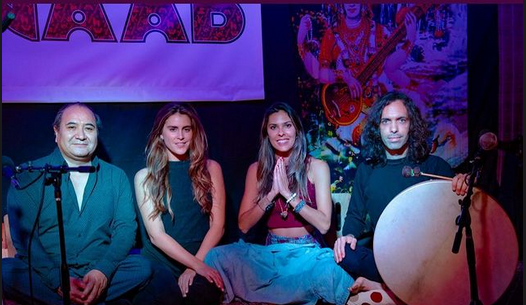 A family-friendly music experience creating a mindful listening and education experience.
Join The Underline this fall for the inauguration of Healing Music Sundays. A family-friendly music experience supported by the Peacock Foundation, Inc., that will showcase a diverse group of musical talent reflecting the cultural make-up of the region and bring residents together to enjoy peaceful calming musical performances.
Connecting artistry in support of the local music scene, The Underline's partnership with The Rhythm Foundation will shine a light on the diverse cultural influences that make up Miami. Each performance will also include a brief history of the music selected with digestible facts that empower, engage, and connect the community.
"The Rhythm Foundation is proud to collaborate with The Underline to present the Healing Music Sundays concert series. The urban oasis offered by The Underline provides a perfect opportunity to absorb the healing power of ancient music traditions while enjoying Miami's most innovative public space," said James Quinlan, Director of The Rhythm Foundation.
Each event runs from 11 a.m. to 1:00 p.m. The kick-off features "Warrior Flow Yoga Sound Bath Relaxation" by Adrian Molina on Sunday, January 16th, 2021. The series continues on Sunday, February 13, 2022, with "Classical Indian Tabla and Sitar" from Rajesh Bhandari & Rajesh Ramoutar and closes with "The Ancient Sounds of Mantra" by Intinaad in a special sunset Sunday session from 5:30 to 7:30 p.m. on March 13, 2022.
After many months of quarantine and a restricted lifestyle, people are turning to the outdoors as an accessible place to play and learn. Thanks to a generous grant by The Peacock Foundation, Inc., these listening music sessions will be provided in a safe, outdoor urban environment that will bring a moment of reflection and tranquility to the community.
Light snacks and beverages will be available on site. Limited seating is available.
"During COVID-19 quarantine, and even now as we re-open, we see a hunger for people to connect with nature and art, and The Underline's unique visitor experience provides the perfect stage and outdoor backdrop for the Healing Music program," said Meg Daly, Founder of Friends of The Underline.
Come out and celebrate the different rhythms, sounds, and cultures of Miami! Space is limited so make sure to RSVP by visiting https://bit.ly/UHealingMusic.
About Peacock Foundation Inc.
Throughout its distinguished history, Peacock Foundation, Inc. has assisted hundreds of non-profit organizations in their missions to improve the lives of thousands of South Floridians.
Founded in 1947, Peacock Foundation, Inc.'s mission is to enhance and promote the good health and well-being of children and families through contributions, gifts, and grants to eligible nonprofit organizations located in and/or of significant benefit primarily to residents of Miami-Dade County. The Foundation's grant making reflects Mr. Peacock's philosophies regarding the importance of strong values and moral character, of achieving self-sufficiency and in turn helping others, and of being fiscally responsible stewards of philanthropic funds.
About the Rhythm Foundation
We create shared cultural experiences that build and strengthen the diverse communities of South Florida through the presentation of live music. We believe:
International cultural exchange injects empathy and positivity into the global conversation;
Cultural activity develops community and builds neighborhoods;
Sustainable practices are possible in event productions; and
Miami is a global city, and our artists and audiences are world-class.
About The Underline
The Underline is a planned 10-mile urban trail, linear neighborhood park and public art destination that will span from the Miami River, north of Brickell Metrorail station, to Dadeland South. The Underline project will feature dedicated bike and pedestrian paths, amenities, art, programming, lighting, native vegetation as well as safety features and improvements at road crossings. The Underline will be built in three phases. The first phase, Brickell Backyard from the Miami River to Coral Way, opened February 2021. For more information, visit www.theunderline.org and/or follow on social media @theunderlinemia.