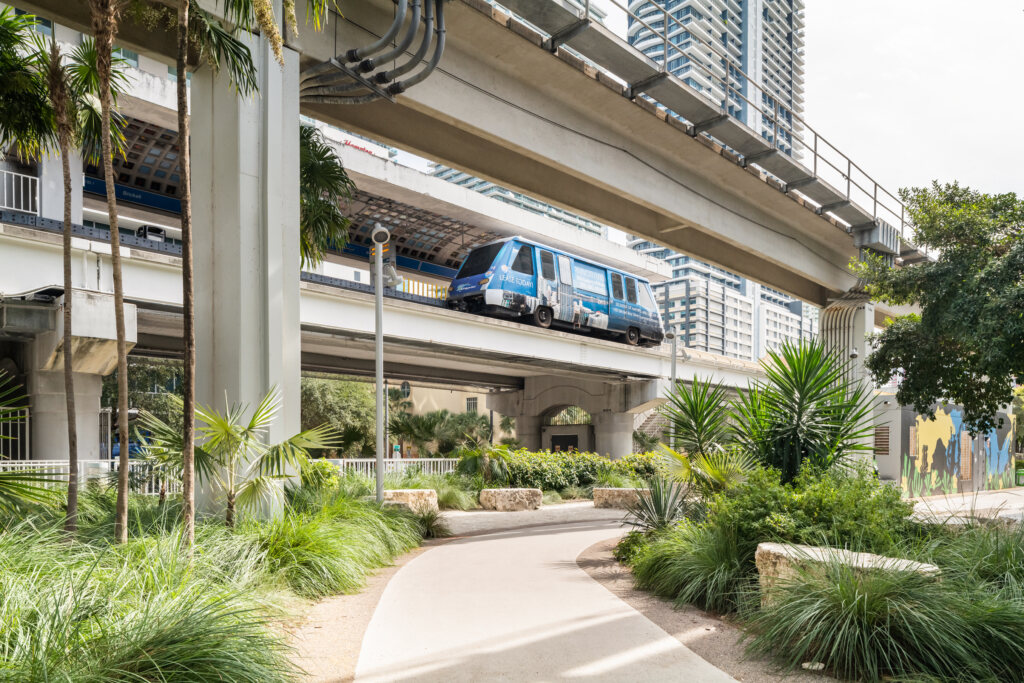 The Underline's Brickell Backyard is celebrated for world-class innovative design.
April 20, 2022 Miami, FL – The Underline celebrates James Corner Field Operations' Merit Award from the New York Chapter of the American Society of Landscape Architects (ASLA-NY). The award recognizes the 10-mile linear park for its innovative design and environmental impact within the community. ASLA-NY's annual program is one of the most coveted awards events that reflects the dedication of landscape architects to creating resilient, ecologically sensitive, and forward-thinking environments like The Underline.
"The Field Operations team created a world-class vision for The Underline's master plan and design of phase 1 Brickell Backyard. Their entire team relentlessly pushes for best-in-class design to serve our diverse community and advance our goals of public safety, mobility, health, resiliency and community," said Meg Daly, Founder and CEO of Friends of The Underline.
Field Operations' design for Brickell Backyard features distinctive native gardens, improved pedestrian and bicycle pathways, and amenities that support the park's public art and programming, helping the project tap into the identity of each neighboring community. With resiliency as a key driver, the design uses 30,000 native and South Florida-friendly plants to increase biodiversity and attract birds, bees and butterflies and to mitigate stormwater and area flooding. The Underline is Miami-Dade County's first multimodal mobility corridor, uniting all modes of transportation and improving access to eight Metrorail stations.
Field Operations is one of fifteen recipients and stands out as one of the few out-of-state projects awarded. The 22 winning submissions will be on display at the Center for Architecture in Manhattan throughout the month of April in celebration of World Landscape Architecture month.
About Friends of The Underline
Our mission is to deliver and activate a 120-acre, world-class linear park spanning 10-miles below Miami's Metrorail that will transform regional mobility and celebrate diversity, culture and lifelong learning. Through innovative urban trails and creative programming, we are connecting people to their environment and each other to create a safe, healthy, equitable, and sustainable community. For more information visit theunderline.org.
About James Corner Field Operations
James Corner Field Operations is a leading-edge urban design and landscape architecture practice with offices in New York, Philadelphia, San Francisco, Shenzhen, and London. Field Operations is renowned for strong contemporary design across a variety of project types and scales, from large urban districts and mixed-use master plans; to large parks, waterfronts, and public spaces; to small well-crafted, detailed design projects. Regardless of scale, there is a special commitment to the design of a vibrant and dynamic public realm, informed by the ecology of both people and nature, rooted in place and context. For more about Field Operations, visit www.fieldoperations.net.