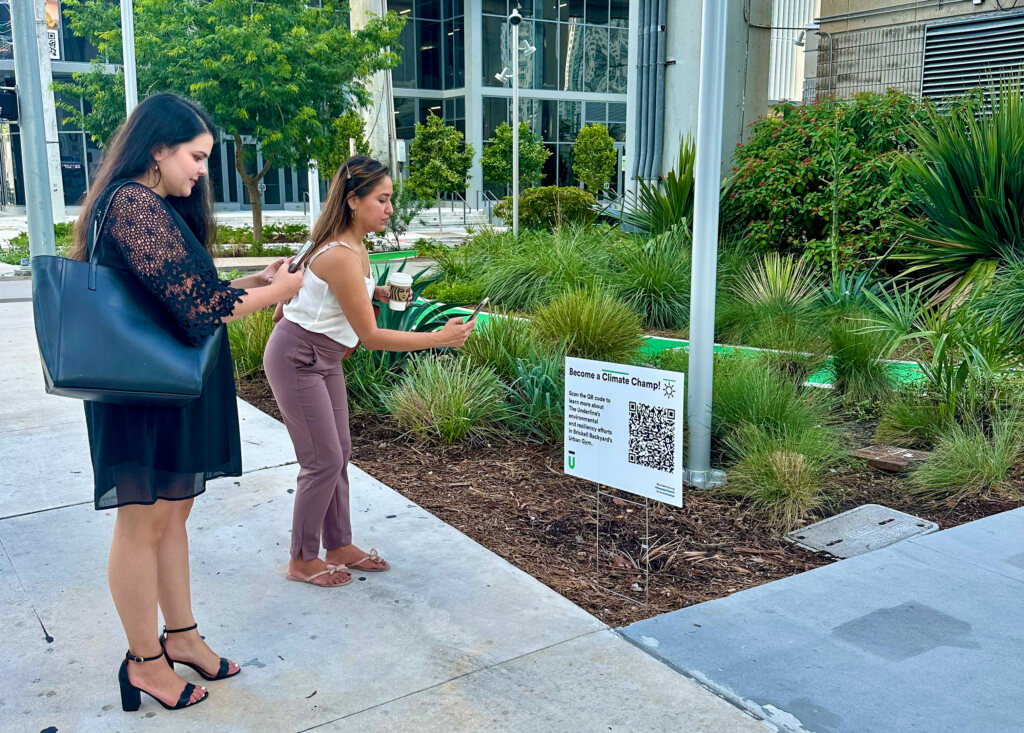 Climate Champs is an immersive learning experience about The Underline's ecosystem restoration and environmental impact.
Miami, FL, September 22, 2022 – The Underline launches Climate Champs, a one-of-a-kind citizen science program in its first phase Brickell Backyard. With sustainability, connectivity, and innovation at its core values, The Underline's Climate Champs is designed to educate Miami's future resiliency stewards about The Underline's environmental impact and encourage visitors to incorporate sustainable practices in their daily lives.
Visitors can connect and contribute to their community by learning about the 30,000 native plant and tree species in the Brickell Backyard and understand the short and long-term environmental benefits of the park. Climate Champs was created to empower future generations by providing natural solutions and educational tools to better understand the human impact on nature and our planet. Through friendly technology, visitors at The Underline scan unique QR codes to access a series of learning modules that focus on specific areas and their intentional impact on the urban environment. The Underline's Climate Champs curriculum is guided by Next Generation Science Standards (NGSS) and is accessible in the first phase of The Underline's Brickell Backyard Oolite Room, the Fern Room, the Promenade, the Urban Gym, and the River Room.
"This program was created and implemented by volunteers who are educators that believe in the power of learning and the need to protect our environment. We are so thankful for the Mendelson family and their contribution to the community through Climate Champs!" says Meg Daly, Founder of Friends of The Underline.
The program content was developed by champions of lifelong learning Hayley, Kim, and Daniel Mendelson. Both Kim and Hayley are teachers who created the citizen science curriculum that aligns with the Next Generation Science Standards (NGSS). Daniel is a current high school student in Miami, Florida who contributed his time and research to co-author the education content behind The Underline.
"We are so honored to be a part of 'Climate Champs', The Underline Citizen Science program. Ecosystem restoration is our passion. The Underline allows people to enjoy our beautiful city, while improving our local environment," said Kimberly Mendelson.
Visitors can also access the Climate Champs curriculum at theunderline.org.
About Friends of The Underline
Our mission is to deliver and activate a 120-acre, world-class linear park spanning 10-miles below Miami's Metrorail that will transform regional mobility and celebrate diversity, culture and lifelong learning. Through innovative urban trails and creative programming, we are connecting people to their environment and each other to create a safe, healthy, equitable, and sustainable community. For more information visit theunderline.org.
About Kim, Hayley, and Daniel Mendelson
Kim, Hayley, and Danny are honored to co-author the educational content behind the Underline and share their passion for learning with the community. While Kim's 30+ years of teaching experience started with Business, her love for education quickly blossomed into teaching Elementary School Science. Both Kim and Hayley have developed and implemented science curriculum aligned to the Next Generation Science Standards (NGSS). Hayley teaches Science at Lehrman Community Day School to foster curiosity and scientific reasoning in her students. Danny is a current High School student in Miami, Florida. He is a member of his high school's Environmental Student Organization, where they help to spread awareness about the environment. Being a critical member of his high school's speech and debate team, Danny is the powerhouse behind our research generation. Kim and Hayley use their teaching experience to crystalize the content into the citizen science program.