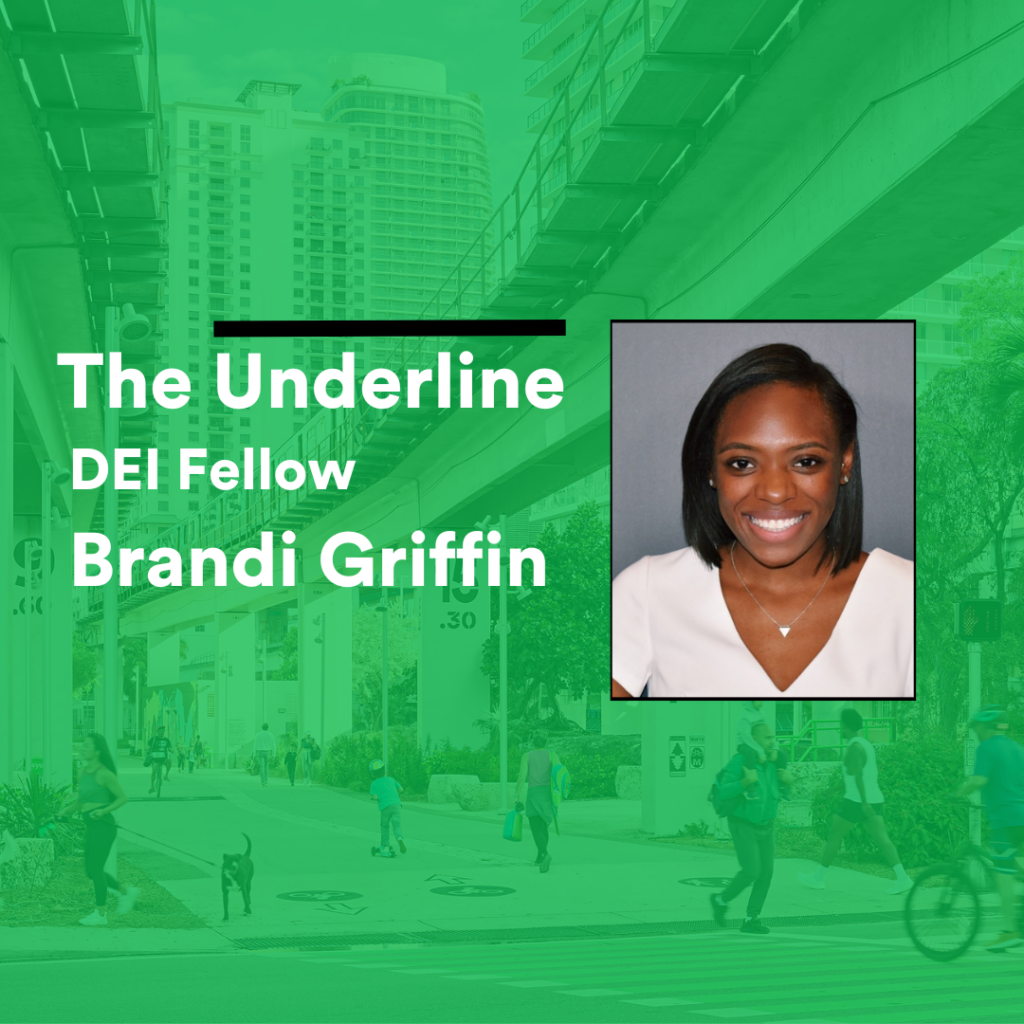 Friends of The Underline recently hired Brandi Griffin, a 2nd year University of Miami Law School student, to observe and analyze The Underline's existing practices and policies and create a framework that demonstrates the linear-park's commitment to diversity, equity and inclusion. With a background in philanthropic organizational leadership, Ms. Griffin brings a balanced perspective that will help elevate The Underline's engagement with the community and ensure intentional practices in the future.
Thanks to a grant from the United Way, The Underline will be implementing "Paths to Diversity, Equity and Inclusion" to build organizational capacity. With a focus on Miami-Dade's Black population, the DEI Fellow will create a framework to gear all efforts to position the organization to play a more active, meaningful and effective role in addressing racial health disparities in our community. Ms. Griffin has been working with The Underline's DEI Committee to develop an Equity Statement, interview key stakeholders about their experiences with the open space and conduct a thorough review of best practices across the nation. Armed with this information, Ms. Griffin will create a framework that "Engages staff, Board, committee members and additional black leaders to advance the diversity objectives of The Underline's Five Year Strategic Plan." The Framework will also establish a participatory evaluation plan and short- and long-term metrics to rack plan progress.
"The Underline is an incredibly special place for Miami residents and visitors. I am thrilled to have the opportunity to contribute to the Greater Miami community through the lens of DEI at a park that offers something for everyone," said Griffin. "Through the initiatives from this framework, it is my hope that everyone will see the space as a mirror that shows a reflection of them, and feel included in both the day-to-day use and the programming."
The Underline's DEI Committee is chaired by Daniel Gibson, Friends of The Underline Board member and Regional Vice President Miami-Dade for Allegany Franciscan Ministries.
"We are grateful for the United Way grant to help us hire Brandi and incorporate her into our team," said Gibson. "Her expertise and analytical approach have already been a huge help to the DEI Committee and know that she'll be essential in the development of an equitable framework for all of The Underline, policies, procedures and programming in the future."
Ms. Griffin has a Bachelors in Communications from Wake Forest University and a Masters in Journalism from Northeastern University. She is an Atlanta native who currently resides in Coral Gables.