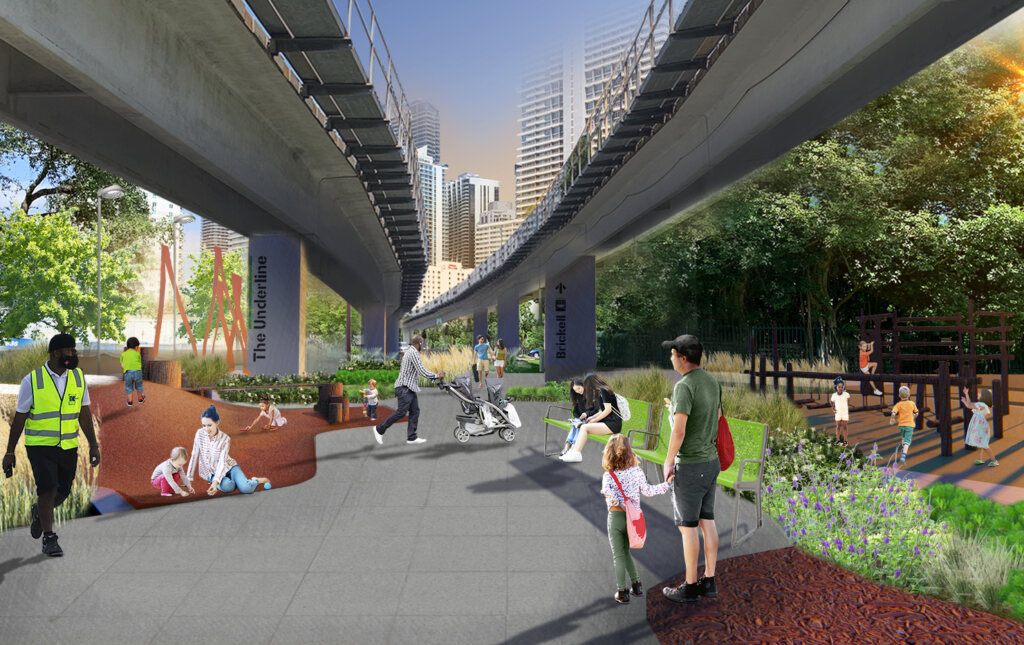 Friends of The Underline announces a $100,000 donation from Publix Super Markets Charities to support the Hammock Playground Plaza in Phase 2 of The Underline, Miami's 10-mile urban trail, linear park and public art destination.
Publix Super Markets Charities' donation will support programming and operations for The Underline Hammock Playground Plaza. The playground will include nature inspired play structures, public art and landscaping and seating areas for children, parents and caregivers. Phase 2 will extend over 2 miles from SW 13th Street to SW 19th Avenue.
The Underline is the model for the future of Miami's multimodal transit network that will transform the land below Miami's Metrorail into a first-class public space offering opportunities for fitness, recreation, and cultural engagement.
"Publix Charities is proud to sponsor The Underline Hammock Playground Plaza." said Kelly Williams Puccio, Executive Director of Publix Super Markets Charities. "Publix founder, George Jenkins, believed in supporting the education and well-being of the children in our communities. Playgrounds are ideal spaces for children to develop crucial physical, social, emotional and imaginative skills; and we are happy to be able to help the Friends of The Underline in this exciting endeavor."
The new playground will be a key feature of Phase 2 of The Underline, which will also include new cycling and pedestrian paths, lush native planting, a renovated Vizcaya Station plaza and bioswale, plus other amenities. Construction is underway, with the playground scheduled to open in late 2023.
"We are deeply grateful to Publix Super Markets Charities for their generous donation and their commitment to improving the quality of life for families and visitors in Miami-Dade County," said Meg Daly, Founder and CEO of Friends of The Underline. "The new playground will be a wonderful addition to Phase 2 of The Underline, and we look forward to seeing the joy of children playing and connecting with nature for years to come."
About Publix Super Markets Charities
George Jenkins, founder of Publix Super Markets and affectionately known as "Mr. George," believed in giving. From the day he opened his first Publix, he made sure his associates, customers and community were taken care of. In 1966, Mr. George established the Foundation with the vision it would continue giving long after he was gone. Publix Super Markets Charities remains committed to serving the communities in which Publix operates.
About The Underline
The Underline is a 10-mile linear park and urban trail that runs beneath the Metrorail from the Miami River to Dadeland South. The park is designed to create a vibrant public space that connects communities, promotes health and wellness, and encourages sustainable transportation. The Underline features a variety of amenities, including bike and pedestrian paths, exercise equipment, and public art. For more information about The Underline, please visit www.theunderline.org and @theunderlinemia on Facebook, Twitter and Instagram.