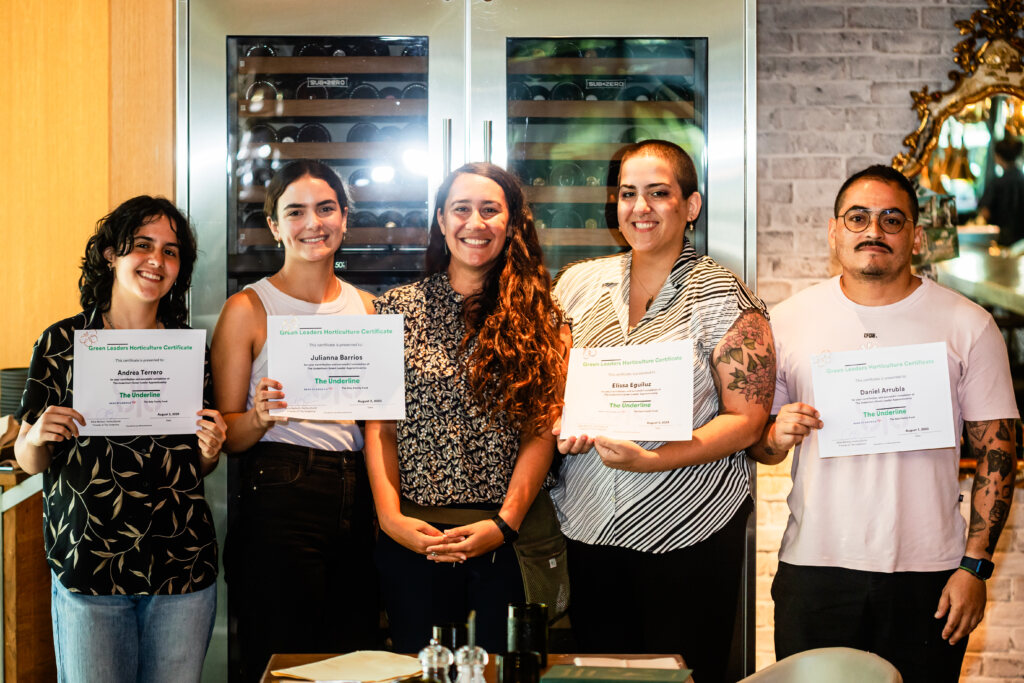 The Underline's first cohort of Green Leader Apprentices just graduated, leaving their green thumbprint on our county and the city of Miami. After eight weeks under the excellent mentorship of our horticulturist Asha Bertsch, our Green Leaders—all current students at Miami Dade College—gained knowledge in countless areas, including: South Florida's ecosystem and native plants; maintenance of public green spaces; leading volunteer plantings; digitizing plant inventories; climate technology, and more. This hands-on experience is seeding a resilience-focused workforce ready to grow, maintain, analyze and assess Miami's natural assets.
Here are highlights of the 8-week program from four of our Green Leaders:
Daniel Arrubla
Daniel is currently working on finishing his Horticulture and Technology degree and has already worked in the natural landscape sector for a number of years. He is thrilled to augment his foundational knowledge. Since beginning the program, Daniel remarks that he has "learned a lot and developed a ton of skills," and is particularly interested in learning about how humans can better interact with nature.
Through the Green Leaders Apprenticeship program, Daniel feels he has "a clear picture of what the project will look like after it is finished and the advantages that this linear park will have for the [community]."
"I generally feel more motivated to continue seeking work that is related to nature," said Daniel, whose new objectives are "to plant native plants rather than exotic ones, collect rainwater for use in my gardens, and encourage wildlife."
"Sharing this information with others is also important," he adds.
Juliana Barrios
Julianna Barrios, currently pursuing a Business Administration major, revels in the experiences she has had during this program. For her, the experience of working with her peers to "preserve a neglected urban corridor into a living sanctuary for pollinators and birds" has been incredibly rewarding.
Julianna describes how during the past eight weeks she has been "immersed in a world where nature and urban life [are] harmoniously converged." In addition to noticing the coexistence of the built and natural environments, Julianna notes how, during a visit to the Miami BayWalk, she was able to reflect on the "great innovations [made] to combine public safety, landscaping design, and ecological restoration."
From watering and scything plants, to learning about the different phases of a fern's life, Julianna has enjoyed getting her hands dirty while observing South Florida's flora and fauna.
She says, "it's a rewarding experience being able to see the development of the area through our hard work."
Elissa Eguiluz
Elissa is also pursuing a Horticulture Specialist certificate. Her curiosity about the world around her and her inquisitive nature is clear as she recounts what she learned during the program.
Elissa explains the importance of technique when trimming dead fronds off of saw palmettos. She gives a tip for plant owners: wait until the frond is completely brown and dry! "Palms retrieve their nutrients from fronds even as they discolor," she clarifies.
Elissa also learned how to distinguish between the caterpillars of different species of butterflies, how to perform "the shake test" to ensure a fair price in buying a new plant, and how to avoid overcrowding in landscaping, among many other skills.
Upon observing a few plants "making homes within the crevices of the concrete," Elissa made a note of "the resilience of plants," and how amazing it was to witness during the program—she describes the excitement she feels in watching as their "little oasis" continues to flourish.
"It was yet another reminder that what we're doing at The Underline is incredibly important, and that's a reward within itself. I feel very humbled to be a part of this project," she remarks.
Andrea Terrero
Andrea Terrero, an English Literature major, characterizes the Green Leaders program as "packed with information and incredible conversations." In particular, Andrea recollects the opportunity of having "met with some of the wonderful minds behind The Underline."
"During the first two weeks of our apprenticeship, the Green Leaders were introduced to The Underline and the people behind it," she begins. She describes meeting Alejandro Vazquez, the Phase 3 landscape architect, and John Daly, who explained to the group "more of the technological and budgeting aspects of The Underline, showing [the Green Leaders] what it takes to pursue such an ambitious project."
In meeting these influential figures, Andrea describes how her understanding of The Underline was deepened—when it came to both the roles of the Green Leaders and the role of others.
Additionally, Andrea and the group met with Lydia Cuni, "a field biologist from Fairchild, who took us around the park pointing out some of our unique Florida plant species" and received weekly talks from Dalton Goolsby from the University of Florida's Institute of Food and Agricultural Services (IFAS).
From these talks, the group was given tips on "how to create a Florida Friendly Landscape" by protecting Miami's beautiful environment. "I will certainly be implementing these tips in my own backyard and on campus," Andrea says.
Asha, The Green Leaders advisor and The Underline's horticulturist, said, "this group was instrumental in the beautification and upkeep of our gardens this summer, and I could not be more impressed and grateful with all they contributed. In 8 short weeks they planted over 500 native trees, shrubs and wildflowers and increased the diversity of our plantings by over 40 species. They facilitated two of our busiest Day in The Dirt volunteer events of the year, cultivated relationships with 4 new volunteers, and served as ambassadors of our gardens, helping to educate and engage members of the community about our diverse plantings."
If you are interested in sponsoring this program please click here.