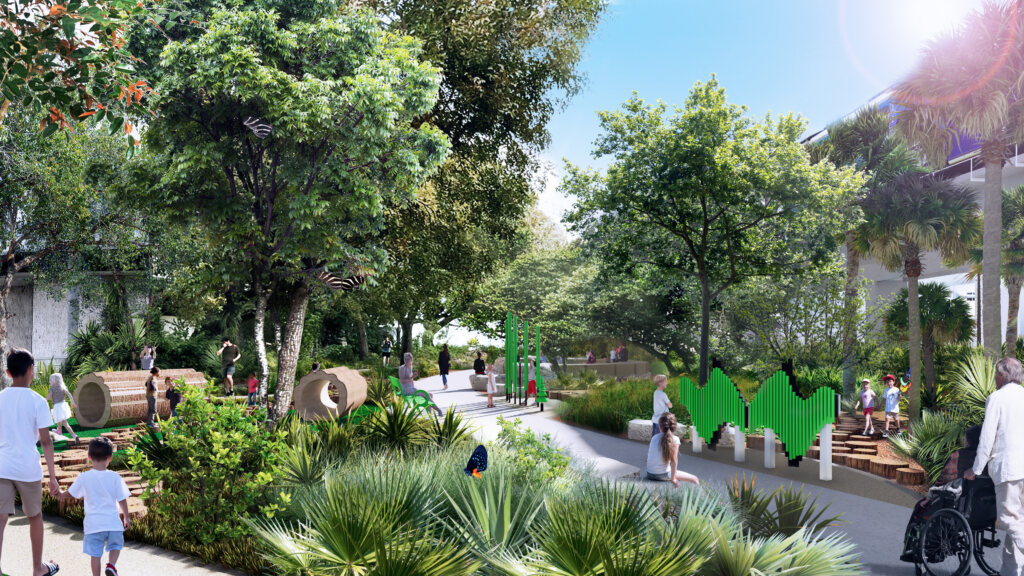 Imagine a plot of land the size of a basketball court with dense, lush greenery that's teeming with native birds, insects, and reptiles. These tiny forests, part of the Miyawaki micro-forest method, can transform tiny plots of land into a refuge for wildlife. This method, developed by Akira Miyawaki, a Japanese botanist and plant ecologist in the 1970s, isn't just meant to benefit wildlife. These micro-forests can sequester carbon, mitigate heat and flooding, and provide shade.
Due to the compact nature of these tiny forests they are able to grow ten times as fast as a regular forest, making them ideal for areas with no tree coverage. As young trees and shrubs vie for sunlight, the decomposing plants enrich the soil.
We are bringing this powerful solution to Miami's unique environmental challenges in Phase 3 of The Underline. Collaborating alongside Fairchild Tropical Botanic Garden we will replicate the coastal hardwood hammock ecosystems that historically covered this land. Using this reforestation method will be a first here in South Florida but they could become an integral part of how we can help mitigate heat and create shade for years to come.
Phase 3 brings a number of practical solutions to build resiliency. Along with micro-forests, there will be bioswales and stormwater ponds. These solutions are part of our commitments to sustainability and resiliency. Alejandro of Field Operations, part of the NV2A JV Design Build Team said,
"For Phase 3 of The Underline, our team is excited to incorporate Miyawaki method micro-forests for the first time in South Florida! These mini-ecosystems will offer more than just visual appeal – they'll boost resilience by harnessing the power of native flora, they'll help minimize heat by providing ample shade, and as the community witnesses the growth of these micro-forests over time, a deep sense of stewardship will take root."
To learn more about tiny forests and how they are helping to change the landscape in the United States click here.
To find out more about our innovative planting approach click here.