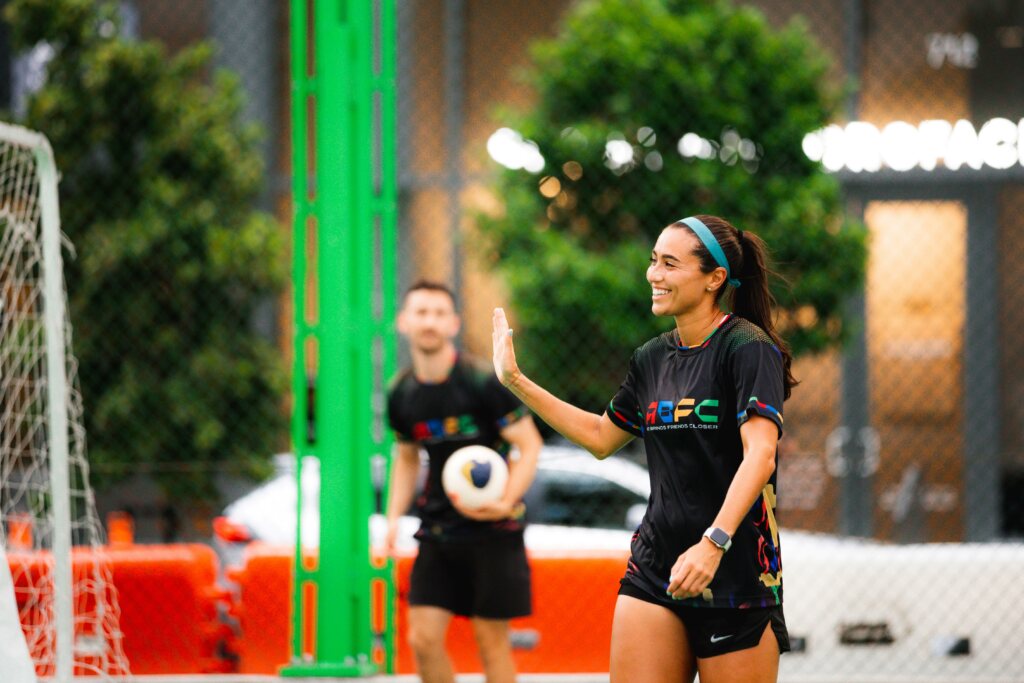 The Underline teams up with the U.S.Soccer Foundation, adidas and The Children's Trust to run the free program in Brickell.
Miami, FL – To continue building a more inclusive and healthy community, The Underline is teaming up with the U.S. Soccer Foundation, adidas, and The Children's Trust to run the Just Ball League in Brickell this fall. Launched in Los Angeles and New York City in 2022, the Just Ball League utilizes mini-pitches and other community hubs for soccer play that prioritizes fun, inclusion, and belonging. The Just Ball League will be offered at The Underline's Brickell Backyard Urban Gym with the generous support of Goldman Sachs.
The Just Ball League is a part of the Miami Dade County Soccer Initiative, launched in April 2023 with funding from Ken Griffin of Citadel and The Children's Trust. Through the initiative, more than 36,000 youth from under-resourced communities will gain access to mini-pitches installed in their neighborhoods and opportunities to play soccer at no cost by 2026. The Just Ball League is a welcome addition to The Underline's growing family-friendly events and programming, demonstrating its commitment to health and wellness.
A recent study shows that children from underserved communities had lower rates of participation in sports than their more affluent peers. It was noted that feeling welcomed and cost to participate were two large concerns. The Just Ball League works to break down these barriers by providing free programming,and an inclusive environment.
Developed in partnership with adidas, the Just Ball League connects mentors with young players, creating a competitive but friendly team-building environment. Central to its mission, the league places a strong emphasis on fun, inclusivity, and fostering a sense of belonging—leveraging soccer as a unifying force for individuals from various walks of life.
The Underline will host the Just Ball League at the Brickell Backyard Urban Gym mini-pitch court, inviting middle school and high school age kids to learn, play, and work together.
Friends of The Underline Founder Meg Daly says, "We are so excited to launch the Just Ball League on The Underline! There is so much energy around soccer in Miami and kids of all ages are eager to improve their skills while enjoying the game of soccer improving their physical health while making new friends. We are thankful for being included in U.S. Soccer Foundation's Miami Just Ball League. and to Goldman Sachs for supporting the Just Ball site at The Underline."
"We're thrilled to expand our Just Ball League to Miami and that The Underline will host the league this fall," said Ed Foster-Simeon, President & CEO of the U.S. Soccer Foundation. "Just Ball allows youth and teens to play competitively right in their neighborhoods and encourages creativity and community-building. It's a perfect fit for a soccer city like Miami."
"Playing sports and being part of a team helps children and youth develop into healthy adults, both physically and by supporting their social and emotional wellness. At The Children's Trust, our mission is to help nurture children and families in our community and the Just Ball League can be a positive step to do just that," said The Children's Trust President & CEO James R. Haj. "We are committed to supporting soccer programming throughout Miami-Dade, including at The Underline's Brickell Backyard Urban Gym and know this is the beginning of so many exciting projects to come."
The Just Ball League fall season at The Underline begins this September 30th, and runs through the spring season.
About The Underline
The Underline is a 10-mile linear park and urban trail that runs beneath the Metrorail from the Miami River to Dadeland South. The park is designed to create a vibrant public space that connects communities, promotes health and wellness, and encourages sustainable transportation. The Underline features a variety of amenities, including bike and pedestrian paths, exercise equipment, and public art. For more information about The Underline, please visit www.theunderline.org and @theunderlinemia on Facebook, Twitter, and Instagram.
About the U.S. Soccer Foundation
The U.S. Soccer Foundation's programs are the national model for sports-based youth development in underserved communities. Since its founding in 1994, the Foundation has established programs proven to help children embrace active and healthy behaviors while nurturing their personal growth beyond sports. Its cost-effective, high-impact initiatives offer safe environments where kids and communities thrive. Headquartered in Washington, D.C., the U.S. Soccer Foundation is a 501(c)(3) organization. For more information visit www.ussoccerfoundation.org or follow us on Twitter, Facebook, and Instagram.