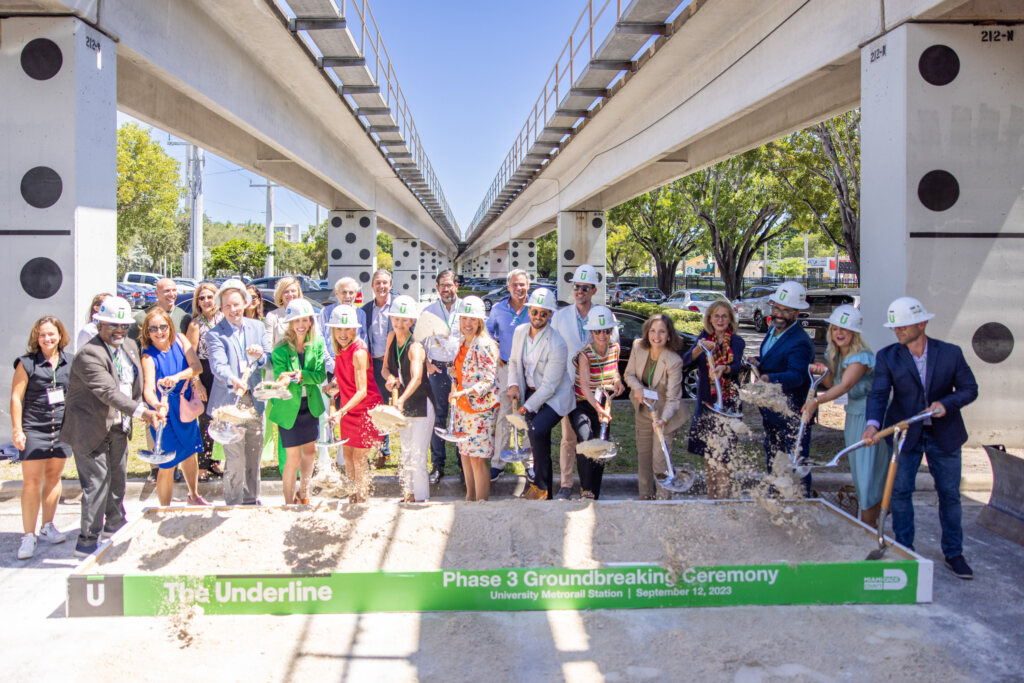 Miami, FL, September 20, 2023 – Friends of The Underline (FUL) and Miami-Dade County's Department of Transportation and Public Works (DTPW) hosted the Phase 3 Groundbreaking Ceremony on Tuesday, September 12, 2023, at the University Metrorail Station. The event was attended by local and state officials, along with special guest and Underline donor Ken Griffin, and was followed by a reception generously sponsored by the global law firm Greenberg Traurig P.A.
In attendance were private donors, elected officials, and county staff, all gathered to mark this significant milestone in The Underline's development. Speakers included elected officials and supporters of The Underline, including County Commissioners Raquel Regalado and Eileen Higgins followed by billionaire supporter Ken Griffin Citadel Founder and CEO, Mayor Lago from Coral Gables and Javier E. Fernandez from South Miami, FDOT Secretary Stacy Miller, State Representative Vicki L. Lopez, City Commissioner Sabina Covo, Miami Dade County Dept of Transportation & Public Works Director/CEO Eulois Cleckley and our CEO and Founder Meg Daly.
Meg Daly, The Underline Founder and CEO said, "Projects as ambitious and transformative as The Underline are made possible through innovative public/private partnerships. Private corporate benefactors, such as Greenberg Traurig, catalyze both public and private investment ensuring visionary ideas become reality benefiting the quality of life for communities while fostering sustainable urban development. These partnerships exemplify the power of collaboration and underscore the importance of corporate philanthropy to create resilient, vibrant, and socially responsible urban environments."
The Underline's third and final 7-mile phase will extend from SW 19th Avenue to Dadeland South. Driven by the community's priorities for safe multimodal transportation, natural and resilient spaces, and recreational opportunities, Phase 3 features many benefits and amenities including separated biking and walking paths for enhanced safety and enjoyment; crosswalk improvements; basketball, pickleball and soccer courts; pollinator gardens and micro-forests; curated local food and beverage concessions; and beautiful areas for free community programs.
Iris Escarra, a Friends of the Underline Board Member, and Co-Chair of Greenberg Traurig, P.A.'s global Land Use & Development Practice, said "Greenberg Traurig takes great pride in contributing to The Underline's transformative mission. As this project continues to breathe life into the underutilized space beneath the Metrorail, we are thrilled to be a part of its ongoing journey. The importance of this project to Miami's resilience, transit, and enduring legacy cannot be emphasized enough."
To learn more about the plans for Phase 3, visit https://www.theunderline.org/phases/.
About The Underline
The Underline is a 10-mile linear park and urban trail that runs beneath the Metrorail from the Miami River to Dadeland South. The park is designed to create a vibrant public space that connects communities, promotes health and wellness, and encourages sustainable transportation. The Underline features a variety of amenities, including bike and pedestrian paths, exercise equipment, and public art. For more information about The Underline, please visit www.theunderline.org and @theunderlinemia on Facebook, Twitter, and Instagram.
About Greenberg Traurig
About Greenberg Traurig: Greenberg Traurig, LLP has more than 2650 attorneys in 47 locations in the United States, Europe and the Middle East, Latin America, and Asia. The firm is a 2022 BTI "Highly Recommended Law Firm" for superior client service and is consistently among the top firms on the Am Law Global 100 and NLJ 500. Greenberg Traurig is Mansfield Rule 5.0 Certified Plus by The Diversity Lab. The firm is recognized for powering its U.S. offices with 100% renewable energy as certified by the Center for Resource Solutions Green-e® Energy program and is a member of the U.S. EPA's Green Power Partnership Program. The firm is known for its philanthropic giving, innovation, diversity, and pro bono. Web: www.gtlaw.com.