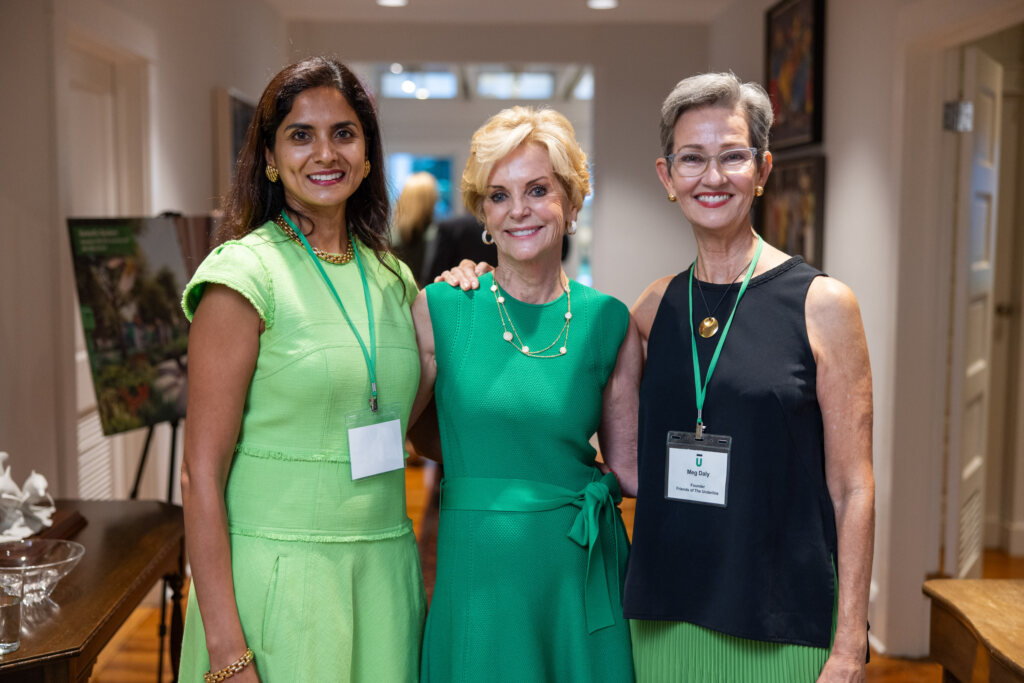 The Underline, the fastest growing project of its kind in the country and Miami's premier initiative to create and revitalize public spaces, celebrated the groundbreaking of Phase 3 of the 10-mile linear park on Wednesday, September 27.
Spanning SW 19th Avenue to Dadeland South Metrorail Station, Phase 3's groundbreaking brings the project one step closer to realizing founder and CEO Meg Daly's vision of a linear park, urban trail, and community destination below the Metrorail that would connect Miami like never before. Phase 3 follows The Underline's pivotal first two stages, Phase 1 Brickell Backyard (Miami River to SW 13th Street (Coral Way) and Phase 2 Vizcaya Station (SW 13 Street to SW 19th Avenue). The linear park includes an exciting mix of urban biking, walk paths, flex basketball and soccer courts, outdoor gyms, nature and butterfly gardens, and gathering spaces as well as unique vantage points to experience breathtaking Miami vistas.
A reception to mark the milestone was held at the beautiful Coral Gables home of Board Members Judy and Jon Zeder and was co-hosted by Board Member Salma Rahmathulla and CEO Meg Daly.
"It was Jon and my distinct pleasure to open our home and share the excitement, energy and opportunity around the largest park project connected to transit in the country that is changing Miami's urban landscape, and we encourage others to be a part of this great movement," said Judy Zeder.
A testament to the power of community and collaboration, more than 100 distinguished guests including board members, generous donors, and special friends of The Underline attended the alfresco reception where they enjoyed delicious canapes, cocktails and good cheer with fellow supporters while hearing inspirational remarks from Daly, Debi Weschler and Miami Mayor Francis Suarez.
Daly, who began the project in 2013 after walking underneath the Metrorail following a physical therapy appointment, quickly recognized the potential of the underutilized land and set out on a journey to not just create a linear park, but a symbol of unity, a place where communities converge, and a testament to what can be achieved when public and private parties come together with a shared vision. The Underline Enthusiasts also heard from board member and long-time supporter of the arts, Debi Wechsler, who highlighted the cultural and artistic significance of The Underline and Miami Mayor Francis Suarez, a staunch advocate for urban development and community connectivity, also spoke, sharing his enthusiasm for the project's impact on the city.
Said Board Member and co-host, Salma Rahmathulla, "It was a magical evening and my honor to serve on the board and spread the word about how others can support this high impact project transforming our community."
"Friends of The Underline extends its heartfelt gratitude to its co-hosts, board members and sponsors who play instrumental roles in advancing the project. The Underline leadership acknowledges all those who have supported the project's transformative mission whose generosity and commitment are paving the way for a more connected, vibrant, and inclusive Miami. We invite the Miami community to join us on this exciting journey as we work tirelessly to create a more connected Miami for generations to come," said Daly.
About Friends of The Underline
Our mission is to deliver and activate a 120-acre, first-class linear park, urban trail, and event space spanning 10-miles below Miami's Metrorail that will transform regional mobility and celebrate diversity, culture and lifelong learning. Through innovative urban trails and creative programming, we are connecting people to their environment and each other to create a safe, healthy, equitable, and sustainable community. For more information, follow on Instagram, Facebook, Linkedin and Twitter, or visit theunderline.org.