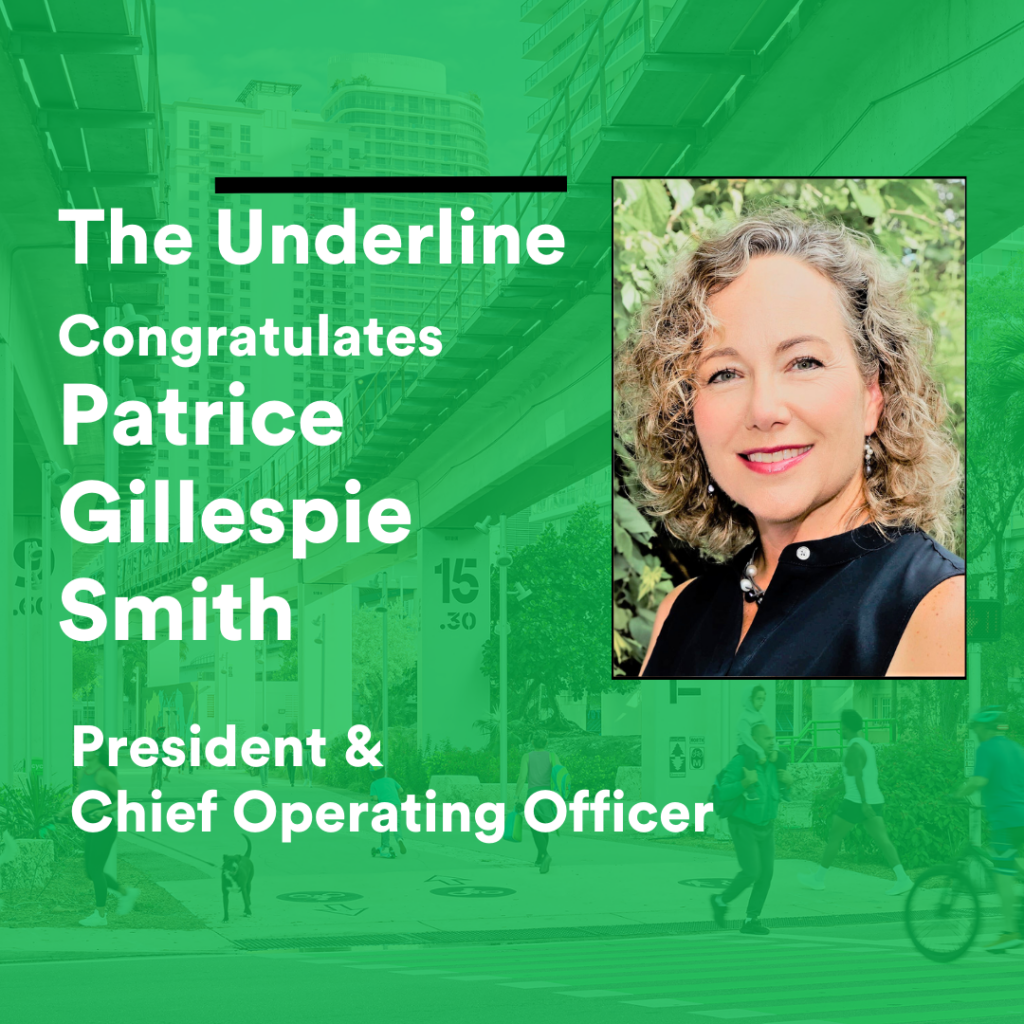 MIAMI, Oct. 16, 2023 – The Friends of The Underline Board of Directors announced today that Patrice Gillespie Smith has been promoted to president and COO.
Since joining The Underline in 2020, Ms. Gillespie Smith has been instrumental in all aspects of the project including construction, operations and management of the organization. Under her leadership, The Underline has grown its team to meet the demands of the 10-mile multimodal trail, restorative green space and community destination. During her tenure, she developed the framework and forged relationships to open the one-half mile Phase 1 from the Miami River to Coral Way. With this milestone, the Underline welcomes more than 1.5 million annual visitors, hosts more than 200 annual programs and has connected more than 150 nonprofit and institutional partners throughout the community while launching more than a dozen small businesses.
Working with The Underline's dynamic Board of Directors, she facilitated the creation of a Five-Year Strategic Plan, DEI initiatives and instilled an employee culture that advances The Underline's goal of becoming the friendliest nonprofit and place to be in South Florida. Meg Daly, the project's founder, will maintain her leadership role as CEO and chairman of the board of both The Underline Conservancy and Friends of The Underline.
"Patrice's fingerprints can be seen in this project and organization," said Daly. "As we complete our remaining 2 phases and grow our community impact, she is the leader The Underline needs to guide the expansion of the internal operations and enhance our community partnerships."
Gillespie Smith's passion for creating walkable, livable and resilient communities led her to The Underline. Working in both the public and private sectors, she has launched initiatives to realize safer, more welcoming streets. In previous roles, she served as Chief of Staff to the Seattle Department of Transportation, led Neat Streets Miami and Million Trees Miami and created Complete Streets Guidebooks to help rethink how we design our roads.
"I am honored to work with Miami Dade County to continue Meg Daly's vision and realize the community's goal of a safe, green place to walk, bike and connect," Gillespie Smith said. "With Phase 1 open, Phase 2 construction nearing completion and Phase 3 breaking ground, I can't think of a more rewarding job. I am humbled to be working with a passionate team who wakes up every morning thinking about how to advance our project and our impact."
Gillespie Smith resides with her husband and three teenage children in Miami Shores. She loves riding her bike and walking around Miami.
About The Underline
The Underline is a 10-mile linear park and urban trail that runs beneath the Metrorail from the Miami River to Dadeland South. The park is designed to create a vibrant public space that connects communities, promotes health and wellness, and encourages sustainable transportation. The Underline features a variety of amenities, including bike and pedestrian paths, exercise equipment, and public art.
For more information about The Underline, please visit www.theunderline.org and @theunderlinemia on Facebook, Twitter and Instagram.