"Crazy idea."
In 2013, Friends of The Underline founder, Meg Daly, broke both of her arms. Since she could not drive herself to physical therapy, she decided to take the Metrorail near her home, and then walk the rest of the way to her destination underneath the train tracks. Even in July, she did not feel hot in the shade of the tracks. She noticed how wide the corridor was and how much space there was … and she was the only person using the space.
Since its founding, Friends of The Underline has been committed to transforming the underutilized land below Miami's Metrorail—from the Miami River to Dadeland South Station—into a 10-mile linear park, urban trail and public art destination.
Through a partnership with Miami-Dade County, a vibrant and engaged board of directors, public and private donors and hundreds of volunteers, The Underline is becoming an example for repurposing unused land into a public park and community space and asset. And so, The Underline was born.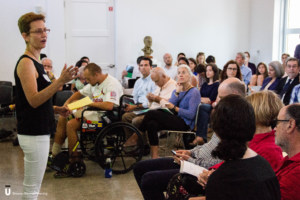 The
Underline

Conservancy

In 2020, The Underline Management Organization dba The Underline Conservancy was created to manage, maintain, operate and program The Underline. The public/private organization has its own board with representatives from Friends of The Underline and Miami-Dade County.