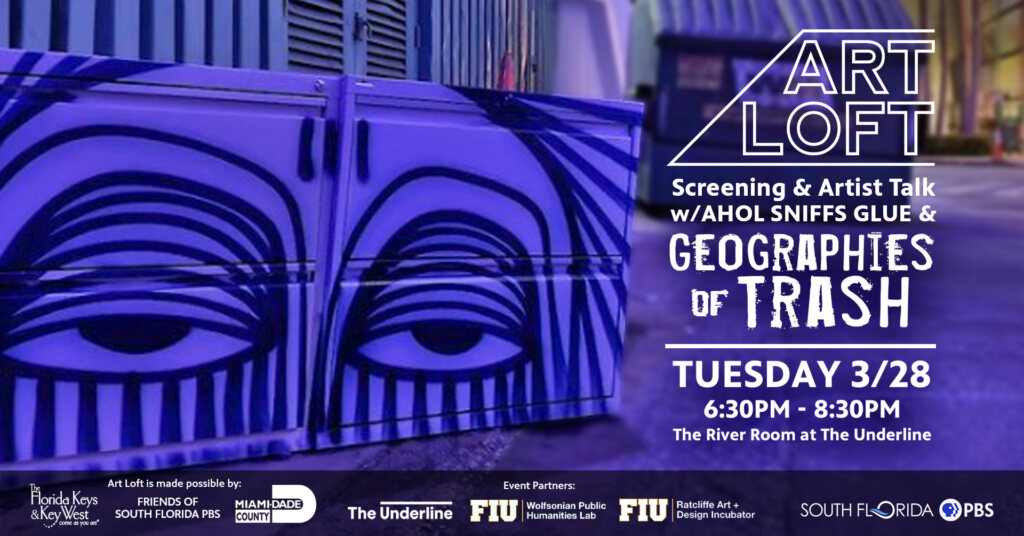 Join us for an Art Loft Screening & Artist Talk with Ahol Sniffs Glue & "Geographies of Trash" Event!
Join us for a South Florida PBS Art Loft event at the Underline featuring artist Ahol Sniffs Glue and "Geographies of Trash!"
It's happening March 28th at the Underline's River Room – Guests are invited to attend the complimentary reception followed by a screening of the Art Loft Season 11 finale and then stick around for a talk-back with the artist.
This event is bike and public transportation friendly. Special thanks to our event partners The Underline, FIU's Ratcliffe Design Incubator, and the FIU Wolfsonian Public Humanities Lab.
Special thanks to The Dunspaugh-Dalton Foundation for supporting this event.
Art Loft is made possible by The Florida Keys & Key West, Miami-Dade County & MiamiDadeArts.org, Friends of South Florida PBS.
•••⁠
Getting there:
The River Room begins at the intersection of 1st Court and 7th Street, when you arrive, please walk north.
•⁠ 🚆Take the Metrorail to Brickell Metrorail Station, exit north, and walk to River Room, located at SW 1st Court and SW 7th Street, and then head toward the Miami River at 600 SW 1st Court, Miami, FL 33130 (the end of the River Room).
•⁠ 🚴‍♂️ Walk or bike (park your bike in the River Room.)
•⁠ 🚗 If you drive, please use nearby street parking, Brickell City Centre parking, or Mary Brickell Village parking. Then walk to the event location.
•••⁠
👩‍🦽Accessibility: The Underline is fully wheelchair accessible.
•••⁠
🌧 Rain Policy: Considerable amount of rain and/or lightning will postpone the event 2 hours before event time by email or during the event time by email and in-person if needed.
•••⁠
💡 See our park rules here: The Underline's Park Rules