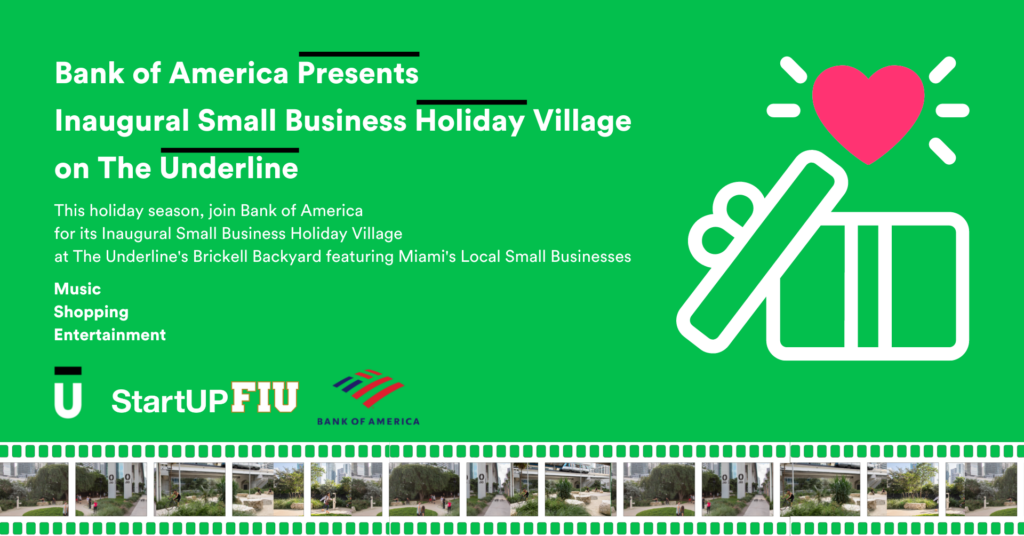 Come celebrate the Holidays with Bank of America, StartUp FIU, and The Underline at the inaugural small business holiday village. Over two weekends in December visit The Underline for shopping, music, entertainment, holiday lights, and much more!
4:30 PM Ribbon cutting
5 PM Musical performance the Booker T. Washington Marching Band
•••⁠
Small Business Holiday Village vendors include:
Courtney's Cookies: Organic, vegan, low-glycemic cookies
Nidus Foods: Personalized meal delivery service
Maven Baker: Traditional French pastries and guilt-free, freeze-dried cheesecake
InSeason LLC: Wellness service provider
Status Plus Productions LLC: Streetwear clothing and accessories
JNCY Jewelers: Customized rings and jewelry for the minority bridal community
Paula's Bake Shop: Traditional Argentinian alfajores
Socially Loud: Integrated marketing/brand consulting service
T-Shirt Mayhem Corp: Customized apparel printing
Bikes for Every Body LLC: Manufacturer and distributor of The Buddy Bike®, an alternative tandem bicycle for riders with special needs
•••⁠
The Underline Holiday Village will be open to the public on December 10-12 and December 17-19 from 4 to 8 p.m. on Fridays, 12 to 8 p.m. on Saturdays and 12 to 6 p.m. on Sundays. The village will take place in the Brickell Backyard's Promenade Station Grove, in front of the Brickell Metrorail Station North Entrance, SW 1st Ave, and SW 9th Street. Visitors are encouraged to take the Metrorail to Brickell Metrorail Station, exit north and walk toward the holiday lights and vendor carts. Those who wish to drive can use public parking lots at Brickell City Centre and Publix Mary Brickell Village.
•••⁠
This initiative was created as part of Bank of America's $1.25 billion, five-year commitment to advance racial equality and economic opportunity. The effort aims to open doors for local small businesses by further accelerating Bank of America's commitment to address racial equality and opportunity in Miami's communities.
🎟 This event is free to the public, but registration is required.
•••⁠
📍 Getting there: Take Metrorail to the Brickell Metrorail Station, exit north and walk to the kiosk area. Walk or bike (bike racks on The Underline at SW 1st Avenue and SW 10th Street). If you drive, please use nearby public parking lots at Brickell City Centre and Publix Mary Brickell Village
•••⁠
👩‍🦽Accessibility: The Underline is fully wheelchair accessible.
•••⁠
😷 We will adhere to CDC Covid-19 guidelines, for more information see here.
•••⁠
💡 See The Underline park rules here: The Underline's Park Rules
•••⁠
#TheUnderline #TheUnderlineBrickellBackyard