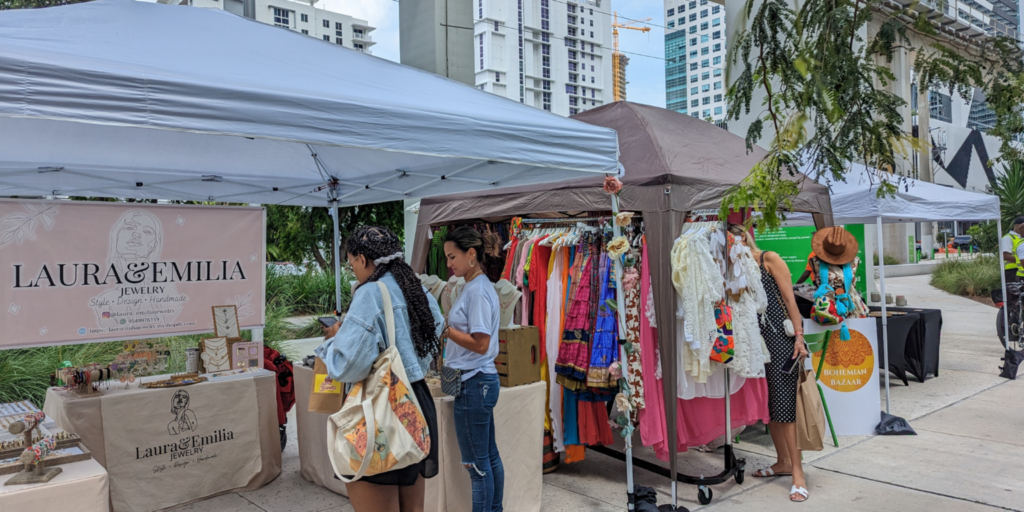 The Underline is thrilled to welcome back the Farmers Market and Clothing Swap! Join us on Saturday from 9 AM – 2 PM at The Underline's Brickell Backyard Promenade green crosswalk on SW 1st Ave across from SW 9th Street.
Enjoy a wide variety of seasonal produce, handmade crafts, artwork, bags, clothing, and locally sourced products such as baked goods, artisanal cheeses, honey, and more! And don't forget to participate in our exciting clothing swap event. Bring your gently used clothing items to exchange with others and refresh your wardrobe in a sustainable way.
Support local businesses and get to know those who grow and produce your products. Meet the owners face-to-face, learn about their business practices, and ask questions about the products they offer. This creates a personal connection between consumers and producers and allows for a greater understanding of where our food and clothing come from.
A special thank you to Commissioner Eileen Higgins office for sponsoring this event.
Join us in supporting local businesses, purchasing high-quality, fresh items, and enjoying a unique community experience. See you there!
Getting there:
•⁠ 🚆Take the Metrorail to Brickell Metrorail Station, exit north, and walk to the green cross walk, located right across from 9th Street.
•⁠ 🚴‍♂️ Walk or bike (bike racks on The Underline as SW 1st Avenue and SW 9th Street) to the green cross walk, located right across from 9th Street.
•⁠ 🚗 If you drive, please use nearby public parking lots at Brickell City Centre and Publix Mary Brickell Village.
•••⁠
👩‍🦽Accessibility: The Underline is fully wheelchair accessible.
•••⁠
🌧 Rain Policy: The event will be postponed 2 hours before event time in the case of 50% or more chance of rain.
•⁠•⁠•⁠
💡 See our park rules here: The Underline's Park Rules
•••⁠