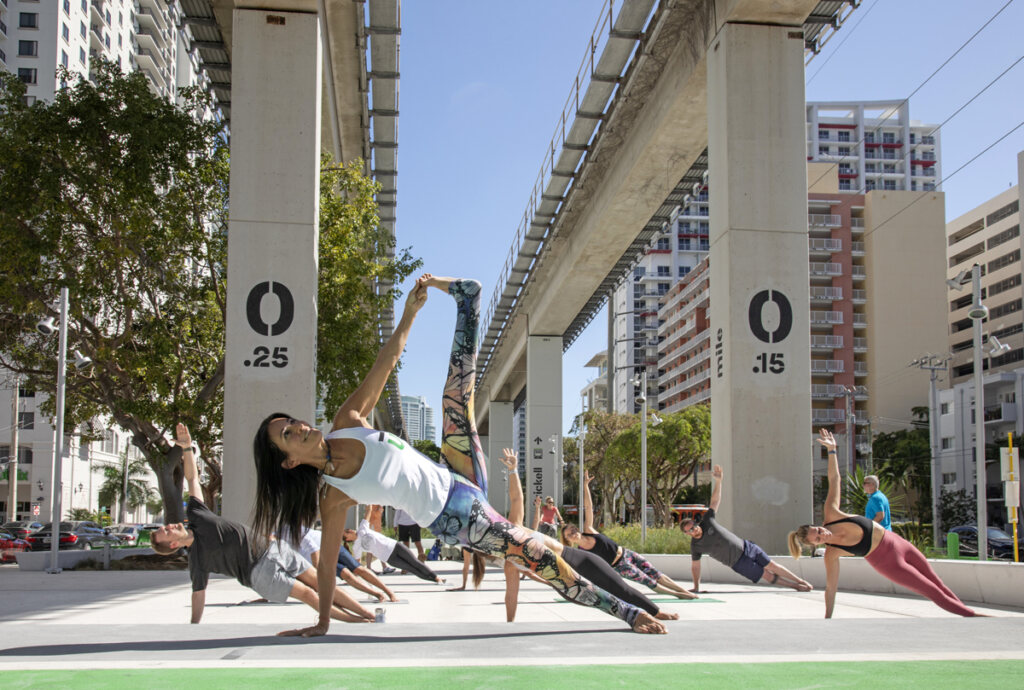 Yogis! Friends of The Underline is pleased to offer free IN-PERSON Underline yoga classes powered by Baptist Health South Florida every Saturday morning at 9 AM.
Led by the incredible yoga instructor Anny Noratto, this flow yoga class is perfect for beginners! Participants who wish to attend must register since space is limited. Please arrive 15 minutes before the class starts time. Attendees must bring their own yoga mats, water, and towels. Masks are optional.
Friends of The Underline is a non-profit organization that provides free community cultural, entrepreneurial and health and wellness programs. We humbly ask that you consider making a donation at theunderline.org/donate-to-the-underline/, or when you register, to support our free, community programming year-round.
Visit theunderline.org to receive updates on other Underline programs and events and follow us @theunderlinemia on Facebook, Twitter, and Instagram. Use #UnderlineYoga to be included in our social media.
Getting there:
•⁠ 🚆Take the Metrorail to Brickell Metrorail Station, exit north, and walk to Sound Stage, located right before the crossing to 8th street.
•⁠ 🚴‍♂️ Walk or bike (bike racks on The Underline as SW 1st Avenue and SW 1st Street) to Sound Stage, located right before the crossing to 8th street.
•⁠ 🚗 If you drive, please use nearby public parking lots at Brickell City Centre and Publix Mary Brickell Village.
•••⁠
👩‍🦽Accessibility: The Underline is fully wheelchair accessible.
•••⁠
🌧 Rain Policy: The event will be postponed 2 hours before event time in the case of 50% or more chance of rain.
•⁠•⁠•⁠
💡 See our park rules here: The Underline's Park Rules
•••⁠