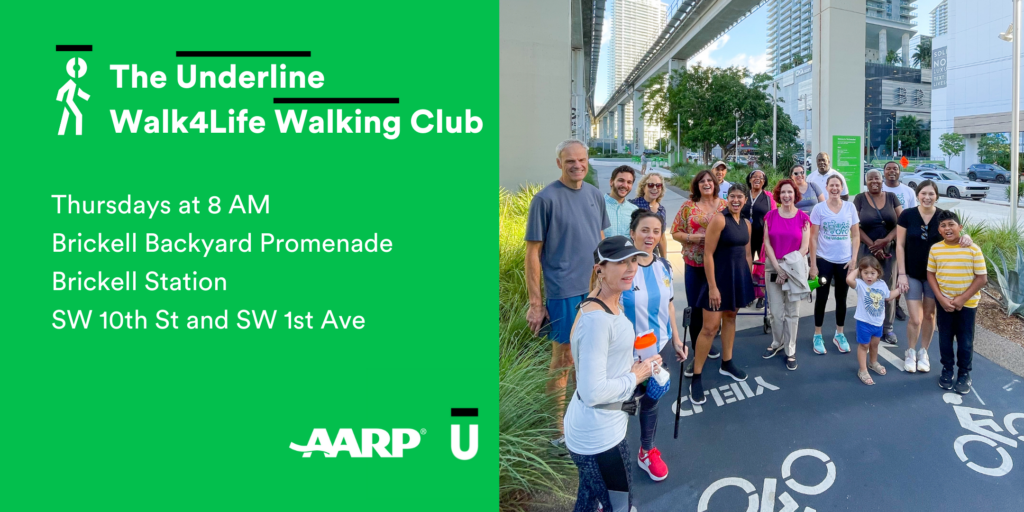 Let's get walking!
Together with AARP, Friends of The Underline is launching a free walking club that will meet weekly to walk one mile along The Underline every Thursday at 8 AM.
Participants will log daily walking totals on The Underline's solar-powered kiosk next to the Brickell Metrorail station and receive fun giveaways when they reach major walking milestones logged like 25 miles, 50 miles, 100 miles and more!
All ages are welcome to join the walk!
Please arrive by 7:45 AM. Attendees must wear comfortable walking shoes and clothes. A water bottle, towel, hat and sunscreen are recommended.
Special thank you to Baptist Health, The Underline's Health and Wellness Sponsor.
Friends of The Underline is a non-profit organization that provides free community cultural, entrepreneurial and health and wellness programs. We humbly ask that you consider making a donation at theunderline.org/donate-to-the-underline/, or when you register, to support our free, community programming year-round.
Visit theunderline.org to receive updates on other Underline programs and events and follow us @theunderlinemia on Facebook, Twitter, and Instagram. Use #UnderlineWalk4Life to be included in our social media.
•••
⁠Getting there:
•⁠ 🚆Take Metrorail to the Brickell Metrorail Station, exit in front of the Brickell Metrorail Station North Entrance, SW 1st Ave, and SW 10th Street.
•⁠ 🚴‍♂️ Walk or bike (bike racks on The Underline as SW 1st Avenue and SW 10th Street) to Brickell Metrorail Station North Entrance, located SW 1st Ave, and SW 10th Street.
•⁠ 🚗 If you drive, please use nearby public parking lots at Brickell City Centre and Publix Mary Brickell Village.
•••⁠
👩‍🦽Accessibility: The Underline is fully wheelchair accessible.
•••
🌧 Rain Policy: The event will be postponed 2 hours before event time in the case of 50% or more chance of rain.
•••⁠
💡 See our park rules here: The Underline's Park Rules