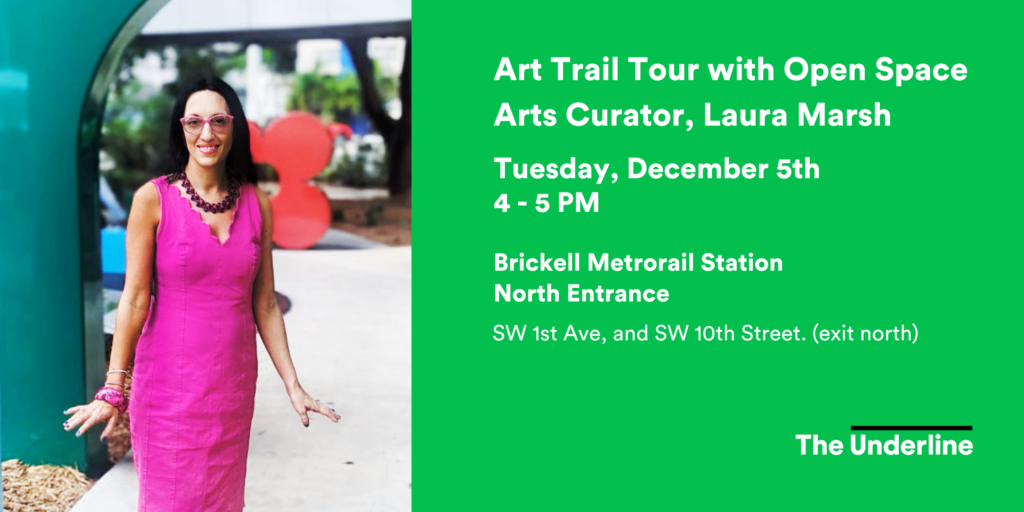 Stroll The Underline, Miami's 10-mile linear park, urban trail, and public art destination on Tuesday, December 5th, at 4 PM with The Underline's Open Space Arts Curator, Laura Marsh, for a free guided tour of The Underline's public art featuring a round robin game of ping pong with Miami-based artist Cara Despain to activate her Water/Tables at The Underline. Explore six unique art installations in the Brickell Backyard and learn the engaging narratives behind The Underline's expanding art collection.
Each of The Underline's six temporary and permanent art installations in the Brickell Backyard has a unique story with a shared intent to connect people to the place and each other. This event is free to the public but space is limited and registration is required.
Meet up location: Brickell Metrorail Station North Entrance, SW 1st Ave, and SW 10th Street. (exit north)
About Friends of The Underline: Our mission is to deliver and activate a 120-acre, world-class linear park spanning 10-miles below Miami's Metrorail that will transform regional mobility and celebrate diversity, culture and lifelong learning. Through innovative urban trails and creative programming, we are connecting people to their environment and each other to create a safe, healthy, equitable, and sustainable community.
For more information, visit TheUnderline.org or follow us on social media @theunderlinemia. For more information about The Underline Art Trail, click here for the brochure. To make a donation to Art on The Underline, email leana.cianfoni@theunderline.org.
Getting there:
•⁠ 🚆Take Metrorail to the Brickell Metrorail Station, exit in front of the Brickell Metrorail Station North Entrance, SW 1st Ave, and SW 10th Street.
•⁠ 🚴‍♂️ Walk or bike (bike racks on The Underline as SW 1st Avenue and SW 10th Street) to Brickell Metrorail Station North Entrance, located SW 1st Ave, and SW 10th Street.
•⁠ 🚗 If you drive, please use nearby public parking lots at Brickell City Centre and Publix Mary Brickell Village.
•••⁠
👩‍🦽Accessibility: The Underline is fully wheelchair accessible.
•••⁠
🌧 Rain Policy: In the event of rain, the event will be canceled and not be rescheduled.
•⁠•⁠•⁠
The Underline Equity Statement:
The Underline recognizes, represents, and celebrates the unique fusion of cultures that make Miami one of the most diverse cities in the world.
We proudly create this park with the community with an unwavering commitment to be a safe and accessible public space for all who visit the park, regardless of race, age, gender, sexual orientation, abilities, or socioeconomic status.
Read Full Statement: