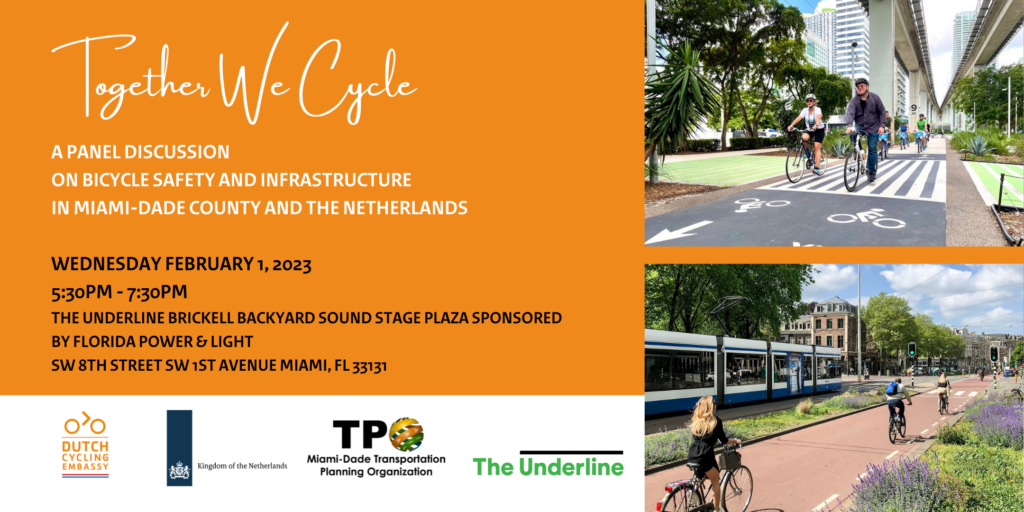 Learn how one country revolutionized urban transportation!
On Wednesday, February 1st at 5:30 PM join the Miami-Dade Transportation Planning Organization, The Underline, and the Consulate General of the Kingdom of the Netherlands in Miami for a short screening of the Dutch documentary Together We Cycle, with opening remarks by Commissioner Raquel Regalado, followed by a panel discussion moderated by Chris Bruntlett of the Dutch Cycling Embassy. The Panel will be held at the Sound Stage Plaza Sponsored by Florida Power & Light located at the intersection of SW 1st Avenue and SW 8th Street.
The featured speakers will be:
Teije Gorris, Executive Director, DTV Capacity Building
Meg Daly, CEO, and Founder, Friends of The Underline
Commissioner Raquel Regalado, District 7, Miami-Dade County
Aileen Bouclé, Executive Director, Miami-Dade Transportation Planning Organization
Adrienne Burrows, Member, Break The Cycle
Together We Cycle investigates the events that led to the revival of the Dutch cycling culture. Many people think that cycling in the Netherlands is a natural phenomenon. However, until the 1970s the development of mobility in the Netherlands followed trends across the globe. The bicycle had had its day, and the future belonged to the car. The only thing that had to be done was to adapt cities to the influx of cars. Then Dutch society took a different turn. Find out why and how it can be translated to other regions.
Space is limited, so RSVP is required.
•••⁠
Getting there:
•⁠ 🚆Take the Metrorail to Brickell Metrorail Station, exit north, and walk to Sound Stage, located right before the crossing to 8th street.
•⁠ 🚴‍♂️ Walk or bike (bike racks on The Underline as SW 1st Avenue and SW 1st Street) to Sound Stage, located right before the crossing to 8th street.
•⁠ 🚗 If you drive, please use nearby public parking lots at Brickell City Centre and Publix Mary Brickell Village.
•••⁠
👩‍🦽Accessibility: The Underline is fully wheelchair accessible.
•••
🌧 Rain Policy: The event will be postponed 2 hours before event time in the case of 50% or more chance of rain.
•••⁠
💡 See our park rules here: The Underline's Park Rules