By Megan Padilla | December 27, 2017
When Miami unveils the first three of its 10 planned linear miles of parks and trails in 2020, the Underline will join the ranks of New York's Highline, Atlanta's Beltline, Houston's Buffalo Bayou and Chicago's 606. Said Jack Kardys, Miami-Dade County Parks, Recreations and Open Spaces director, "Every great city has a great park system. The Underline will be the centerpiece of our system."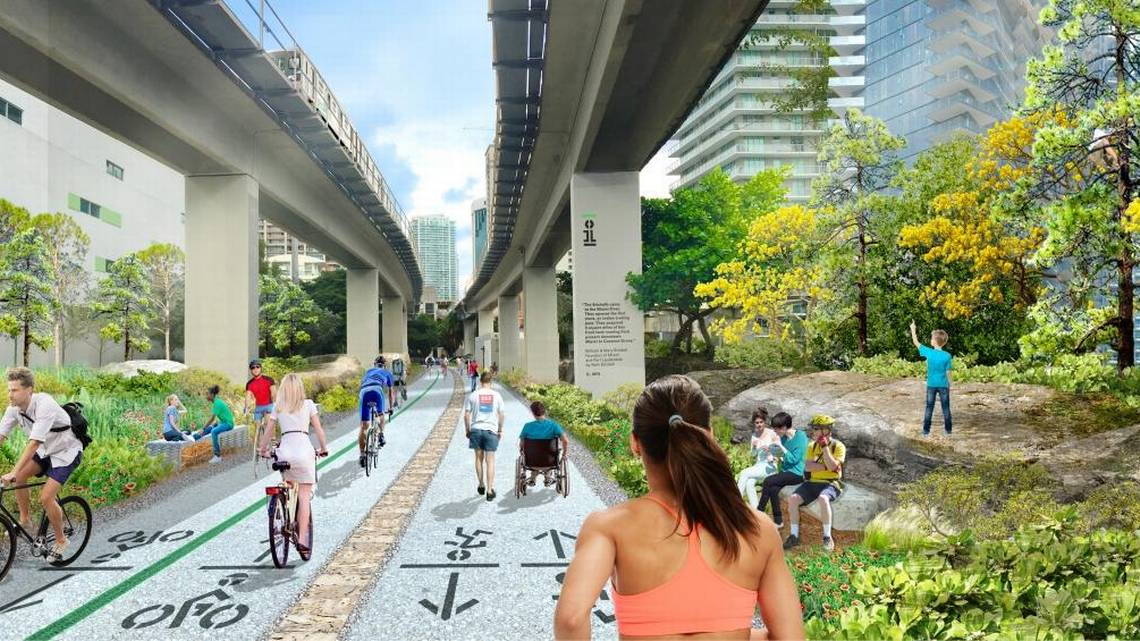 Its genesis, though, didn't come from an urban planner or landscape architect. It was the brainchild of Meg Daly, a Miami resident who would ride Metrorail to reach her physical therapy sessions after breaking both arms in an accident in 2013. Part of that commute involved walking along a wide, shaded corridor beneath the train tracks. Daly appreciated how cool it kept her on those July walks, and she couldn't help noticing that she was the only person using it. She immediately envisioned the space as an enhanced urban trail.
"Miami is one of the most dangerous places to walk and bike in the country," said Daly. "The Underline will be an off-road safe haven and the spine of a future biking and walking network that connects our communities."
Fast forward a little more than four years later and Daly's idea has begun to take shape. "People told us what they want," said Daly: two paths — one for biking, one for walking — lighting, native landscaping, public art, seating, water fountains and safe crosswalks. Today, Daly is a fulltime volunteer and the engine driving the Underline.
Initial funds were privately raised and used to pay for a master plan by James Corner Field Operations, a renowned urban planning and landscape architecture firm with worldwide offices. Fairchild Tropical Botanical Garden in Coral Gables is the horticulture consultant on native species that will be exclusively used to ensure sustainability.
When complete, the Underline will run 10 miles beneath the Miami Metrorail from Brickell Station to Dadeland North Station. The Underline will be a linear park, urban trail and living art destination that will transform the previous pedestrian walkway and bike path under the Metrorail into a thriving space of natural habitats, world-class walking, running and biking facilities, inviting exercise zones and a blank canvas for local artists to contribute murals, sculptures, installations and performance art.
It will also be home to butterfly gardens and rare orchids, part of Fairchild's Million Orchid Project to preserve Florida's endangered native orchids by propagating and reintroducing a million plants to Miami's urban landscape.
The total cost is projected at $10 million per mile, for a total of $100 million. To put that in perspective, Atlanta's Beltline cost was $14 million per mile. New York's Highline was $130 million per mile, "Though it had very different conditions," Daly pointed out.
The City of Miami will build the project using money from a variety of city, county and state sources. Private dollars raised are funding an endowment to pay for the Underline's management, maintenance and programming.
Today, that programming includes free by-weekly yoga classes, a monthly group bike ride and other events that bring people together outdoors. The Underline's Facebook page is the best place to learn about events.
The Underline's believers see it as a major destination connecting neighborhoods and people and that will transform Miami into a safe place to bike and walk. The master plan gives each neighborhood a distinct design. Mile zero begins in Brickell, Miami's second downtown, and will be called Brickell Backyard. The three-quarter-mile section will have an outdoor gym, basketball court, a free-range dog area, parking for 100 bikes, concessions, a sound stage, a playground and public art. At least a half-dozen hotels are within a five-minute walk, said Dale. Brickell Backyard is fully funded and is going to bidding and permitting, with construction set to begin by the end of 2018.
The next two miles are what is called the "typical trail" and act as connective tissue between programmed areas. Daly points out thought that they aren't at all "typical," with two trails, separated for pedestrians and cyclists, as well as all the features expected for safety and comfort. This section is also funded and will begin construction just after Brickell's begins.
The first three miles are expected to have staggered openings in 2020.
"Other linear parks and trails like NYC's Highline, Chicago 606 and the Atlanta Beltline all have big economic impact with increased property values and transit and trail oriented development," Daly said.