The Underline is proud to be a member of the High Line Network.  All projects in the network reclaim infrastructure and reimagine it as public space. Projects were chosen based on alignment with the network's mission, commitment of leadership to network activities, and geographic representation. While the initial focus of the network is on North American projects, the group will eventually expand to include international projects
Read more about the 11th Street Bridge Park in Washington DC, another network member project,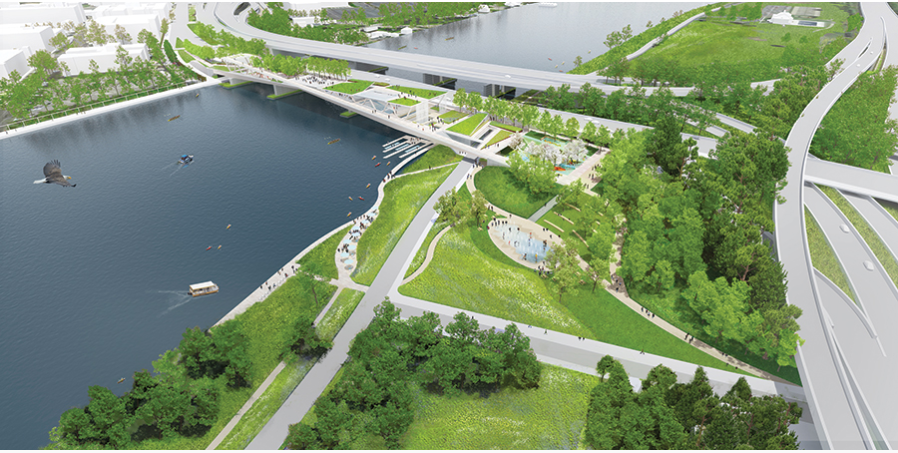 in Architectural Record's Civic Lesson: New Social Infrastructure. 
Cities are finding new ways to invest in social infrastructure, helping to bridge gaps among diverse socioeconomic groups and foster a greater sense of community.
Of all President Trump's campaign promises, the proposal to invest $1 trillion in infrastructure was one of the few to appeal to Republicans and Democrats alike. That level of spending would have dramatically reversed decades of dwindling public investment in the country's roads, transit, and utilities. Now that scale of investment is less likely than ever, given the reality of the cuts the President called for in the budget he sent to Congress, and the wrangling over spending that will unfold on Capitol Hill. But all the attention on major infrastructure needs clouded other concerns about the built environment.
More than bridges and airports need updating. The assumption that infrastructure only means pouring concrete and laying fiber is outdated. In the past, infrastructure sought to connect people across great distances and provide basic amenities for everyone. Today, proximity and access are not enough to cross the chasms of race, economic class, and new social boundaries like media bubbles and deeply partisan politics.
The need for "soft" or civic infrastructure in our cities and communities has never been greater. It comes at a time when declining social capital has left much of America divided, suspicious, and aloof. Today, one-third of people report having no interactions with their neighbors, and average Americans spend up to five hours a day watching television. The share of the population that says, "Most people can be trusted" has fallen from a majority in the 1970s to about one-third. And income inequality and wage stagnation have decimated the middle class, further dividing society into haves and have-nots.
Read more here.